The air was heavy with the turgid smells of rot and waste. Thigh-deep water still stood in places. The environment induced both sweat and nausea, with swarms of mosquitoes — some seemingly as fat as wasps — the only creatures enjoying their jobs.
Immediately after Hurricane Florence had hit the Carolinas last month, I drove the route from the Raleigh-Durham International Airport to begin storm rehab on a family cottage located at Topsail, a barrier island. Two hours on the road spilled over into four and grew to five as I met with road closures due to asphalt cave-ins. At one point, I rolled down my window to ask for directions. The smell of a latrine stung my nose and watered my eyes.
It was awful. I had watched the storms progress for days, and in following along, grimaced at the stories of looting, the silliness of some theatrical talking heads, and the genuinely uplifting stories about individuals saving lives — those of humans and animals — from the flood waters.
I am a child of the belt most often hit by hurricanes. I fished in the post-storm waters and surfed with the amped-up waves. This hurricane was different. Florence was a sociopathic storm, if one is to humanize a weather system beyond its name.
The flooding was tsunami-like in its first wave but then kept coming, filling fields, barns and stalls of the Carolina equine population. Trucks carrying emergency supplies and volunteers became trapped in impassible roads. Water, as benign as it feels to touch, was weaponized by nature's violence. Infused with sewage, petroleum, chemicals, dead animals and fish, this toxic stew spread as far as Charlotte covering Piedmont and all of the hog farm lagoons. It was the soup of the devil.
One story of horses and rescues I stumbled upon deserves sharing, as it proved to be not only inspiring for the accomplishments — saving hundreds of horses and assorted animals — but it is a remarkable testament to innovation and solving problems on the fly. Containment, cooperation and help were all provided when horses were at risk. Moreover, this story of equine non-profits resonated with me, as I am a graduate student at Colorado Technical University concentrating on change management training and scenario planning. Anything involving people and animals, particularly horses, gets my attention.
At the helm of this particular rescue operation is Elaine Nash, the executive director and founder of
Fleet of Angels
, which continues to assist with the evacuation as a result of Hurricane Florence. Nash is already known for her organization of the record-breaking rescue and rehoming of the "Hallelujah Horses" rehoming project for 907 Mustangs at the request of the South Dakota State Attorney. That's now known as the largest rescue of horses in history, and it in part led to Nash's organization winning the ASPCA Equine Welfare Award for 2017-2018.
Nash explains herself and her purpose simply: "We did it because we decided to." Her network is based on the joining together of reputable 501c3 equine non-profits, plus and hundreds of volunteers in the area of an event under the direction of her Fleet of Angels.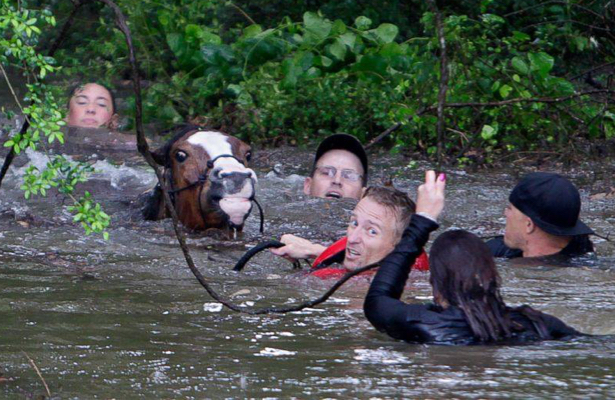 One goal is to establish a broad network for emergency transport in various pockets of the U.S. susceptible to natural disasters and fire. Nash added, "We also have to make sure that there are landing stalls, feed and daily care after the at-risk horses that are picked up, plus the follow-up with owners regarding the location of their horses."
A key player in the East Coast Equine Evacuation and Assistance effort was the Florida-based Rainbow's Edge Equine Transition Center.
"Volunteers with equine experience or professional organizing skills are always needed…so are the established and certified 501c3 teams familiar with frightened horse behavior," Nash said.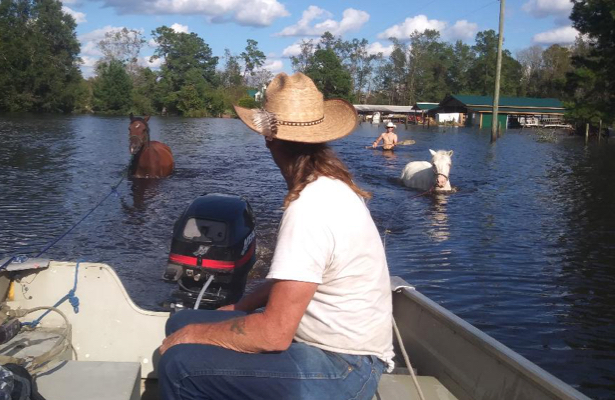 The backbone of the Hurricane Florence efforts continues to be a comprehensive database, the National Equine Evacuation Directory, which was the result of her Fleet of Angels work in the California fires and during hurricanes Harvey and Irma. As Nash saw the approaching path of Florence, with it's predicted stall, she realized that this was a flooding event particularly dangerous because of the convergence of a network of rivers connected to the coastline of the Carolinas.
Nash and her command team knew the chain of impact affected horse owners of all economic levels — those with means to protect, yet did not plan, or those who to turn to for help at all.
"We don't judge. We just do," Nash said. "These disasters can strike without warning where a first response can make a difference in horse's survival. Some owners in rural areas do not own trailers for a dry evacuation …Maybe they did not think a storm would affect them…Water will rise, and they will be ordered out by police, and there is no time to evacuate all of their animals. There are any number of different scenarios."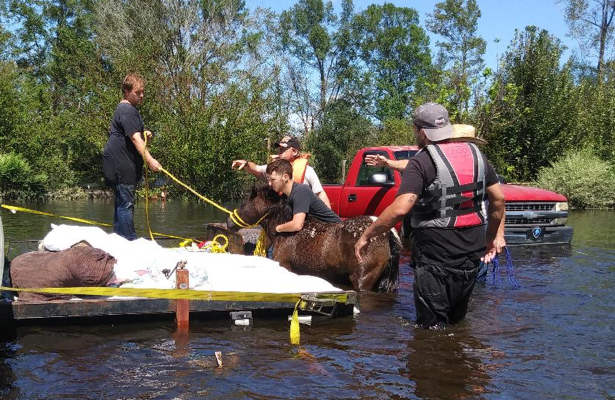 Social media played a crucial role in communicating donations of stalls and feed, as well as sending alerts about extreme emergencies. The network tied together individual volunteers along the coast, with equine carriers, veterinarians, hay distributors, feed stores volunteering to work as one force. Central to their execution was the locations of three staging areas with storage areas for supplies in Conway, S.C., Tryon, N.C., and Smoaks, S.C.
For this operation, structure to the volunteerism as well as specific direction was critical. It takes an attitude of: "Where's the problem? Let's solve it." Protocol and commitment were evident, with a common goal to protect at-risk horses. It is a lesson in how the equine community should take a proactive approach to climate change and the potential disasters that come with it
As I write, the upgrading of another storm, Hurricane Michael, poses a potential threat to equine communities and tracks from Florida up toward the East Coast. It is predicted to be another significant rain and flooding event.
Interested volunteers with supplies, trailers, or available stalls can connect through FleetofAngels.org. Donations are very much appreciated.
Credits: Banner by A.E. Sabo; photos by Bobbie Burke, Roxanne Spear and Elaine Lewis.