On a warm June day, all these calls echoed through my mind as I drove through the prominent gates of
Stonestreet Farm
 and onto the pristine oak tree lined driveway.
"Super Filly…. you bet...she might have won by 20!"
"And the filly did it!"
"Her march to greatness continues….a huge margin...it was almost 20 lengths...again!
"Here's a filly for the ages...a Haskell legend..Rachel Alexandra did it!"
"Here's the wire...Rachel won...she is indeed Rachel Alexandra The Great...Rachel Alexandra raises the rafters here at the Spa!"
The eight years since
Rachel Alexandra
had won the Eclipse award for 2009 Horse of the Year had condensed into this moment when I would finally see the horse that had instilled my adoration of our sport.
I arrived at the gates adorned with Stonestreet's logo when I was met by a security guard. I was ushered into the prestigious farm that has garnered my admiration ever since I was introduced to our sport by Curlin. I was there for an interview about the farm's new tour. Previously, one could only gain access to these hallowed grounds by winning one of their frequent "See Rachel Days."
We drove to the barn which housed my favorite horse of all time, Rachel Alexandra. I tried to contain my excitement which was palpable.
All of a sudden I saw the uniquely interrupted white blaze on the majestic face of my beloved equine. She walked from the barn in a regal manner as if she knew she was on display. Her hoofs had been polished and every hair was in place on the beautiful bay. She was taller than I had expected. I stood there for a while taking in the incredible achievements that encompassed the equine standing in front of me. She had taken me on the most extraordinary adventure during her historic 2009 campaign which ended with her coronation as Horse of the Year.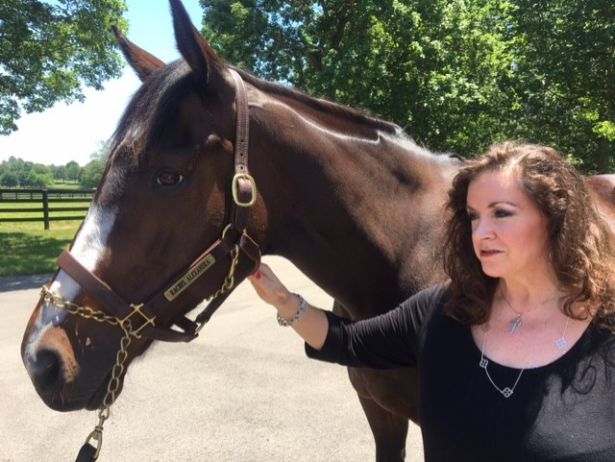 The illustrious mare stood patiently as we took the obligatory photos. Occasionally, we would crinkle a peppermint to get her attention but it was rarely necessary. Rachel had become used to fawning fans and responded graciously. After more hugs Rachel was returned to her stall. It was 1pm when we arrived and she was inside, escaping the heat. She spends most of her time with 2 mares in the pasture. Frolicking in the Kentucky bluegrass.
Afterward, we went to see the broodmares and their foals. On the front of each stall is the name of the mare, the name of the stallion whose progeny she bore and the name of the next stallion she will breed with. It's quite a roster of the best stallions. No slouches here. We saw My Miss Aurelia, Teen Pauline, Kauai Katie, Dayatthespa, and the dam of 2 time Royal Ascot winner, Lady Aurelia's dam, D'Wildcat Speed. Each had their foal by their side. 
Now, everyone can have this once in a lifetime tour. Starting July 14, there are tours at Stonestreet Farm for the nursery division July 14 - August 4 and yearling division August 11 - September 1. To get
tickets click here
These tours are an education of this prestigious farm. Everything is run for the betterment of the horses. Jess Jackson purchased the former Buckram Oak estate, in February 2005, and established Stonestreet's Yearling Division on the historic parcel of Woodford County acreage which is dotted with freshwater springs. His ambition was to indulge his passion for racing at the highest level. Although we lost Mr. Jackson too soon, his widow, Barbara Banke has surpassed her husband's dreams by winning 2 years in a row at Royal Ascot with homebred
Lady Aurelia
and continuing the Stonestreet tradition of excellence.
Dates to tour the Nursery and the Yearling divisions are available now. Visiting Stonestreet Farm is an experience of a lifetime and now, for the first time, this experience is available to everyone!