In the most uncharacteristic race in the monumental career of
California Chrome
, it was discovered afterwards that North America's richest thoroughbred had an accumulation of fluid around his right knee. This takes nothing away from Pegasus World Cup winner,
Arrogate
, who ignited under jockey Mike Smith in an incredible show of athleticism and pure class. As I look forward to seeing more of Arrogate this year, I must say good bye to an incredible era that has captivated me for four glorious years.
-------------------------------------
The chilly rainy weather, the day after the
Pegasus World Cup
, suited my mood. As I drove into Gulfstream Park, just before sunrise, the track which had been crowded with people the day before, was now almost vacant. The throngs of Chrome fans with banners and the cheers for the charismatic thoroughbred, both before and after the race, were long gone.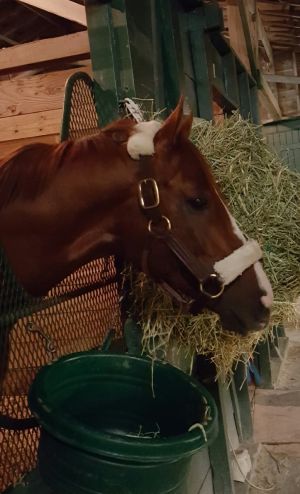 I parked outside Barn 2 and dashed from the car to the barn which was filled with trainer Todd Pletcher's horses except for the shiny copper chestnut "visitor," two-time Eclipse Horse of the Year (2014 & 2016), California Chrome. The Art Sherman trainee occupied the last stall and I could see his beautiful head with its iconic blaze as he was in the process of demolishing the hay hanging in the front of his stall.
There are not many certainties in life but one thing has been constant the past four years. Where California Chrome goes, Sherman Stable foreman and groom extraordinaire, Raul Rodriguez, is by his side. This morning, fortunately for me, was no different.
I immediately recognized the gentle brown eyes of Raul Rodriguez, who was wearing his California Chrome cap. We had communicated previously online but never in person, so I introduced myself and the conversation flowed for over an hour.
What has Chrome meant to Raul? In one word, "Everything."
As we entered the stall of the most popular thoroughbred in the world, Raul held Chrome's halter as he rubbed the shiny chestnut's coat with his expert hands. When Raul spoke, Chrome's ears pricked in the direction of the voice he knew so well.
I asked Raul," Do you realize why Chrome is so beloved?"
"He's Chrome!" Raul replied.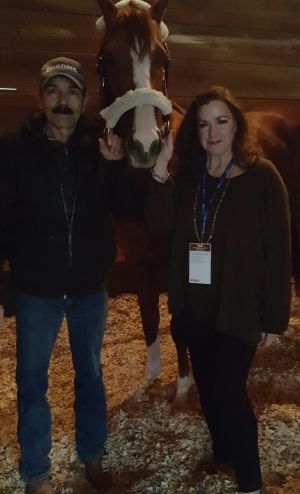 I told the soft-spoken man that yes, people love California Chrome because of his stirring performances and charismatic personality; however, it was and is the combination of beloved trainer
Art Sherman
, his son, assistant trainer, Alan Sherman, present and current owners, and your obvious love for your horse. After so many of Chrome's spectacular performances, I've seen the look of wonderment and complete love on all of your faces.  Another major factor has been the willingness to share him with the rest of the world. All of Chrome's connections have embraced his many avid fans throughout his incredible career.
"Raul," I went on, "you do not realize the impact you all have had not only on thoroughbred racing but you've brought in so many new fans from all over the world."
Raul's brown eyes welled up with tears, I gave him a hug as tears rolled down both or our faces. I couldn't comprehend the roller coaster of emotions this wonderful gentleman will go through when he leaves Kentucky for California. I have always been impressed by Raul's professionalism and love for Chrome but by the end of our meeting, he went to an even higher level than I ever anticipated, by his kindness and display of humanity.
Today, Raul is going with Chrome to
Taylor Made Farm
in Nicholasville, Kentucky and will remain there for a few days while the stallion settles into his new surroundings. He has the utmost respect for the Taylors and told me that Chrome couldn't be in better hands.
Prominent Veterinarian, Dr. Larry Bramlage, will be attending to California Chrome when he arrives in Kentucky. The fluid around his right knee could be a chip but he will have the best care and is expected to begin his stallion season on schedule.
As I was leaving California Chrome and Raul, I thanked him for the ride of a lifetime. Raul will go on a short vacation after leaving Kentucky but will not say good bye to Chrome as he will be visiting often.
I left Barn 2 very differently than when I had arrived. Rarely does reality exceed one's expectations. Today, they surpassed mine.
(Photos courtesy of Mary Mooney)