The beginning of the storied life of California Chrome began on February 7, 2009, at Golden Gate Fields when his dam, Love The Chase, by Not For Love, won her first maiden claiming race after three previous tries. Steve and Carolyn Coburn formed a partnership with Perry and Denise Martin and purchased the filly for $8,000. They ran her two more times, both were claiming races, where she finished sixth and seventh. All her starts were at Golden Gate and her last recorded trainer was Monty R. Meier. Love The Chase had 6-lifetime starts with 1 win (6: 1-0-0). During her short racing career, the filly would become overly anxious in the post parade which exerted a lot of energy. An unrelated physical problem was found after her retirement. It was discovered she had been racing with a breathing problem that was corrected after surgery.
Friends of the two couples called them dumb asses for their purchase of the mare. Showing a wicked sense of humor and the wonderful ability to not take themselves too seriously, the Coburns and Martins adopted the name for their partnership. "Dumb Ass Partners" was born. Their silks were vibrantly colored purple and green with a donkey on the back and DAP on the blinkers. Five years later, the first foal out of Love The Chase, would carry those silks into the annals of thoroughbred history in Louisville, Kentucky.
Love The Chase's first foal, California Chrome, was no fluke. Perry Martin has an analytical understanding of not only bloodlines and conformation but also, physical and mental characteristics of thoroughbreds. There are many in the thoroughbred industry who carefully analyze pedigrees, nicking, and inbreeding vs. outcrossing to breed the best thoroughbreds. From all of this we have seen Arrogate break records and then there's The Green Monkey. The impeccably bred, Todd Pletcher trainee was purchased in 2006, as a 2-year-old for $16,000,000. His record was 3: 0-0-1 prior to retirement for stud duty in Florida. His stud fee is $5,000. Breeding is always a gamble.
Before the recession in 2002, then leading sire, Storm Cat, already had the highest stud fee in the world before it increased to $500,000. Stud fees were later reduced during our country's financial difficulties. But happy days are here again and high stud fees for our most prolific sires have risen with the times. Tapit, our current leading sire, also has the most expensive stud fee, $300,000. However, after much analysis, Perry Martin believed the copper chestnut stallion at Harris Farm, Lucky Pulpit by Pulpit was the perfect mate for Love The Chase. The stud fee was $2,500.
As loquacious and gregarious as the Coburns are, the Martins are more deliberate and studious. The two couples, who are vastly different, shared two common traits: an ironic sense of humor and an impassioned optimistic belief in the future mating of their mare to the extent that Perry Martin mapped out the foal's road to the 2014 Kentucky Derby. Three weeks before the foal was born, Steve Coburn dreamed that Love The Chase had foaled a big chestnut colt with 4 white stockings. The day after the birth, the Coburns traveled to Harris Farm and Carolyn, who first saw the foal, said to her husband, "Come here, this is your dream!"
DAP owners, Perry and Denise Martin, of Yuba City, California, established Martin Testing Labs where they test medical equipment and car air bags. Denise attempting to pick up knowledge of the sport she loved, shadowed a trainer for a few months. Steve Coburn, of Topaz Lake, Nevada, works for a company that creates metallic strips while Carolyn Coburn is retired from work in the healthcare industry. Carolyn encouraged her husband to become involved with racing as a possible tax write off.
Far away from historic bluegrass country, near Coalinga, California, sits the venerable ranch that is Harris Farms with its picketed white fences, mulberry trees and some of my favorite retired racehorses, now at stallion duty, including Jeranimo, Clubhouse Ride and the sire of the wealthiest horse in North America, Lucky Pulpit. On February 18, 2011, California Chrome, after a difficult birth, came into the world in the horse breeding section of the farm. It didn't take long before the copper chestnut foal stood on his 4 white stockinged legs and thrust his white blazed head toward his weakened dam for nourishment. Love the Chase, while giving birth to her first foal, had suffered a uterine laceration and was administered an anti-bleeding medication. Her medical condition was grave so David McGlothlin, Harris Farm's general manager, called in the veterinary team they trusted.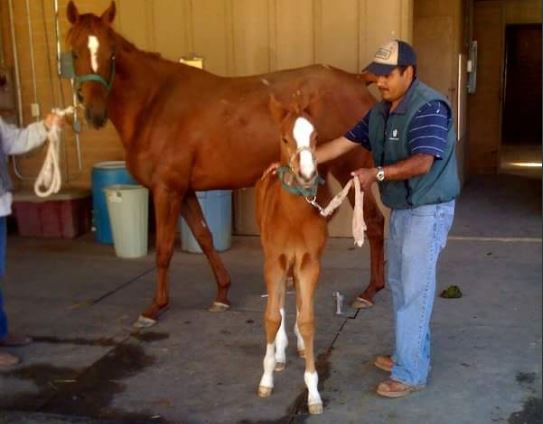 (Photo courtesy of Harris Farms)
Led by Dr. Jeanne Bowers-Lepore, the vet and her staff provided constant attention to the ailing mare. Love The Chase and her foal were stall bound for over a month and checked on frequently by the vets and the staff of Harris Farm. Because people were in their stall so frequently, caring for the mare, her foal had lots of interaction with humans. Usually, mares and their foals are turned out in a paddock not too long after birth. People noticed the foal's keen curiosity in everything and everyone. As a weanling, the chestnut foal whose blaze appeared to dominate his little head, benefited from the close interaction with people. Perhaps it helped foster his inquisitiveness, the same curiosity coupled with intelligence that he still possesses.
Everyone noticed his curiosity. But, when the owners and staff interacted with the already charismatic foal, they called him "Junior" because he looked so much like his sire, Lucky Pulpit, but with 2 extra white stockings (Lucky Pulpit had 2 white stockings and they both have a white blaze).
Naming the colt was a democratic affair. The Coburns and the Martins had each selected two names. The two couples wrote the four names on individual pieces of paper and had their server at Brewster's Bar & Grill, in Galt, California, select the names from Coburn's cowboy hat. California Chrome was selected first. All the names were sent to The Jockey Club in the order they were pulled from the hat. Of course, "Junior" is now known throughout the world as California Chrome, which was the Coburn's first selection. Chrome is a term for white markings on a horse.
Originally from Denmark, Per Antonsen, was California Chrome's lead trainer, at Harris Farm. During our conversation, when talk turned to his most famous trainee, the horseman's voice noticeably brightened as he reminisced. Mr. Antonsen said Chrome stood out from the others for two reasons. He had an extraordinarily brilliant red coat and he was the most intelligent. He was a natural athlete who quickly grasped what was expected of him and went beyond expectations. A seasoned horseman, Mr. Antonsen felt like he was training a special thoroughbred. He said to the owners one day, "I think you all are going to have a lot of fun with this horse!"
I've often read and heard about the certainty the original owners had that "Junior" would win the Kentucky Derby. Somehow, I believe they were the only ones not surprised when he became the leading money earner in North America. Of course, the Coburns sold their share in California Chrome to Taylor Made and a few breeders who, together formed the ownership group of California Chrome LLC. But, under trainer Art Sherman's watch, the management of the horse has gone on seamlessly.
The Chrome-Train has one last stop before he goes to stallion duty at Taylor Made in Nicholasville, Kentucky. On January 28, 2017, California Chrome will race in the inaugural edition of the world's richest race, The Pegasus Cup. That is possibly the only waver in the long-term plans that were made when he was a foal. And that was only because it did not exist at the time!