The most talked about race for this upcoming weekend at Gulfstream Park is the G1 Donn Handicap featuring two-thirds of last year's Triple Crown winners. With so much hype surrounding the 2012 debuts of Shackleford and Ruler On Ice, it is little wonder that with such a small field and lack of a "big name" Derby contender that the Hutcheson Stakes has fallen by the wayside. Like with last week's Sam F. Davis Stakes, the reason why the Hutcheson did not attract a big field was due in large part to the number of participants in the Holy Bull Stakes and the allowance optional claiming race on the Holy Bull's undercard. Add the purse hike for the Aqueduct prep races, and the 7 furlong Hutcheson suddenly seemed less appealing. That is not to say that this year's Hutcheson will not be of consequence because it most certainly will be. Though only six colts were entered, the field includes Ever So Lucky, Il Villano, and Thunder Moccasin.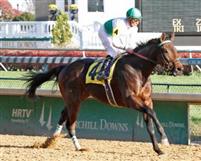 Ever So Lucky is probably the most talked about colt in the field based on his dazzling maiden race followed two weeks later by a game runner-up effort to undefeated Gemologist in the G2 Kentucky Jockey Club Stakes. Despite this, Ever So Lucky may not actually make it to the starting gate on Saturday. Trainer Jonathan Sheppard was not entirely satisfied with the colt's last work and stated that he may skip the Hutcheson in favor of the Swale Stakes next month.
Whether or not Ever So Lucky starts on Saturday may be largely irrelevant as there is a maiden winner attracting a lot of attention. On Christmas Eve trainer Todd Pletcher sent out Thunder Moccasin in a 6.5 furlong race at Gulfstream. The bay son of A. P. Warrior broke sharply from post two, went straight to the lead, and never looked back. Under urging from jockey John Velazquez, Thunder Moccasin drew off to win by two and a half lengths. The colt has not raced since breaking his maiden but has been training well at Palm Meadows, posting one five furlong move and four half-mile works in the last sixty days. His most recent work, posted on February 5, was a sharp four furlong bullet in 47.66.
I know what everyone is probably thinking by this point. What is so special about Thunder Moccasin that has listed as the morning line favorite in lieu of perhaps the more deserving Ever So Lucky or Wildcat Creek, whose last two races have been runner-up performances in as many un-graded stakes races? Perhaps it is his pedigree. The colt is by A. P. Warrior, a son of A. P. Indy and a Grade 2 winner. He is out of the Storm Cat mare One Stormy Mama. One Stormy Mama did not do much on the track, but she boasts Devils Bag as her damsire. If not the pedigree, then maybe it is the fact that he already has a win over Gulfstream's main track, and his running style perfectly suits the Gulfstream track bias. Still not convinced? Well here, let me help you. Not only does the colt boast a great pedigree and a running style suited to Gulfstream, he also has the best possible jockey and trainer combo that one could ask for at Gulfstream: Todd Pletcher and John Velazquez.
I know y'all are probably tired of hearing me harp on about how fantastic the Pletcher-Velazquez combo is, but the truth of the matter is that numbers do not lie. Take today, for example. Pletcher and Velazquez teamed up to win Race 3 with Travelin Man and grabbed fourth place with Stat in Race 8. Yesterday the duo finished third with Direction in Race 9 and second with English Major in Race 11. And that does not even include the stakes races the pair has already won so far this year. Overall for the year, Johnny V. has won on 25% of his mounts and finished in the top three 47% of the time and ranks 6th among all jockeys. Pretty good numbers if you ask me. As for Todd Pletcher, he is currently at the top of list of trainers with a 33% win rate and a 59% Top Three rate. Yes, I would say that Thunder Moccasin is perfectly set up to succeed on Saturday.
Also running in the Hutcheson are Tarpy's Goal and Quick Wit. Tarpy's Goal is Grade 2 placed, and Quick Wit is a maiden winner with one win in three starts. The G2 Hutcheson is the eighth race on Saturday's card, and post time is at 3:49 p.m. The winner will take home $90,000 of the $150,000 dollar purse.