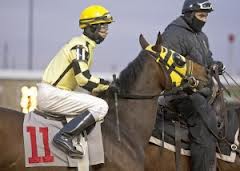 Four years ago, Silver Option and Magna Fortuna were lucky to be alive. After changing hands several times, Silver Option ended up at Shipshewana Livestock Auction in Shipshewana, Indiana. As far as auction houses go, Shipshewana is one of the largest low end auctions in the Midwest and is one of the worst of the worst, notorious for its cruel treatment of the livestock that ends up there. Most of the horses that pass through there end up sold off to kill buyers, and Silver Option was no exception. In pain and condemned to suffer even more before eventually being slaughtered, only a miracle could save the mare. On that day, June 6, 2009, Gail Vacca, President of the Illinois Equine Humane Center (ILEHC) would end up being the miracle Silver Option so desperately needed.
As President of the ILEHC, Ms. Vacca was at Shipshewana for the express purpose of spotting violations to a new rule in Illinois. The Illinois racetracks had recently adopted a zero tolerance policy on allowing horses that had previously raced at the state's tracks to be sold at low end auctions. Walking among the crowds of horses, Ms. Vacca eventually spied Silver Option. The mare was clearly in pain and definitely a thoroughbred, a violation of the new Illinois rule, so Ms. Vacca found the kill buyer who was in possession of Silver Option at the time and bought the mare from him for $300. A check of her tattoo would reveal little by way of identifying the mare at the time.
Back at the ILEHC, a visit from the veterinarian revealed that Lulu, as the bay mare had been dubbed, had a variety of foot issues. It was decided to give her a fighting chance by re-shoeing her and giving her pain medications to ease her suffering. As Lulu recovered her health, it became clear that not just one life had been saved on that fateful day. Lulu was in foal, but the ILEHC had no idea who Lulu was, let alone the parentage of the foal she was carrying. It was not until after Lulu gave birth to her colt, who was nicknamed Taxi, on April 15, 2010 that the ILEHC was able to track down someone who could solve the mystery surrounding the identity of Lulu. The mare's official name was Silver Option and her colt Taxi was part of new sire Magna Graduate's first crop of foals.
Several members of the ILEHC formed the partnership Rescue Me Racing, LLC, in order to give Magna Fortuna (Latin for "good fortune"), Taxi's official name, the opportunity to do what he had been bred to do: race. On December 26, 2012 at Hawthorne, Magna Fortuna entered the starting gate for the very first time. Breaking from post 11 in a field of 12, Magna Fortuna was caught five wide in between rivals and finished 9th in the six furlong affair. Undaunted, Rescue Me Racing again sent out their miracle colt at Hawthorne on February 15 in another 6 furlong maiden affair. Under jockey Julio Felix, "Taxi" was again hung wide while being forwardly placed and once again faded out of contention to finish seventh.
Today, Magna Fortuna entered the starting gate at Hawthorne for the third time, this time stretching out to 8.5 furlongs in a maiden affair. With regular rider Julio Felix in the irons, "Good Fortune" broke sharply, powered to the front, and never looked back. The colt who had almost never even had the chance to live, let alone race, crossed the wire to win by a widening margin of 9 ¾ lengths.
Whether or not today's win is the only one of the colt's career or just the first of many does not matter. The fact that he is alive and even made it to the track is victory enough. Rescue Me Racing has and will continue to give him every chance to succeed. ILEHC continues to care for Magna Fortuna's dam Silver Option. Thanks to the good care she has received, she is now mostly pain free and can be found gallivanting with her herd. 
Photo courtesy of Four Footed Fotos