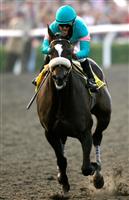 Dead Heat Debates'
Laura Pugh and I were discussing the Count Fleet Stakes and the G3 Sham Stakes, and, as always happens with conversations, when we had exhausted that topic, we moved on to another. As we discussed this year's crop of 3-year olds, our conversation somehow meandered to Rapid Redux and Zenyatta. Both horses have faced tough criticism in regards to their records and accomplishments. Rapid Redux has been knocked for being at the starter allowance level and beating up on lower caliber opponents. Zenyatta was criticized for staying on the West Coast and not always facing the best her division had to offer. Horse racing fans, like any other sports fans, are passionate about their sport and their athletes. There is a fair amount of fans of one horse bashing the key opponents of their favorite. That's all well and good since we see it in every sport, but the difference with horse racing is that the actual athlete has no say in the competition they face. Where and when they run is completely up to their human connections.
It is the human trainers and owners that call the shots. Since it is up to them, a horse's career is shaped by what their connections feel is in the best interests of all involved. So before fans continue to knock Zenyatta or Rapid Redux, or any other horse for that matter, we need to pause and take a minute to consider one key aspect of the industry: money. Horses know nothing about the financial aspect of their careers. They eat. They sleep. They train. They race. It is all very simple to them. For the human part of the industry, however, their careers are not that simple. Owners and trainers are plagued by finances. Bills, fees, and paychecks must be covered. It is easy to run their barn at a local track, but shipping across the country is a whole different ballgame. There are a lot of factors involved. How large is the purse? Which horses are likely to be entered? What are the chances that my horse will win? All are valid questions, but it all comes down to one big question: Is the potential gain worth the risk and expense?
Back during the Golden Age of American horse racing, it was not uncommon for top horses to ship across the country in order to race. During 1973, Sham, Secretariat's archrival, shipped from the West Coast to face Secretariat in the Wood Memorial at Aqueduct before moving on to continue the rivalry at
Churchill Downs
, Pimlico, and Belmont. Sham was being prepared to face Secretariat again at Saratoga later in the year, but he was retired after a hairline fracture was discovered.
Fast forward thirty or so years and you find that the industry has changed. After the September 11, 2001 attacks on the Twin Towers in New York City and the Pentagon in Washington, D.C., the United States economy entered a decline that we have yet to fully recover from. Stock prices plummeted, inflation has run rampant, oil prices have skyrocketed, and the prices of everyday staples have steadily risen. Most Americans are truly "spending dollars and making dimes" as the Phil Vassar song puts it. Many of us cannot afford items not classified as necessary, and we are watching our money more carefully than ever. It is true that the top owners, breeders, and trainers have more money than the average American, but having more money does not save them from financial woe. They have bills just like the rest of us, but their bills are larger than ours. Most of us do not have to feed a barn full of horses; pay veterinarian, trainer, groom, and jockey fees; or pay for shipping horses across the country. With the economy in decline, it is just not prudent to ship horses all over the country, especially when it is now more expensive than ever to do so.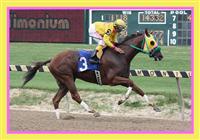 The poor economy is the largest contributing factor in the regionalism trend. Blue collar horses like Rapid Redux are staying in or near their home state, and some race primarily at one track, rarely visiting another. The West Coast horses are staying in California; the Midwest horses gravitate towards tracks such as Oaklawn and Remington Park; and East Coast horses are concentrated in Kentucky, Florida, or New York, for the most part. Such regionalism facilitates local rivalries but prevents bi-coastal rivalries from developing. One big exception to this trend was the rivalry that sprang up between Blind Luck and Havre de Grace. Grace never shipped further west than Oaklawn, but Blind Luck was a regular on the East Coast. 
The poor economy fueled regionalism played a huge factor in blue collar hero Rapid Redux's career. After racking up twenty consecutive victories, Rapid Redux was being considered for the Claiming Crown but was withdrawn from consideration by owner Robert Cole at the last minute. When the announcement was first made, I, like many of the gelding's fans, were disappointed and a bit annoyed. Knowing that he probably would not be a serious candidate for Horse of the Year, Rapid Redux's fans wanted to see him win something big and silence his critics. When Cole cited finances as the ultimate reason for skipping the Claiming Crown, I, personally, became a bit annoyed. In an interview with the Daily Racing Form's Marcus Hersh, Cole stated, "It's $13,000 to ship with plane transfer, and that made no sense at all. If you run second, you lose $7,000." My train of thought was a little something like this, "This man owns and races horses, and Rapid Redux alone earned him a couple hundred thousand. Why not ship him?" After seriously thinking about it and talking with those personally involved in the industy, though, I realized that he had made a very prudent decision. Seven thousand dollars is a lot of money to throw around when you are running a small operation with horses that are not running in and winning major stakes races.
To put Rapid Redux's potential journey into perspective, I mapped the seven tracks he has raced out since being claimed by Cole. Beginning at the eastern most point, driving from Parx to Penn National to Timonium to Laurel to Charles Town to Mountaineer and finally to Thistledown takes about twelve hours for a total of 638 miles. Now that is traveling to each track and not just to one individual track for a race. The journey from this area to the Fair Grounds Race Track where the Claiming Crown was held this year is roughly 1150 miles. Driving such a long distance is not ideal for horses, hence the reason why flying was the chosen option before the whole trip was canceled due to cost.
Zenyatta's case is a bit different. In her career, she bankrolled over $7 million for the Mosses. Despite this, she only ran outside of California three times, twice at Oaklawn for the Apple Blossom Invitational Stakes and once at Churchill Downs for the Breeders' Cup Classic. The Mosses ran her in the same races every year, so everyone knew where the great mare was going to be and what races to avoid. If the Mosses had so chosen, Zenyatta could have done so much more with her career, as fellow writer Laura Pugh pointed out. Even if they had not wanted to leave the state, she could have faced males on the West Coast or ran in different races in her own division against higher caliber competition. I am not trying to knock Zenyatta and what she accomplished at all. She is one of my all time favorite race horses, and she did not choose where she ran. Those decisions were completely in the hands of the Mosses and trainer John Shirreffs. If it had been up to Zenyatta, she probably would have faced Rachel Alexandra just to prove that she truly was the Queen. Ultimately it was their money, and they made the decisions that they felt would best keep them out of the red. Those decisions had a direct influence on Zenyatta's career and record, but sometimes tough decisions have to be made during tough times.
With so much money on the line, the economy will always have a direct influence on the horse racing industry. Until things improve, the regionalism trend will continue. Unless the gains are worth the risk, horses will be raced in their own backyards. That will not be the case across the board since some top owners and trainers will continue to ship some of their string to other parts of the country. With the increase in regionalism, bi-coastal rivalries will continue to be next to non-existent. It is not the fault of the horses but rather a direct result of the poor economy and the tough decisions that need to be made. So before you criticize a horse for what they did or did not accomplish or who they did or did not beat, just remember that they are not the ones calling the shots.