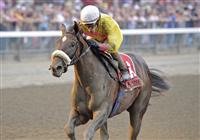 As we gear up for the Kentucky Derby and Triple Crown run, I want to take a look back at the 2011-2012 Gulfstream Park winter meet. There were big winners and lots of excitement, especially since Gulfstream Park runs a couple key Triple Crown prep races. So in the spirit of the annual Eclipse Awards, I present you with my own version of the each year's highest honors. With the lack of Grade 1 races offered at Gulfstream, choosing winners turned out to be difficult. Often, only a thin line separated the winner from the runner-up. I am sure that many will not agree with some of my choices, but without further ado, here are my 2011-2012 Gulfstream Park Award Winners!
Grace Hall was 1 for 2 at Gulfstream, finishing second to Yara in the G2 Davona Dale Stakes in her season debut and winning the G2 Gulfstream Oaks Stakes. It was tough choice between her and Dayatthespa due to the latter filly's perfect record, but I had to keep in mind that Grace Hall only narrowly lost her season debut after coming off of her winter break. Grace Hall figures to be one of the top choices for the Kentucky Oaks, and if she continues showing the good form she displayed at Gulfstream Park, then she will be tough to beat.
This is the category that will probably earn me a virtual stoning. Most of you are thinking "who in their right mind would vote for Howe Great over Kentucky Derby favorite Union Rags?" The answer to that question would be me. In three starts at Gulfstream, Howe Great was a perfect 3 for 3. He recorded wins in an allowance race, the Kitten's Joy Stakes, and the G3 Palm Beach Stakes. Ultimately, this was a tough choice for me. Do I pick the colt with an allowance, a non-graded stakes, and a G3 stakes win; or do I choose the colt with a G3 win and a third place effort in a G1 race in which race-riding won and lost the race? Strength of competition did not help, so ultimately my choice came down to each colt's record. A perfect 3 for 3 trumped a 1 for 2 in my opinion.
This was a no-brainer. Awesome Maria returned a perfect 2 for 2 at Gulfstream Park after being laid off with an injury. Add the fact that she whipped the reigning three-year old champion Royal Delta, and you have an impressive record. Those two wins ran her winning streak up to 6, and she also defended her Rampart and Sabin wins from last year. It is hard to conceive that two G3 wins would clinch this division, but Gulfstream did not offer any Grade 1 races and only one Grade 2 for older fillies and mares. With such an impressive return, Maria has stamped herself as a leading contender for the female handicap division, especially now that Havre de Grace, reigning Horse of the Year and Champion Older Female, has been retired.
Like Awesome Maria, Mucho Macho Man was 2 for 2 at Gulfstream Park. He took home both the Sunshine Millions Classic and the G2 Gulfstream Park Handicap Stakes. He was not entered in either of the Grade 1 races offered for his division; however, both Grade 1 winners only had the one win at Gulfstream. Maturity has done wonders for the colt that was one of the youngest of his crop and still put together an impressive Triple Crown run last year. With two wins from two starts, he has also marked himself as a leading contender in his division.
The female sprinters were all over the board for this meet, so ultimately I chose R Holiday Mood for the honor. The talented filly finished in a dead heat with Delightful Mary in the Ocala Stakes, won the G3 Hurricane Bertie Stakes, and finished 4th in the deep G2 Inside Information Stakes. Like the other divisions, this division was devoid of any Grade 1 stakes and had only two Grade 2 opportunities. With a lack of a true standout, R Holiday Mood's record beat out Musical Romance and Broadway's Alibi, the Grade 2 winners of the meet, records. Though she had never raced at Gulfstream before, R Holiday Mood took right to the track. It's tough to say how well she will fare in the deep sprinter division for the remainder of the year, but she gets the nod at Gulfstream.
Going into this meet, I really thought Apriority or Force Freeze would be the ones to beat, but Zero Rate Policy came in and took over. In 3 starts, he won the Sunshine State Stakes, ran 2nd in the G3 Mr. Prospector Stakes, and finished 4th in the Sunshine Millions Sprint Stakes. As is the common theme, Grade 1 opportunities were unavailable, and two-thirds of the Grade 2 opportunities were restricted to 3-year olds. Zero Rate Policy ran consistently well, but he barely squeaked out the honor.
Dayatthespa finished two for two at Gulfstream with both wins coming on the grass. With all the ladies' turf races being either non-graded or Grade 3, she took home one of each and earned herself the honors for this division.
Champion Male Turf—Howe Great
Again, it is tough to award a horse that does not have a Grade 1 win, but frequency plays a big role, too. With two stakes wins on the turf, Howe Great gets the nod here over Get Stormy, who won the lone Grade 1 race for the division. However, Howe Great did not qualify for that race owning to the age restrictions.
Horse of the Meet-Mucho Macho Man
While a Grade 2 and a non-graded stakes race may not look spectacular on paper, if you take a look at the next out races for some of MMM's competition, it becomes clear why Mucho Macho Man is Horse of the Meet. Ron the Greek ran second to Mucho Macho Man in the Sunshine Millions Classic, and in his next start, Ron won the G1 Santa Anita Handicap, beating  a deep field. Additionally, Jackson Bend, who finished third to MMM in the G2 Gulfstream Park Handicap, won the G1 Carter Handicap in his next start, hanging on to defeat a short but talented field by a nose. Say what you will about strength of campaign, but there is no denying that Jackson Bend and Ron the Greek's Grade 1 wins did nothing but flatter Mucho Macho Man's victory over both.
Ultimately, John Velazquez did not win the meet's title, finishing second to Javier Castellano, but he won when it really counted. He finished with 76 wins from 336 starts, with 49% in the money, and purses totaling $3,317,272. Most impressive, however, were his stakes wins. Gulfstream featured 55 stakes races, ranging from non-graded to Grade 1, and Velazquez won 15 of them (27.3%), more than any other jockey. Stakes races carry more weight, so with his high win rate in the stakes, Velazquez earns the award over meet winner Javier Castellano.
All meet long, I sang the praises of what Velazquez and Todd Pletcher could accomplish together. Pletcher won the meet title for leading trainer with 71 wins from 177 starters (68% in the money) and purses totaling $3,121,934. Eight of Velazquez's stakes wins came on Pletcher trainees, and Pletcher added another three more stakes wins for a total of eleven all together (20%).
I am sure many of my picks are controversial, but Gulfstream lacked a true standout in many of the divisions. A lot of the time, win percentages trumped candidates that had a Grade 1 win because I found it hard to award a horse who had only one win for the entire 3 ½-4 month meet. I found that choosing a Meet winner was much more difficult than choosing a winner for the year-end awards because you could only use 4 months worth of races. Since Gulfstream is a winter meet and begins at the start of a new year, often the "best" horses are not at the peak because they are coming in off of their winter breaks. Most choices I am completely satisfied with, but there were a few that were quite difficult. Whether you agree or disagree with my choices, I look forward to hearing who your winners for this meet were!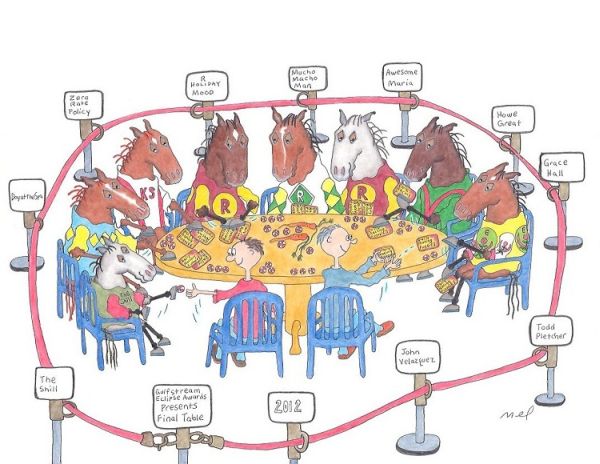 Illustration courtesy of Marcy Leonard