Today was certainly the whirlwind of activity that I knew it would be, and the stars were out in full force at Gulfstream Park. With six races comprising the Sunshine Millions, there was plenty of opportunity for big winners, both of the four-hoofed, racing variety and the two-legged, betting variety. Fortunately the weather at Gulfstream Park held, and the Sunshine Millions Series was conducted over a fast track and a firm turf course. There were a few surprises, but mostly things turned out in the manner we expected.
I want to start out by saying that Awesome Feather was absolutely brilliant today. I am pretty certain that we all knew that she was going to be the winner of the Sunshine Millions Distaff and that everyone else would be running for second. Earlier in the week, a friend asked which horses would complete the trifecta, and I immediately replied, "Delightful Mary and Sweet Repent, in that order." Needless to say, I was thrilled when that was exactly what happened. You see, I have the worst luck with trifectas. I always seem to pick the right horses in the wrong order, so today was the first trifecta ticket I have ever cashed. But back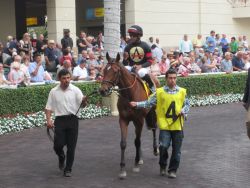 to the race. Feather made it look absolutely easy. She was quite content to let
Tiz the Argument
set the pace. She took over from the fading pacesetter at the turn and the drew off under urging when Delightful Mary challenged. Sweet Repent gained ground at the rail while never threatening Feather.
My Pal Chrisy
passed Tiz the Argument to earn fourth, Tiz the Argument faded to fifth, and
Perfect Embrace
was never a factor after bumping with Sweet Repent at the start. Today's win made the champion filly a perfect nine for nine.
It's Me Mom stretched her winning streak to four when she wired the field in the Sunshine Millions Filly and Mare Sprint. Under Willie Martinez, she broke sharply from the gate, sprinted straight to the lead, and drew off to win by 6 ¾ lengths. Eclipse winner Musical Romance and favorite Pomeroys Pistol were never a threat, finishing fourth and fifth respectively. It's Me Mom's final time for the 6 furlong race was 1:08.85, seventy-three hundredths of a second shy of Big Drama's track record.
Trainer Todd Pletcher and jockey John Velazquez teamed up with Soaring Stocks to deny Apriority another stakes win. I have said on multiple occasions that a horse who has these two in their corner is one to beat, and the duo proved how lethal they could be. Soaring Stocks posted his third victory in five career starts, beating favorite Apriority by about ten lengths in the Sunshine Millions Sprint. More impressive than defeating Apriority and Zero Rate Policy was the fact that the colt was bumped at the start by Madman Diaries and was wide throughout the race. Apriority's poor performance today makes me wonder if anything is amiss. The son of Grand Slam put out a huge effort in the G3 Mr. Prospector Stakes in his last outing, winning by a nose after stumbling badly and grabbing a quarter at the start of the race. I hope nothing is seriously wrong and that he will return to form in his next race.
Grade 1 winner Hooh Why returned to the winner's circle, posting an upset off odds of about 17-1 in the Sunshine Millions Filly and Mare Turf. Speak Easy Gal broke sharply to go straight to the lead and set the pace while Hooh Why stalked the pace in fourth. The filly then rallied late in the stretch to pass Speak Easy Gal, Unbridled Humor, and Romacaca. Sadly, I had the call on the Hooh Why-Romacaca exacta and accidently keyed the wrong horse. You can imagine what kind of fit I threw over that. Oh well, I still have the satisfaction of knowing that I called it.
Little Mike ran a race reminiscent of It's Me Mom's race from three races earlier on the card. The fan and betting favorite went straight to the lead and never looked back, prevailing in the Sunshine Millions Turf. There were some questions about whether or not he could handle the mile and an eighth distance, but he hung on to hold off Slews Answer by three-quarters of a length while fully extended. The distance might not have been his favorite, but he certainly got the job done. Like It's Me Mom, he also stretched his win streak to four with today's victory. He also showed that he is truly a horse for the course.
It is hard for me to decide who had put in the better performance today, Awesome Feather or Mucho Macho Man. If ever it were possible for a horse to be both underrated and overrated, then it would be these two. One cannot argue with the careers they have put together thus far, but they both have many critics along the way. Critics want to see Feather run against stiffer competition, and they did not believe The Man, as I have taken to calling him, could defeat such a deep Classic field with only one race under his belt since the Belmont Stakes. Well, Mucho Macho Man silenced his critics today, easily winning the Sunshine Millions Classic. Ron the Greek stalked the pace and was all out trying to run down Mucho Macho Man; he got to within a length and a half but could not catch the winner. Turbo Compressor and Duke of Mischief completed the superfecta. The highly touted Adios Charlie finished worse than second for the first time in his career, finishing fifth. The Man finished the mile and an eighth race in 1:47.91, forty-two hundredths of a second off Quality Road's track record.
Following her colt's victory, trainer Kathy Ritvo told Gulfstream Park's Ed Gray that she did not have a set plan for The Man's next race. As for jockey Ramon Dominquez, he had this to say to Ed Gray: "You can really tell how much he's grown up since I rode him in the Belmont. Back then, he was just a big skinny horse that had a lot of maturing to do. Now he looks like he's grown up and has everything figured out."
Likewise, trainer Chad Brown does not have a plan set for Awesome Feather and that "with her, it's one race at a time." He also told Gray, "She just hit another gear and it was over. I'm not sure we've ever seen every gear she's got."
Mucho Macho Man certainly has filled out. He ran the Triple Crown as lanky, awkward 2-YO (technically speaking), but he has since filled out his big frame. Not only did he silence his critics today, he also stamped himself as a leader in the Handicap Division. Awesome Feather is also a clear leader in the Female Handicap Division. Today's race, I am sure, was just a stepping stone on her way to bigger and better things. One thing is for sure, after their respective races, Awesome Feather and Mucho Macho Man have me even more excited than I already was about their 2012 campaigns.
Awesome Feather Photo courtesy of Hilton Tynes