Like many people in my age group, my earliest memory or introduction to the world of thoroughbred horse racing was Secretariat's Triple Crown run. I was 12 at the time. It would be another 40+ years that another horse would captivate me in a way I could never have imagined. That horse…California Chrome. I believe my daughter, Ashley Tamulonis of Horse Racing Nation, considers me obsessed with Chrome. There is probably some truth to that.  And a result of that obsession was my recent trip to Kentucky. 
I decided last year when it was announced that Chrome would be retired after the Pegasus World Cup and would stand stud at Taylor Made Farms in Nicholasville, Ky that I would go see him as soon as possible. Once Taylor Made announced tour dates, which included Chrome, I made my plans for my pilgrimage to Taylor Made. As I made my plans, I decided that I would also visit American Pharoah. While my heart belongs to Chrome, I also followed American Pharoah's Triple Crown run in 2015 and was absolutely in awe of what he accomplished. So for my first ever horse farm visit what better horses to choose from than California Chrome and American Pharoah?
The first farm I visited was Coolmore America's Ashford Stud to see American Pharoah. You start your tour off with a short film about American Pharoah.  Then we went to see the star of the tour: the Triple Crown winner himself.  American Pharoah is brought out of the barn so that we can get a full look at him.  He is absolutely beautiful.  We were told before he was brought out (and this applied to all the horses) that there were marks we could walk up to but not beyond and no touching. So, we were able to walk up the applicable spot and could take pictures with American Pharoah. I took lots of pictures. He was so calm through all the picture taking. I imagine he is pretty used to getting his picture taken.
The tour then continued to the barn containing some other stallions, most notably, Uncle Mo. We then took a short walk to the graves of several stallions where we were given a little lineage history.  Our last stop was the breeding building. There we learned about the process of breeding, and that was so fascinating to me. I had no idea what a true process that is.  The tour lasts an hour, and our guides were great. Well worth visiting and I found out later at Keeneland that a ticket for this farm tour is hard to get. I can't really say that for sure since I didn't have a problem getting a tour ticket, but perhaps it is because of the time of year.
The next day was my visit to Taylor Made Farms. I was already giddy with excitement because this was what brought me to Kentucky.....my chance to see California Chrome in the flesh. I even stopped at a Tractor Supply store and bought a huge bag of Chrome's favorite cookie. My expectation for the farm tour was that it would pretty much be like the tour at Coolmore. Since the visit to Coolmore was my first ever horse farm visit, it was the only thing I had on which to base my expectations. I was wrong, however. Coolmore was great, but Taylor Made was beyond my expectations, and it wasn't just because of Chrome.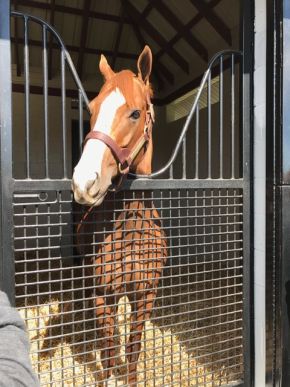 The first difference was the size of the group visiting Taylor Made for the tour. At Coolmore, there were about 10 of us. At Taylor Made, there was at least 30.  Similar to Coolmore, there was a short film. Unlike at Ashford, the film was not about the star of tour, California Chrome, but featured a short history of the farm and an introduction to the Taylors. After the film, we were led outside and had a little introduction to what the tour was about. First up, of course, was California Chrome. As we were standing down the hill from his stall getting our introduction, we all see him stick his head out as though he was waiting for his fans. Here is where I encountered another difference in this tour. Here we were allowed to touch Chrome, feed him cookies, take all the pictures we wanted, and just interact with him. I was shocked but so delighted at the access we were given to him.  And this is a horse that eats it up. He was in his element and enjoying the attention. His barn mate is Graydar, and he is another horse that enjoyed all the attention he got....and the cookies. We spent quite a bit of time visiting with them both.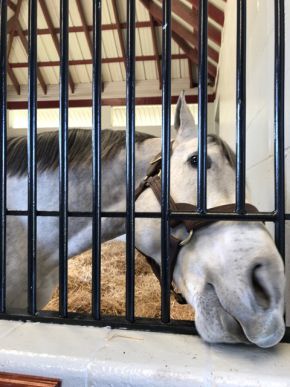 Next up was another huge difference in the tours. Instead of just doing a little bit of walking around like at Ashford, at Taylor Made we got in our cars and caravanned to see the foals and their mothers. Seeing foals that were less than a month old was so much fun. Again we were able to touch the babies and the moms. I had never been that close to a foal, so that was something special.  After spending time there, we got back in our cars and drove over to the yearling barn where we got to see several yearlings who are being readied for sale.  While there, we were shown a pictorial history of American Pharoah's time at Taylor Made Farms, which is where he was readied for sale. It was amazing to see the difference his 6 months there made. We also found out that eleven of American Pharoah's foals are at Taylor Made. Once we were done at the yearling barn, we went back to where the tour started. The tour lasted 1 hour and 45 minutes.
I enjoyed both tours and would recommend them both. But, I felt a little more at home at Taylor Made. The joy of being able to touch not only California Chrome but the other horses made this a memory of a lifetime. I look forward to going back to Taylor Made to see Chrome's babies and to also visit other horse farms. A forever fan has been born.
Guest blog courtesy of Debbie Self