Returning to the scene of his most notable triumph, Zarkandar rekindled his hopes of Champion Hurdle glory with a determined, gutsy display in the International Hurdle, in holding off persistent effort of the returning Grandouet to come home victorious by an extending two lengths. 
A half brother to the 2008 Prix de L'Arc de Triomphe heroine, Zarkava, Zarkandar has long been a horse of exceptional potential, and one which has provoked intrigue from racefans of both racing codes. In 2011, his victory in the Triumph Hurdle - a Championship novice hurdle for four year olds at the Cheltenham Festival - looked to be just the beginning of a story which would propel Zarkandar to the top of the hurdling tree. 
However, a tough twelve months would follow for the five year old son of Azamour, with injuries playing a large part in hindering his progression from the springboard performance of the Triumph Hurdle, and a horrific fall at Aintree in April curtailing a troubled, yet disappointing year for a gelding who had promised so much.
"If you'd run him again last season after that fall, you would've got nowhere with him. He remembered it." said Champion Trainer, Paul Nicholls, "He could've broke his neck easily that day but he's got over that now and he's moving forward again. We've not been hard on him this year, as we have in the past, and we've not done massive amounts of work with him. Trudie [Smith], who does a great job riding him at home and knows him better than anyone, keeps on telling me that if we keep on doing what we're doing, we'll have him at his best come March.".
"He got beaten in the Champion [Hurdle] last year when he wasn't half the horse he is now and then he fell at Aintree. When we started schooling in October he wasn't having any of it - two weeks before Wincancton there was no chance at all of him running well and he astounded me with the way he jumped and it was just what he wanted, he suddenly picked up and got a bit of confidence again in schooling and then he was away again. 
Inheriting the lead in the International Hurdle at the third flight of hurdles, Zarkandar jumped with an exuberance that had been absent from his armoury since his dual Festival victories of 2011. Noticeably enjoying his hurdling whilst bounding from one side of a hurdle to the other, Zarkandar quickly towed his two market rivals clear of the rest of the toiling pack exiting the back straight, establishing a twenty length gap between the market principles and the remaining runners. 
As the field headed towards the home straight, Zarkandar was taken on by his ex-stablemate and reigning Champion Hurdler, Rock On Ruby, who momentarily took a slender lead with two hurdles to go. However, the tenacious Zarkandar was not for passing, battling back along the near-side rail to re-establish himself as the leader of the pack.
Jumping the final flight, Zarkandar would again need to dig deep and hold off the ominously travelling presence of Grandouet, yet did so with a minimum of fuss, surging towards the winning post for a comfortable two length success and provoking memories of the ease of his 2011 Triumph Hurdle victory - in which Grandouet finished a well-beaten third.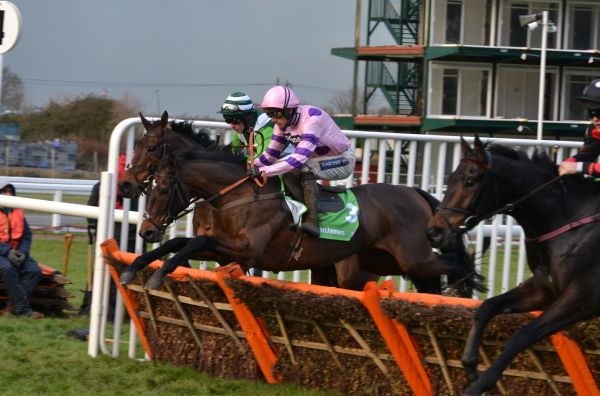 "I thought he'd go well today." said Nicholls, "Last year we had him wrong, he coughed after Newbury - he must've been a good horse to win at Newbury because he wasn't quite right and looked terrible afterwards. At Wincanton [10th November 2012] he looked right and he looked fantastic again here today; We're back where we were with him again.".
"Ruby said he's idling in front, he's got his ears pricked, but he just keeps picking up and keeps galloping. When he's in front, he doesn't really want to be there, and he will be better when he gets a properly run race where they go flat out and where he can use his stamina late on. Altogether, he's a better horse than he was last year - he's grown up and we really look forward to getting him right this year. 
Billed as an intriguing match up between the defending Champion Hurdler, Rock On Ruby, the returning Grandouet and Paul Nicholls' potential-laden Zarkandar, the Stan James International Hurdle provided a mouthwatering, highly anticipated race that would provide key clues on where Britain's three key Champion Hurdle hopes stood during the mid-season build up towards the Champion Hurdle in March. 
With Zarkandar returning with the kind of performance that many had hoped he could produce en route to last season's Champion Hurdle, all roads now firmly point towards another crack at the race, seemingly, with Zarkandar better than ever.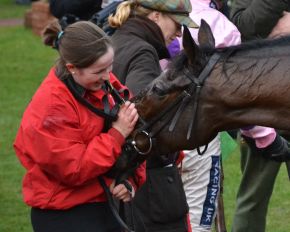 "I'm not going to run him again now until, possibly, Wincanton in February and then come straight for the Champion [Hurdle in March. If I didn't run him again before the Champion [Hurdle] I wouldn't lose any sleep over it.". 
Zarkandar is now the 5-1 futures betting favourite for the 2013 Champion Hurdle at the Cheltenham Festival. Grandouet, whom had been off the track for twelve months prior to his return in this race, is the general 6-1 second favourite for the race.