Patience is a virtue, so they say, yet after twenty-five years of waiting, even the calmest of successful athletes would begin to long for that ultimate success amongst their elite rivals. Having been crowned Champion Jockey for the first time last season, all that was missing from Richard Hughes' resume was a victory in a British Classic.
In 2010, hopes were high that Hughes could claim that elusive victory aboard the classy Canford Cliffs. However, for Canford Cliffs, the plethora of exceptional performances would follow all too late for Hughes and the Classic dreams. This season, Hughes was firmly of the belief that Toronado would claim victory in the 2,000 Guineas, inflating the colt to the top of his list and proclaiming him as the best horse he has ever ridden, only for the colt to drastically under perform in defeat at the hands of the undefeated Dawn Approach. Deflated, disappointed and baffled by the performance, Hughes would not have to wait long for his Classic dream to be realised.
As a two year old, Sky Lantern had her greatest day squaring up to her Irish counterparts for a successful raid in the Group 1 Moyglare Stakes at the Curragh. A race which finally provided the daughter of Red Clubs with deserved achievement, the Moyglare would hopefully provide Sky Lantern with the beginning of a sense of consistency after frustrating defeats in inferior contests as the overwhelming favourite.
Today, Sky Lantern had been backed, comprehensively so, into a joint-fourth-favourite at 9-1. Bursting out of the seven stall, Sky Lantern would take a very keen hold under Hughes as Masarah strided out in front alongside Celtic Filly. In their slipstream, the imposing sight of Charlie Hills' well-fancied Just The Judge, a filly whom looked full of potential when beating the colts on just her second outing on a racecourse, but one whom looked to be struggling to come out of her coat in the pre-parade ring this time around after a harsh winter.
As the runners began to edge towards the infamous bushes, a market for just over two furlongs from home, Just The Judge and Jamie Spencer began  to edge towards the front of the pack, with Sir Henry Cecil's heavily-favoured Hot Snap seemingly unable to deliver her challenge on the inside. However, the sight of Sky Lantern beginning to weave her way between horses was an ominous sight if Hughes could find the gaps at the right time. 
A furlong to go and Winning Express had powered towards Just The Judge, seemingly as the main rival. A filly who had failed to deliver her traditionally powerful challenge in the Nell Gwyn, this would seemingly be a chance for Franny Norton and Ed McMahon to gain Classic glory, yet Richard Hughes was still yet to deliver his challenge. Angling to the outside of Winning Express, Sky Lantern began to pick up, powering towards the line in pursuit of Classic glory. As Winning Express began to fade inside the final furlong, with a plethora of runners exploding late on from the pack to challenge that rival for the lesser places, Just The Judge and Sky Lantern began to pull away for their own private battle, a battle which would decide who would take home the glory - Classic glory no less.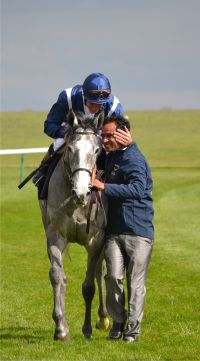 At the line, it would be Sky Lantern, the filly whom would struggle to weave a passage in the Breeders' Cup Juvenile Fillies Turf, a filly who would provide Richard Hughes with that elusive British Classic victory after years upon years of waiting patiently for the time to come. 
"It's about bloody time." said Hughes, "Things didn't go right the last time I rode her. They didn't go very fast at all and at a sedate pace early on and they got away from me a little bit in the dip, but I feel you have to go through horses on this filly, and once I met the rising ground I always felt that I'd get there. You couldn't have had confidence after yesterday after the colt got beaten. I thought he was one of the best horses I'd ever ridden, so when he didn't perform it just knocked my confidence a bit but I went out there feeling happy-go-lucky and I won."
What might have been, they ask. After defeating Sky Lantern in the Group 3 Solera Stakes on Newmarket's July Course, Certify was unable to reoppose her rival in the English 1,000 Guineas, having been banned from racing for six months in light of the scandal which rocked the very foundations of the Godolphin operation.
Whether Certify would have been a factor in this hottest of Classic races, nobody can confidently confirm, and for now it is the time for Sky Lantern and her connections to enjoy, and reap the rewards that a Classic victory provides. A late rattling run, which echoed the hallmarks of promise as she fired her best bullet in chasing the Sir Henry Cecil-trained Hot Snap in the trial before, this was the victory that Sky Lantern deserved.
"We're just delighted he's [Hughes] done it on one of ours." said Richard Hannon Jr,  "She hasn't had a lot of luck wherever shes went, she went to America and got no luck there and she ran into a very nice filly last time out [Hot Snap] who hasn't run her race today, but she's just so tough. We thought she'd done very well, we knew she was heavy going to Newmarket the first time [Nell Gwyn G3] and she lost twelve kilos before the race, she's put that all back on and she's not even really come out of her coat, which is odd I know for a grey, she's just a wonderfully tough filly, very very talented and we're very pleased. We'll look at the Irish Guineas, I think a mile and a quarter might be as far as she wants to go, but we'll just enjoy today. He [Richard Hannon Sr] didn't come today, he'd had enough of a hiding yesterday and didn't fancy another day of it."
"We knew she'd need the run last time, but we certainly had it all to play for today. We had every reason to run and take our chance. The owners are very sporting, the owner came over from Hong Kong and wanted to take his chance. We were very low after yesterday, we really think that horse [Toronado] is a very good horse, he hasn't run his race for some reason which hasn't come to light yet. He traveled very well, arguably traveled with his head pretty high throughout the race, and then after that he didn't finish his race. Hughesy said in another fifty yards he would've been near on last. He was that knackered at the line and we have to think of a reason for why that is. In a strange way I hope we do find something that was amiss.
For Richard Hannon, victory would acquire him his first victory in a British Fillies Classic final season as the named trainer for his Wiltshire-based yard, a victory which would also provide timely Classic victory for Richard Hughes just one day after he believed his chance had gone. This was most definitely the day that Sky Lantern lit up the faces of all connected with her deserved success on Newmarket's sunkissed Rowley Mile.