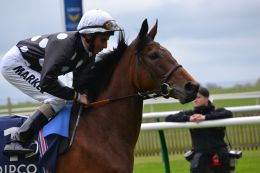 Horse racing in the public eye is packed full of imagery of Frankel, Black Caviar and Camelot en route to his Triple Crown attempt but what it doesn't show you in equal abundance is the season John Gosden and William Buick are enjoying thus far. Hot on the heels of back to back St Leger victories in 2010 and 2011, Gosden and Buick teams up for five victories at Royal Ascot and are seemingly unstoppable back at home with Michaelangelo, a three year old son of Galileo, just another name to the list of exciting prospects on this promising teams books. They may have the English 1000 Guineas to look forward to next year with their flying filly, Newfangled, but today was about one of their more experienced fillies; A filly who looks to take this season by the scruff of it's neck and make the filly and mare races her own - Izzi Top.
You'd be forgiven for being unfamiliar with Izzi Top prior to today; Third in the Epsom Oaks in 2011, this four year old daughter of Pivotal had initially struggled to make a significant impact in British racing. However, 2012 has seen her return reinvigorated and, with Gosden now satisfied that she has found her optimum trip at ten furlongs, there's more than one filly and mare in the UK keep a worried eye on Izzi Top's unstoppable progression. Gosden had been clear in recent weeks that Izzi Top did not stay the twelve furlongs that an Epsom Oaks requires of a filly and was now beginning to find her feet in the ten furlong races. Victorious in just two of her six outings prior to this season, Izzi Top returned in fantastic fashion to land the Dahlia Stakes at Newmarket on English 1000 Guineas day. The only filly in the field giving three pounds to her rivals, she demolished a field headed by the 2011 Group 1 Falmouth Stakes victor, Timepiece, and looked to be a filly very well within herself that day. Victory followed again eleven days later in the Middleton Stakes at York. A race familiar with Sir Henry Cecil and the unmistakeable power of his mare, Midday, in recent years, Cecil again sent Timepiece to renew the rivalry but was found out off of level weights. A classier field than Newmarket, Izzi Top looked to account for all of these rivals with a minimum of fuss under Buick to double her lifetime win record and acquire her first Group 2 victory. An entry for Group 1s was sure to follow soon.
Sunday's Group 1 Pretty Polly Stakes at the Curragh had been heralded as a race which would pit the likes of 2012 Epsom Oaks victor, Was, and stable number one, Maybe, against their elders Izzi Top and Sapphire, who had been frighteningly progressive herself for Dermot Weld in recent months.  With both Izzi Top and Sapphire giving twelve pounds to their Ballydoyle rivals, this was going to be a race that'd pinpoint the Champion Filly Elect heading into the mid-season races. However, O'Brien elected to withdraw both Was and Maybe from the line up and albeit leaving in his third-string, Up, who had previously looked like she would thrive over the ten furlong trip, the race had begun to take shape as a battle between two of the elder fillies and a battle between England and Ireland. Breaking out of the gates, Sapphire and Pat Smullen took things into their own hands up front and looked to be going well on the front end in what many thought could convert into a tactical affair. With Izzi Top settled two lengths back in second place, Sapphire angled the field wide into the straight and with Smullen confident, Buick covered every move on his mount. As Smullen began to ask Sapphire for her finishing effort it was clear to see a confident Buick beginning to edge closer on Izzi Top. Buick drew to the outside of Sapphire in front of the stands and kicked on with Izzi Top for a comfortable and unchallenged success as the second choice in the betting markets.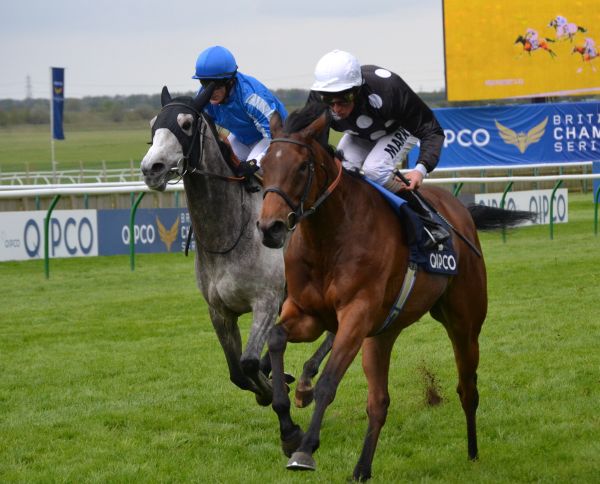 This wasn't the planned impressive victory over a dual-Ballydoyle raid that many had come to expect of Izzi Top prior to the race but it was victory over a progressive sort from the Dermot Weld yard, a filly who had been bet down to an even-money favourite with a turn of foot that had earmarked her as a filly with a big future in front of her. With a habit of pulling herself up ever so slightly when hitting the front too soon, it's an intriguing thought that we are yet to see the best of Izzi Top. Accounting for Sapphire easily, Izzi Top was reported to have hated the ground at the Curragh today but also reported as completing some of her best ever work at home in Newmarket recently. This isn't the last we'll see of Izzi Top at Group 1 level; Victory in the Pretty Polly Stakes inherited an automatic berth into the Breeders Cup Filly & Mare Turf for Izzi Top and whilst that race may turn out to be a furlong too far for Gosden's new star, he's keen to try the race at the end of the season. "We'll look at all the big Group 1 races over a mile and a quarter for her, races like the Nassau, Prix de l'Opera and possibly even the Breeders Cup could be a possibility for her". 
In a division seemingly at her mercy, the Nassau Stakes on August 3rd looks the perfect stepping stone for Izzi Top en route to European Group 1 glory on Prix de L'Arc de Triomphe day in the Prix de l'Opera and there may just be no stopping her now.  
            Photos Courtesy of Emma-Louise Kerwin  (Goodtosoft.co.uk)