With the performance of Toronado still fresh in the memory, Richard Hannon unleashed two further exciting stable stars into the Classic division, as Olympic Glory and Maureen powered to victory in their respective Guineas trials on Saturday.
A colt that has gone from strength to strength since finishing second to Dawn Approach in last season's Coventry Stakes, the imposing being of Olympic Glory has drawn in new fans and followers from both sides of the English Channel in his six starts. Victory on his last outing, a Group 1 victory in the PrixJean Luc Lagardere on Prix de L'Arc de Triomphe day, curtailed a season rich in Group race glory, perfectly ended with Group 1 glory.
Saturday saw Olympic Glory's first outing as a three year old, an attempt at the perfect preparation in the Group 3 Greenham Stakes en route to glory in the French 2,000 Guineas [Poule D'Essai des Poulains], a race which has been earmarked as his early season target due to his owner also owning English 2,000 Guineas-bound, Toronado. 
Lining up as the odds-on 8/11 favourite, Olympic Glory would have to turn away three rivals if he were to achieve victory this time. His most notable challenger, Moohaajim from the Marco Botti yard, a colt that had impressed behind Reckless Abandon in the Group 1 Middle Park Stakes last season after a runaway victory over this course in the Group 2 Mill Reef Stakes. 

However, for all of the pre-race hype surrounding Olympic Glory and Moohajim, as the runners entered the closing stages it was Sir Patrick Moore, a three year old son of Astronomer Royal from the Harry Dunlop stable, who would throw down the biggest challenge to the Hannon-trained favourite.
As Sir Patrick Moore led his rivals a merry dance through the opening stages, Richard Hughes and Olympic Glory angled towards the stands side rail and, momentarily, looked as though he was struggling to pick up the front runner. Through all of Richard Hughes' urging, Olympic Glory seemingly lacked the sparkle of his previous runs and, with Moohajim angling for a passage behind him under a tight rein, it seemed as though it would be a matter of, not if, but when Martin Harley and Moohajim would saunter to the front.
With a furlong to go, the effort of Moohajim rapidly flattened out as Sir Patrick Moore continued to find on the front end. Through all of the determination from the Harry Dunlop trained colt, the final stages of the race proved to be heartbreaking as Olympic Glory began to stay on dourly to snatch victory from the jaws of defeat, eventually grabbing a one length success.
Olympic Glory will now head to the Poule D'Essai des Poulains alongside his stable mate, Havana Gold, whilst Sir Patrick Moore will head to Germany for their renewal of the 2,000 Guineas. Whilst Olympic Glory will give a fantastic account of himself at Longchamp, time will tell as to whether a further stretch out, despite the concerns, will see him thrive in a race such as the Prix du Jockey Club.
For Maureen, it was a somewhat a case of a retrieval mission in the Group 3 Fred Darling Stakes after an uncharacteristically poor performance in the Group 1 Cheveley Park Stakes at the tail end of last season. Bouncing back as a three year old in her Classic season, Maureen looked a stunning picture of perfection on cantering to the start, and an underwhelming 7/2 second favourite too.
As the runners burst out of the starting gates, Rosdhu Queen, last season's perfect filly whom entered this season unbeaten in four starts, took things up towards the middle of the track alongside the likes of The Gold Cheongsam and City Style.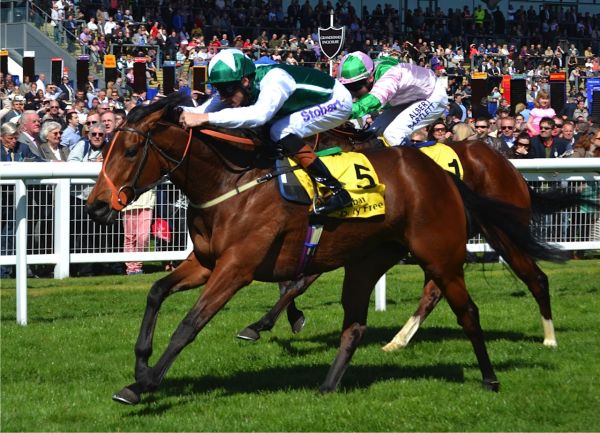 With a hot front end pace to play with,
Richard Hughes
sat motionless in the saddle towards the tail end of the field, allowing his mount to canter along at a comfortable pace whilst slowly beginning to angle and weave Maureen towards a gap in time for the closing stages of the race. 
As the final two furlongs drew ever closer, Maureen still travelled effortlessly well with Richard Hughes still motionless as he angled towards the nearside rail alongside the Peter Chapple Hyam-trained, Agent Allison.
As Hughes pressed go, Maureen responded, scooting through a gap between Agent Allison and Melbourne Memories to comfortably account for her rivals with a sublime burst of speed. Whilst Jamie Spencer aboard Agent Allison tried to keep tabs on the Hannon-trained filly, the writing was on the wall as Hughes had barely touched his mount as they powered to the winning post for a comfortable three-quarter length success. 
For Maureen, the memories of the Group 1 Cheveley Park Stakes disappointment had been dispelled against similar rivals. All roads now lead to the English 1,000 Guineas for this talented speedy filly.
"I felt they went a very good gallop and I was probably eight lengths off them. The front few died a bit but mine pick up well." said Hughes, "It might be harder over the extra furlong but you have to let her take her chance.".
Hughes, who has won three of this week's four Guineas trials, now has the dilemma of choosing between Maureen and Wednesday's Nell Gwyn-second, Sky Lantern, in the English 1,000 Guineas. 
                       Photo Courtesy of Emma-Louise Kerwin  (Goodtosoft.co.uk)