The Champion Three Year Old last year, Olympic Glory ended his season with a strong runaway victory in the GI Queen Elizabeth II Stakes on British Champions' Day, before failing to deliver his true best on firm ground when fading behind Wise Dan in the GI Breeders' Cup Mile.
However, on a firmer surface today Olympic Glory bounced back with a performance of exceptional magnitude to regain the Lockinge Stakes stranglehold for the base of 
Richard Hannon
, after just one year of absence from the Hannon trophy cabinet.
Hannon's father had used the GI Lockinge Stakes as the ideal starting point for Canford Cliffs two years ago before he ran on to defeat Goldikova in the GI Queen Anne Stakes, a path Paco Boy also took on his route to Royal Ascot, and Olympic Glory could bid to follow that illustrious path too.
Ground provisions, in the opinion of his trainer, is a myth for the horse, who has performed creditably in the past, most notably behind Dawn Approach in the GII Coventry Stakes at Royal Ascot two years ago, and everything looks set for Olympic Glory to be considered for the QI Queen Anne Stakes in just under a month, despite his stablemate Toronado also being considered for the race.
"I felt a bit of pressure today, but to see him travel and win like that is encouraging," said winning trainer, Richard Hannon. "He doesn't need soft ground; He goes on this and acts on pretty much any ground. He's in the Queen Anne and the Prince of Wales', but we'll wait and see."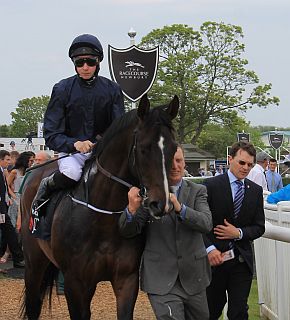 Racing for the first time under the care of 
Aidan O'Brien
, Verrazano loomed boldly behind the front runners with two furlongs to go in the GI Lockinge Stakes, before being angled towards the inside rail by jockey Joseph O'Brien, however, on this day Olympic Glory's quick burst of speed on ground conditions less than ideal for him could not be matched.
Bookmakers in Europe were initially split by their opinions, with one going as big as 14-1 for Verrazano to reign supreme at Royal Ascot next month, but general opinion has now seen Verrazano installed at 8-1 for the 
Queen Anne Stakes
 behind the current 7-2 market leader, 
Toronado
.
"
Joseph [O'Brien]
 said he was very green, would you believe?," said Aidan O'Brien. "I'm delighted with that for a first run in this part of the world. He has never raced in the middle of horse on grass like that - it's totally new. We're going to look forward to him, maybe the Queen Anne is what we look at next."