It happens all too often, a great racehorse catches our heart and our imagination, and before we know it, their career is over and it's off to retirement. It's not unusual for a racing fan to form a fast bond with some of these athletes. My first love was Alysheba, then it was King Glorious; however, the club wasn't restricted to Grade 1 winners and Eclipse champs… I gave my heart to a lot of 5k claimers, too. Back then it was difficult to keep track of our equine idols in retirement--any snippet of info was like gold. Now, in the age of Social Media, we have a much easier time keeping tabs on them.
One place where you can meet over 100 retired heroes of the turf is Old Friends, the Thoroughbred Retirement Facility based in Georgetown, KY., that cares for more than 160 pensioned horses. Some of the residents there are bold face names, such as Kentucky Derby and Preakness Champions Silver Charm and War Emblem; Belmont Stakes winner Touch Gold, and Breeders' Cup Classic winner Alphabet Soup. Others, meanwhile, are known only for toiling in the lower ranks, such as Swan's Way, a grinder with 81 starts who raced until he was 15; and Easy Grades, a one-time Derby contender who fell hard down the claiming ranks.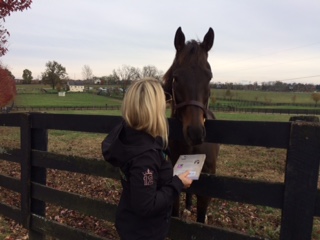 One resident who long ago captured my heart is Game On Dude. I never met the Dude during his racing career, but that didn't matter. This son of Awesome Again caught my attention when he debuted at Gulfstream Park in January of 2010, finishing 2nd at 17-1. First trained by Michael Mareina, Game On Dude ran in the 2010 Florida Derby, won by Ice Box. He made his presence known nationally for the first time in that year's Belmont Stakes, as the Bob Baffert-trained "Dude" who stuck his nose in front when they turned for home, but ultimately finished 4th to winner Drosselmeyer.
The little bay horse would be a headliner in just about every race he ran from that day forward. Game On Dude went on to win every major dirt race the Southern California circuit had to offer, including three victories in the Santa Anita Handicap—a current record. In 2013, at the age of six, he captured all three of the West Coast's most coveted Grade 1 stakes: the "Big Cap", the Hollywood Gold Cup and the Pacific Classic. 
In my opinion, he saved his sweetest win of all for his last--his record-breaking third win in the 2014 Santa Anita Handicap, run in 1:58.17, the fastest 10 furlongs since Spectacular Bid's world- record time of 1:57 4/5 on the same track 36 years prior. The one race that would prove to be The Dude's white whale, though, was the Breeders' Cup Classic, which he lost three consecutive times—losses that buried his chances at the Eclipse Award for Older Male, as well as Horse of the Year.  The fact that Game On Dude never won an Eclipse Award is a thorn in the side of his legions of fans who felt he deserved one, especially in 2013 when he reeled off five straight graded wins. Personally, what I will always remember most about his racing days was that final win; it was the exclamation point on a stellar career.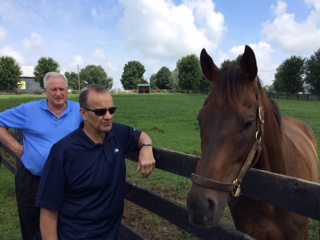 Game On Dude's brilliant career came to an end in 2014, when it was decided that at age 7, it would be best for the 14-time graded stakes winner with a bankroll of $6,498,893 to retire. After a thorough search, and a lot of due diligence, the GoD team decided on Old Friends. He arrived at the Georgetown, KY, farm in October of 2014, looking phenomenally fresh out of Bob Baffert's barn. A few days after the horse arrived, a package arrived from Jill Baffert. Inside were two boxes of Jolly Ranchers, the Dude's favorite treat, and a note simply stating: "He will steal your heart".  To quote Mark Otto, one of the Board of Directors at Old Friends, "No truer words have ever been spoken."
Now settled in at Old Friends, Game On Dude spends his time in a sprawling paddock that he shares with Catlaunch, 15, a retired Ohio bred who won over $1 million. "The Dude" loves hanging out and meeting the tourists that come to the farm to meet him and the other former champs here, and during quiet times he will nap in the grass, graze, or kick up a few heels with his paddock mate.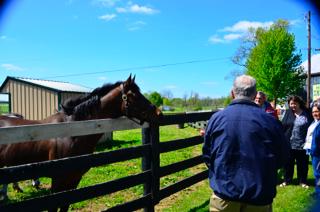 I had the opportunity to visit with Game On Dude recently, and my time with him was everything I thought it would be. As aggressive as he was on the track, in person he is gentle and sweet. During my visit he wanted all of the attention, shooing away his paddock mate if he tried to interrupt our time (and I can confirm, his favorite candy is a Jolly Rancher, and yes, he does steal your heart). Michael Blowen and his staff provide The Dude and all of the 100-plus horses retired on the property with the best of care –from top vets, to the best farriers and care-takers.  As a fan, I only wish there were more places like this in the world. Here is a cool fact: Old Friends houses more Grade 1 winners than any farm in Kentucky.
For racing fans, a visit to Old Friends is a little bit like being a kid at Disney World. For the horse lover in general, it's an up-close-and-personal experience with beautiful equine athletes in a natural setting. Either way, it's truly memorable, and every horse has a great story to tell. 
Every now and then, though, Mother Nature strikes even the most idyllic of settings. Many people saw news reports about the January 2016 fire that destroyed one of Old Friends's barns. Thankfully, no one was hurt, human or equine. I can report that the new barn will be larger and state-of-the-art. It will have more room to accommodate more horses and will be as fire-proof as possible.  The current main black barn will be turned in to a pavilion for future events.  
If you've been considering a visit to Old Friends to see Game On Dude, Silver Charm or even Swan's way, consider attending the 12th Annual "Homecoming" on May 8th, the day after the Kentucky Derby. It's a great party featuring a BBQ, live music, tours of the farm, and live and silent auctions of racing memorabilia, collectible stallion halters, equine art, and much more. Information can be found on their website http://www.oldfriendsequine.org/
Your equine athletes at Old Friends are doing just fine, and trust me, they will be happy to see you. Just make sure you hide the Jolly Ranchers in your pocket and have your camera ready, as the memories you will make there will last a lifetime. 
The beautiful main drive at Old Friends welcomes visitors.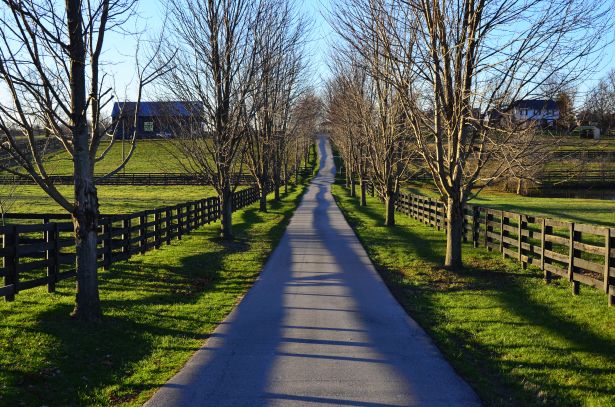 War Emblem, another Kentucky Derby winner for trainer Bob Baffert has found his new home at Old Friends.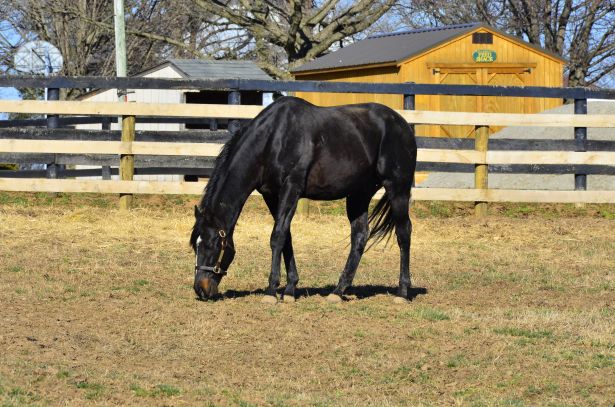 The legacy of the Kentucky Derby winning filly, Genuine Risk lives on through Genuine Reward.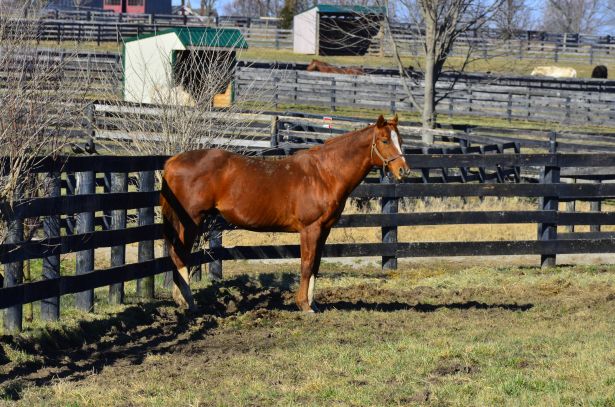 Eldaafer and his goats.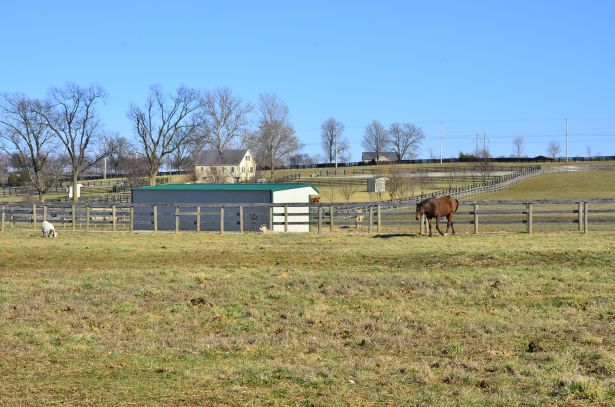 All photos courtesy of Mark Otto of Old Friends