Welcome to Horse Racing Nation's Kentucky Derby Daily, which will each day leading up to the May 4 race at Churchill Downs detail all the news and notes related to contenders in one convenient space
Each week as voters in the 2019 Kentucky Derby Media Poll submit their ballots to us at Horse Racing Nation, a Top 20 list arrives alongside a comment. And while this writer reads just about everything there is to consume about the 3-year-olds, occasionally one of those entries particularly piques interest.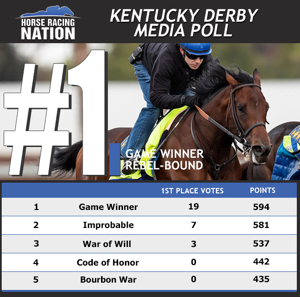 You're only more informed, after all, once considering more perspectives.
Take this thought from Bob Ehalt, of BloodHorse and Thoroughbred Racing Commentary, ahead of Saturday's Rebel Stakes (G2) in which Game Winner and Improbable are expected to reaffirm themselves as the ones to beat on the first Saturday in May.
"Given the horrific winter at Santa Anita there has to be concerns about the impact on the training of Game Winner and Improbable," Ehalt said. "They are in the best possible hands with Bob Baffert, but this might be the year when the Florida route is the best path to the winner's circle on the first Saturday in May."
Five of the last seven Derby winners based in California. The only two exceptions — Orb (2013) and Always Dreaming (2017) — shipped in to Churchill Downs from Florida.

Code of Honor is in the May 4 field by way of his Fountain of Youth (G2) victory at Gulfstream Park. Tacitus added his name to the list by taking last Saturday's Tampa Bay Derby (G2).
"Even if he was aided by a hot pace up front, Tacitus was impressive in winning the Tampa Bay Derby in his first start around two turns off a four-month layoff," said The Thoroughbred Daily News' Ben Massam. "Bill Mott holds a strong hand with a pair of extremely talented colts."
That other colt being the Florida-based Hidden Scroll, fourth in the Fountain of Youth and possible to return in the March 30 Florida Derby (G1). As for his Mott-trained stablemate and sometimes workmate, "Tacitus has the physicality, the pedigree, and possibly the talent to be a special one and he took a huge step in that direction winning the Tampa Bay Derby," said the New York Racing Association's Maggie Wolfendale.
The biggest horse outside of Florida and California, War of Will, remained third behind Game Winner and Improbable in this week's rankings. Code of Honor and Bourbon War, second in the Fountain of Youth, rounded out the top five.

Tacitus went from un-ranked to seventh. Haikal, the Gotham Stakes (G3) winner who's also in the Derby field, landed in 10th, garnering less support.
"Fast paces. Pace meltdowns. Closers making big moves late in the stretch to nab the coveted Kentucky Derby points," said Racing Dudes' Mike Spector. "It's become redundant over the past two weekends in the three most recent 50-point Derby preps. Maybe a possible split-division Rebel will restore order to the Derby hierarchy with everyone's top two, Improbable and Game Winner, back in action."
And if not? The Florida horses will be primed to call this their year.
Work of note
Preparations continued Monday for West Coast-based horses who will board a plane Wednesday for the Rebel as Galilean, the Jerry Hollendorfer-trained son of Uncle Mo, breezed a half mile in 48.40 seconds at Los Alamitos, a temporary home for some big-name 3-year-old colts until Santa Anita Park's main track becomes available for works.
Galilean has won three of four starts, all against fellow California-breds, and is actually not being displaced by the Santa Anita closure. Connections pointed him straight to the Rebel after a dominant win Feb. 18 in the California Cup Derby.
Trainer Steve Asmussen looks to have the biggest group of local challengers awaiting with as many as five horses under consideration. Oaklawn Park will split connections evenly, meaning Game Winner and Improbable will be in separate divisions, and entities with one horse in the Rebel will be randomly assigned a flight.
Meaning: It's too early to consider handicapping, pace and strength of the fields. Stay tuned for Wednesday's post position draws.
Derby links
• Pool 3 of the Future Wager closed Sunday evening, and final Kentucky Derby odds are set for 23 individuals and the overall favorite, "All Other 3-Year-Olds," which includes Tacitus and Haikal.
• Handicapper Steve Davidowitz measured up Saturday's Derby prep winners in his latest Across the Board column. Though he picked Haikal, that doesn't mean he considers him a serious threat at 1 1/4 miles.
• Senior writer Brian Zipse compares the late season debuts of Game Winner and Improbable to some notable runners of the past. In short: History doesn't view the move kindly.