Welcome to the first edition of Horse Racing Nation's Kentucky Derby Daily, which will each day leading up to the May 5 race at Churchill Downs detail all the news and notes related to contenders in one convenient space. We've got 123 days to go!
By Jonathan Lintner
Trainer Adam Kitchingman said Tuesday it's "up in the air" whether Greyvitos, the recent Springboard Mile winner, will be able to continue on the 2018 Kentucky Derby trail after the colt had bone chips removed from a knee following the Dec. 17 race.
"It's going to be difficult, but it's not impossible," Kitchingman told HRN. "They were very, very small chips and were in a place where they came out nice and easy."
The Wynn Las Vegas' race book took Greyvitos off the board over the weekend, alluding to a problem. He was previously listed at 60-1.
A son of Malibu Moon, who also sired 2013 Derby winner Orb, Greyvitos emerged by winning Del Mar's Grade 3 Bob Hope Stakes, then continued to flash talent in the Springboard Mile, taking an outside trip to top a field of 12.
Plans were originally set to give Greyvitos a freshening before returning to the work tab in January. Among Kitchingman's decisions to make was where to train, as he and Greyvitos were originally based at the San Luis Rey Downs training center before fires there in December forced evacuation. Now, Kitchingman will give his horse more time with the Derby trail a consideration.
"We're still aiming for that," he said, "but obviously just taking it week by week right now.
"...He's just recovering right now, and like I said, we're still planning on trying to make it to the Derby. Obviously we still need more points and lots of things need to go right. It's a step back, that's for sure."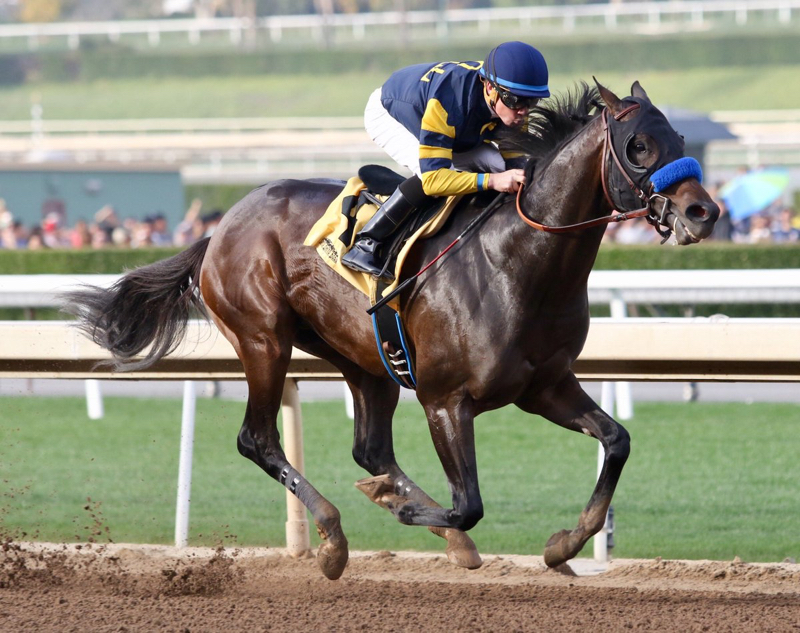 Bob Baffert unleashes solid firster
Ax Man ran unchallenged to a debut win Monday at Santa Antia and, in doing so, recorded a final time of six furlongs in 1:09.43. That, and his 96 Beyer Speed Figure, drew quite a bit of buzz for the half brother of 2007 champion 2-year-old Indian Blessing.
But consider also that his race was the first offered by Santa Anita in a new restricted condition. The track limited entries to horses sold at $100,000 or less at public auction or were bred by their owners. Ax Man was the only homebred -- or, horse that might sell at six figures -- in the field of 11.
His recent workmate, another Baffert 3-year-old named Nero, looked the stronger of the two in their Dec. 2 drill (click image below).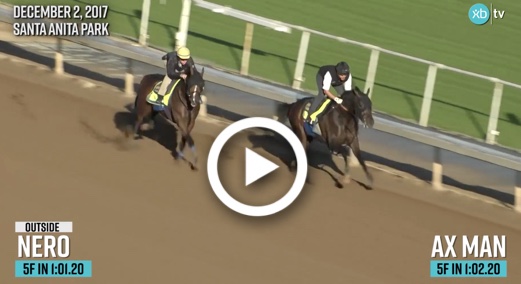 We've been waiting to see the $950,000 yearling Nero back at the races since he was second in his Aug. 27 debut.
First contender rankings
HRN's initial ranking of Derby contenders — based on ratings assigned to 3-year-olds by readers — was released just before the New Year. As more ratings are assigned, horses tend to anchor in place. Fans can rate any horse by logging in and going a horse page and clicking on a number of stars, 1 through 10.
Principe Guilherme, a dominant allowance winner at Fair Grounds, however continues to rank among the likes of multiple Grade 1 winner Bolt d'Oro and Breeders' Cup Juvenile winner Good Magic.
Principe Guilherme will jump to stakes competition a week from Saturday in the Grade 3 Lecomte. The notes team at Fair Grounds on Monday also offered an update on Ebben, expected to be among the Steve Asmussen trainee's rivals.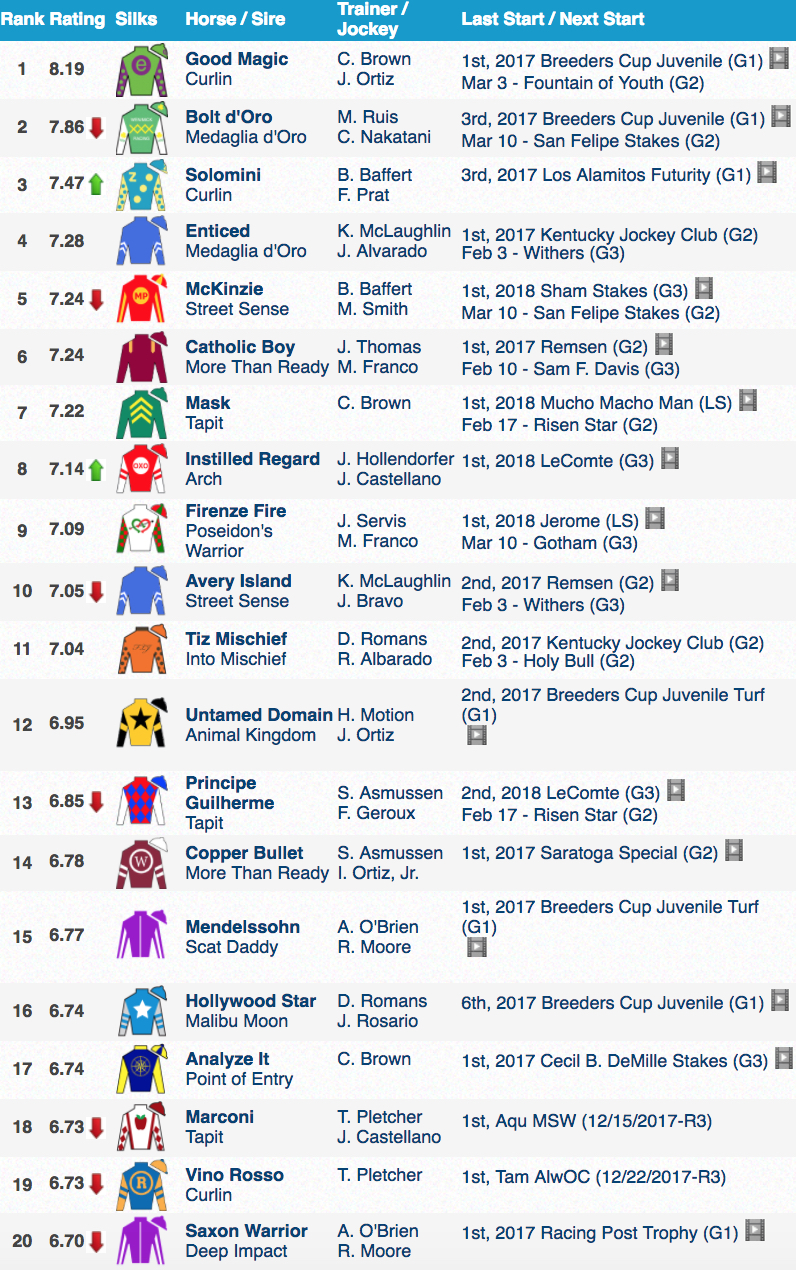 The works
Timed drills today for contenders with Derby qualifying points…
McKinzie — The Los Alamitos Futurity winner posted his third drill back on Tuesday, timed at 48.20 seconds (8/27) for a half mile at Santa Anita. Baffert, his trainer, has not announced when McKinzie will next race.
Derby links
• Cool Bobby is officially off the Derby trail, trainer Peter Eurton told the Daily Racing Form, after surgery to remove a bone chip in his ankle. The colt broke his maiden Nov. 11 in his second start.
• Without Cool Bobby, the Sham Stakes, set for Saturday, is still setting up decently with Bob Baffert-trained Mourinho set to go two turns for the first time. Entries will be taken Wednesday, and we'll have full field odds and analysis available at HRN.
• While postponed due to colt weather, the Jerome Stakes, originally set for Monday on the Derby trail, is among a group of races a NYRA official promises will still run at Aqueduct. Given the forecast, don't expect it to run this weekend…
• As for those aforementioned Derby odds from Las Vegas, behold. Strike Power is our headlining horse for this edition having registered a 102 Beyer Speed Figure in his debut, second in the crop only to Bolt d'Oro.