Welcome to Horse Racing Nation's Kentucky Derby Daily — proudly sponsored by NYRA Bets — which will each day leading up to the May 5 race at Churchill Downs detail all the news and notes related to contenders in one convenient space.

By Jonathan Lintner
When a combination of big-name owners purchased an $850,000 2-year-old by Medaglia d'Oro, the likes of Robert LaPenta, Eclipse Thoroughbred Partners, Twin Creeks Racing Stables and Bridlewood Farm did so thinking they could campaign the horse in America's classic races — primarily the 2018 Kentucky Derby.
Montauk has done nothing but reaffirm that belief since going into training with Todd Pletcher.
"We know we've got the goods," Eclipse's Aron Wellman told HRN.
Montauk's Derby odds at the Wynn Las Vegas have plummeted to 22-1 since his Oct. 7 debut at Belmont Park, where the bay colt demolished a maiden special weight field by 11 1/4 lengths. The Wynn now offers only Grade 1 winners Bolt d'Oro, Good Magic and McKinzie, along with Breeders' Cup Juvenile runner-up Solomini, at a shorter price.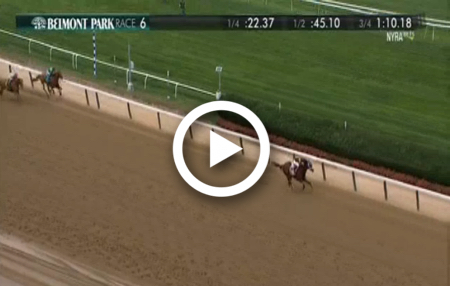 That Montauk hasn't been seen at the races in more than three months is by design.
"It was time to let him develop a little bit more and bring him back for a 3-year-old campaign of blockbuster variety," Wellman said. "We're managing him for the long term."
Wellman said Montauk recently returned to Pletcher's care at Florida's Palm Beach Downs, and that there's no specific target race to open the 3-year-old campaign. His first workout back should fall around Feb. 1.
"We anticipate him coming to hand relatively quick," Wellman said. "He's a horse that things come very naturally and easily to him. He seems to always be ahead of the curve."
Wellman also mentioned Arrogate and West Coast as examples of horses not rushed along to the Triple Crown series and hit notable peaks afterward. That could also be Montauk's future.
"We've been very fortunate to be down this road before, and this is what we're all in the game for," he said, "so we're certainly blessed to be in this position. But at the same time, we've all been crushed by this trail before plenty of times. Therefore, we're taking a keep-our-feet-on-the-ground approach.
"It's just a matter of timing as to when we get to realize this horse's true potential."
Derby scouting reports
This week, HRN published a trio of 2018 Kentucky Derby "scouting reports" — organized by region — to evaluate all the biggest names on the trail. We've also listed some up-and-comers to keep an eye on along with horses still on the shelf, awaiting a return to the work tab at age 3.
West Coast | Central U.S. | East Coast
We'll deliver this comprehensive look at the Derby trail again next month.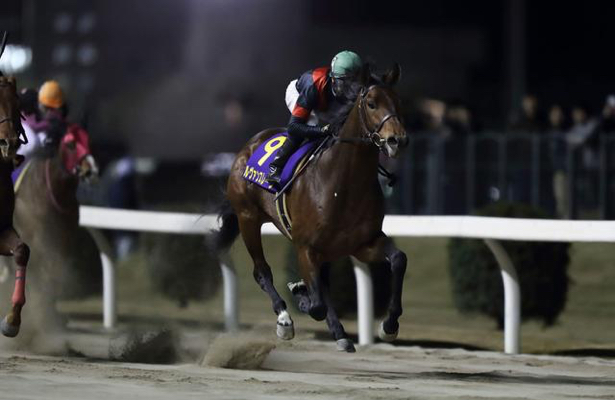 How about Europe and Japan?
Churchill Downs spokesman Darren Rogers said it's too early to know who's serious about a trip to the United States when it comes to contenders on the European and Japan roads to the Derby. We'll know more once early Triple Crown nominations — which are due Saturday — get released within the next month.
So far, Le Vent Se Leve has emerged in Japan after taking Kawasaki's Zen-Nippon Nisai Yushun back on Dec. 13. He's ranked 46th on HRN's list of Derby contenders.
Rogers mentioned the host track went "all out" in celebration of the race's prep status.
"They had exhibits of past Derby winners on display," he said. "They had an opera singer sing 'My Old Kentucky Home' on the track before they went to to the post. They made a special program handed out to all the fans. There's definitely an interest there."
In Europe, Saxon Warrior on Oct. 28 won the Group 1 Racing Post to pick up points. Trainer Aidan O'Brien, who conditions Saxon Warrior, 20th on HRN's contenders list also mentioned a dirt start could be in the cards for No. 14 Mendelssohn, who won the Breeders' Cup Juvenile Turf at Del Mar.
The works
Enticed — In his third workout toward the Grade 2 Holy Bull, the son of Medaglia d'Oro clicked through five furlongs in 1:01 (3/10) Friday morning at Palm Meadows. Trainer Kiaran McLaughlin said his other Derby prospect, Grade 3 Withers-bound Avery Island, is due to breeze Saturday.
Also, we'll turn our attention to South Florida on Saturday with this news for the Breeders' Cup Juvenile winner:
Joel Rosario now confirmed to ride Stellar Wind in Pegasus per Chad Brown. Will have final work tomorrow at PM. Also Good Magic on schedule for his first work back, 3/8, on Sunday.

— Mike Welsch (@DRFWelsch) January 19, 2018
Derby links
• At least for now, the full brother to California Chrome isn't being mentioned as a Derby hopeful. But he's pointing to a race next out that launched Chrome's 3-year-old season, the California Cup Derby, trainer Art Sherman said Friday.
• HRN's Laura Pugh sees Mourinho, Monday's Smarty Jones Stakes winner, as a legitimate Derby contender. "Just because he wasn't challenged — and won like a good horse should — shouldn't take away from how impressive his performance was."
• The Courier-Journal's Tim Sullivan spoke this week with Charlie Davis, exercise rider for Secretariat, who's battling cancer and in need of help to pay for treatment. Of the horse, Davis says, "He was a human being to me."
I visited Adam Kitchingham's barn at @DelMarRacing this morning. The owners bought their horse, who is a contender for the @KentuckyDerby , a new blanket. GREYVITOS, Lilac Fire Survivor pic.twitter.com/5xixWw2hny

— AftertheFinishLine (@AfterFinishLine) January 19, 2018
In case you missed it…
Thursday's Derby Daily report featured another contender just getting back to training — only this one has a victory on the trail already and ran fifth in the Breeders' Cup Juvenile.
• Catch up with all the latest Derby news by reading past editions of HRN's Derby Daily report.