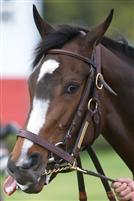 Magnificent, beautiful, powerful, courageous…. Those are the words that come to my mind when I remember
Rachel Alexandra
.
Curlin
, is by far, my favorite horse of all time, but not even he could compare to the fire that Rachel Alexandra sparked in 2009. The passion she stirred was incredible, and even in retirement, she still manages to bring forth love and compassion from her fans.
I remember, being a skeptic during her preps. I thought that her wins, while impressive, were due to a lack of true competition. I knew she would probably win the Oaks in a hand ride, but never did I expect a win by over 20 lengths, completely decimating the field. That was the day she turned me into a true believer.
I watched her win the Preakness, floated wide, after breaking from post 13, pressured on the lead by a future champion sprinter. I watched as she put him away and fought like a lion down the stretch, never giving an inch to
Musket Man
or the Derby winner
Mine that Bird
. I remember her decimation of the Mother Goose, her track record, and near 20 length victory again. I remember the Haskell, a race that was supposed to be her greatest test turned into a route as she beat Belmont Champion and eventual three year old champion,
Summer Bird
by six lengths. What I remember most of all though, was her Woodward. Challenged at every point in the race, from the start to the finish, by males older and stronger than herself, she never relented. Even as
Bullsbay
and
Macho Again
closed in she refused to relent, and became the first filly to win the Woodward.
Her four year old season was not as brilliant. Almost nothing could be as brilliant as the year she won Horse of the Year, but what I remember still was her unbending will. She may have lost her first two races, but just look at what she ran her competition to. She was never beaten by even two lengths that year. It didn't matter if she was in a rapid pace duel, forced out of her normal running style, or coming off a long layoff, she always, always, fought.
After being retired you would think she would have a life of leisure. That all she would do is make babies, and be a loving caring mother as fans fawned over her and her foals to come. That has not been the case. After her first foaling, she was sore enough for Stonestreet to send her to Rood and Riddle for precautionary measures. All was fine, but this time around, after delivering a beautiful filly, news came that Rachel was sent back to Rood and Riddle. This time surgery as required to fix a bruised colon, her condition termed as serious by the vets.
On the track she demonstrated an unyielding will to win. She showed courage and an unbreakable spirit. She is now forced to show that same strength, that same courage, and that same unbreakable spirit, once again. Her courage is what drew me, along with thousands of others to her. It made us love and identify with a horse that was not even ours. I hope and I pray that I do not have to see her go like I have so many of my other favorites. I hope and I pray that the courage she showed on the track is still there, even now in retirement, and that it pulls her through this.