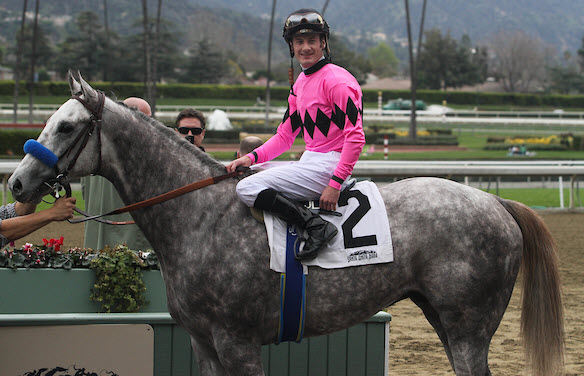 While the Holy Bull might have been the first major Derby season starter, one cannot look back on yesterday and say that it was not the beginning, of what looks to be, a very promising Kentucky Derby prep season.
Racing from New York, to Florida, to California, stakes races delivered us new favorites and there were even a few unexpected maiden and allowance winners that stamped themselves as legit. But who was the best of them all?
Florida, while not pegged as a major Derby prep site this weekend, still offered up two very exciting prospects in Verrazano and Forty Tales.
Verrazano
pressured a brutal pace, in his first time trying the mile distance, battling just off a 22.94 quarter and a 45.45 half mile. He cruised up on the outside Gunderman, taking the lead with a quarter mile left and drew off, to win by over 16 lengths, in the easiest of victories. The final time, a scorching 1.34.8, was not half bad for a colt making only his second career start.
Forty Tales
may have lost the Hutcheson yesterday, but anyone scouting for potential Derby horses could see that this was a horse who needed much more than seven furlongs. He came charging like a locomotive at the end of the race, narrowly missing the winner. He, like Verrazano, is trained by Pletcher, who seems to unveil a star every weekend. It should be interesting to see where he points these two next.
In New York, two Pletcher horses, again emerged victorious. The first was Kentucky Oaks contender,
Princess of Sylmar
. Riding a hot streak of three consecutive wins, the filly had no trouble extending her streak to four. It was impress, it was dominant, everything you want to see. The time was slow, but seeing as how she wasn't even pressing the top two for most of the race, one cannot blame the slow pace and resulting final time on her. What one can say, and notice is that she ran each quarter faster than the next, not a very common thing in dirt racing.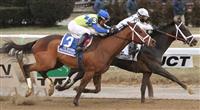 The second Pletcher trainee would be hard pressed to outdo his stablemate, but
Revolutionary
did just that. Stuck on the rail, blocked in traffic, forced to wait for room, and he still exploded like a keg of dynamite, dodging and weaving his way through traffic to nab the victory by a neck. Again, the time was nothing special, but considering he never got to run until the last 1/16
th
of a mile, he ran a pretty darn good race.
Last, but certainly not least, we saw a
Flashback
of brilliance. Looking like the opposite of his older sister, Zazu who tended to lay farther off the pace, Flashback took the lead in the four horse Robert B. Lewis and never looked back. He was pressured by He's Had Enough, a much more experienced foe, and instead of folding he repelled his opponent, to romp by over 6 lengths.
From start to finish, from east to west, stars strutted their stuff for the nation to see, but who was the best? Was it the brave Revolutionary? The brilliant Verrazano? How about the unlucky Forty Tales? Or was it the flashy, Baffert trained grey? With such performances all over the country, only one thing is certain….Brian Zipse will not have an easy time of choosing his Star of the Week.