Tools & Tips to Win Big on Kentucky Derby 2021!
Bettors looking for some potential Kentucky Derby weekend overlays might find these five predictions will come in handy.
Roadster upsets Maxfield

When Roadster finished fourth in his 2021 debut, it was disappointing to say the least. However, if we are to really delve into the effort, the finish was very misleading.
Roadster was coming off a year-long layoff. He had a string of solid works, but a year is a long time to be out of action. He also was in a new state and a new barn. In addition to this, after a mild half-mile, Roadster went the third quarter in 23.34 seconds under pressure.
After all that, he still fought on well until tiring in the final sixteenth of a mile. I would argue that this was a great prep, and had the race been a mile instead of 1 1/8 miles, he would have won.
This will set him up for a great effort in a race that will not have any other true speed. It is also a sixteenth of a mile shorter than his last start, giving him the perfect set of circumstances to spring the upset.

Caramel Swirl sweeps to Eight Belles win

In a 12-horse field, it does not bode well for a fleet-footed favorite when seven others are also wanting to be on or near the lead. Dayoutoftheoffice is that favorite, and not only does she have lots of other speed to contend, but she has to overcome an outside post and a six-month layoff.
Carmel Swirl has speed but also has shown that she can sit a couple lengths back. She will have to overcome a wide trip, but if the pace collapses, that might not matter. In her last race at Keeneland she sat two lengths off a moderate pace, before erupting to a 10 1/4-length victory. She finished her final furlong in 11.80 seconds.
That type of closing kick is dangerous, and if she can get a similar trip to her last start, she will sweep to victory again.
How to Crush the Kentucky Derby 2021 Superfecta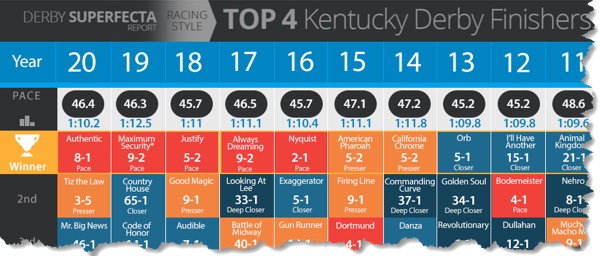 Clairiere upsets in the Oaks

The rivalry between Clairiere and Travel Column has given fans three fine races. In their last meeting Clairiere was stuck behind a slow pace, then she had to travel between rivals and go wide. This race should have a livelier pace into which the daughter of Curlin may close.
If Clairiere can work out a trip, there is no reason that she cannot make it to the winner's circle.
Rock Your World, Essential Quality run off the board

There is no denying the talent of Rock Your World, but there is too much speed in this spot. With only three starts and a post that positions him outside most of the other speed, I just cannot see him lasting after being used so hard early and then sticking wide though what will be a very quick pace.
With so much to overcome I see him tiring late and finishing out of the trifecta.
Essential Quality will not have an easy time either. If he does not get squeezed back, he will have to use some speed to secure an early position. This could put him close to that hot pace, which I see taking the starch out of his kick.
Known Agenda, Super Stock to the wire

Known Agenda has shown that he does his best running in traffic. If you watch his last two starts, running with horses seems to focus this son of Curlin. He has no issues threading horses or running on the inside.
With the way this Kentucky Derby is setting up, I see him getting a great, ground-saving trip like he had in the Florida Derby. The only difference is that with such a fast pace, the field will be stretched out, allowing him more freedom to move.
Super Stock should get a similar trip, just toward the outside. We saw what he could do when a strong pace causes a meltdown when he took advantage of that situation in Arkansas. This race will be faster and more pressured, and he will be on the outside, in the clear and ready to pounce.
It would not surprise me in the least to see these to colts battling one-two to the wire.