The Breeders' Cup Turf Sprint champions from the last two seasons lead a field of six in Saturday's Arlington Sprint Handicap.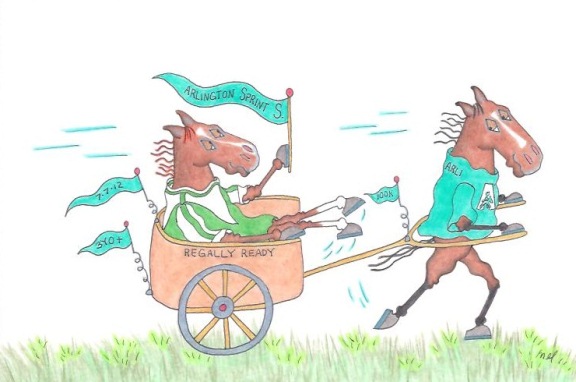 (Drawing by the famous Marcy Leonard) 
Headlining the event are the 2011 champion, Regally Ready, and the 2010 champion Chamberlain Bridge. Chamberlain Bridge has also won the Arlington Sprint back in 2010 as well.
The Arlington Sprint started as a new race back in 1990 where it was run on the dirt at 7 furlongs. After a brief hiatus it returned in 1996 and has been run ever since (sans 1998-1999). The race was run at 6 furlongs on the dirt from 1996 to 2007 and switched to the turf course at 5 1/2 furlongs in 2008. Last year's winner Havelock shined this year in the Hanshin Cup earlier this summer. 
Below is my video preview of the field for what should be a very exciting and competitive race.