As expected,
Two Notch Road
swung in from the outside to attempt to set the early pace, however today he had to contend with
Swift Warrior
who many, including myself, did not expect to contend for the lead. 3/2 favorite
Atigun
was only a length and a half behind in third along the rail. The winner
London Lane
was far behind early on. The first quarter went in :24 2/5 and the first half went in :49 flat.
The position of the horses remained constant throughout the first three quarters of the 1 3/16 mile race as Swift Warrior set a fairly honest pace of 1:12 4/5. Once the horses started coming around the turn, that's when it all changed. As expected, Two Notch Road couldn't last with the others and eventually faded to last. Swift Warrior was gamely in the stretch and ultimately ended up third. Favorite Atigun was repeatedly blocked in, and when he got free in the stretch was blocked by stopping Roadhog.
For the winner
London Lane
(Langfuhr-Travelling by Miswaki) , it was the trip of a lifetime. Unhurried early, local jockey
Horacio Karamanos
didn't really ask anything of the horse until the 3/8 pole. He swung out to the five path around the turn and had a clean look at the finish line with no obstacles in the way.
Chad Brown
's entry
Hyper
looked like he was going to take the race home, and that was until London Lane swooped past him on the outside. The victor brought the race home in 1:55 4/5.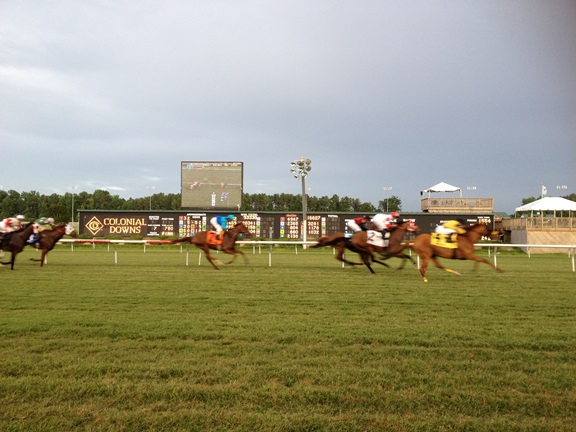 (Greer Sorenson)
After the race an ecstatic Horacio Karamanos took time to talk about his race. "I really had a lot of horse. I put him into position and he had a really good kick. He responded really well to the whip. The pace was a little fast but this horse has a lot of class. You know, any time you have a horse in a race like this you have to believe you have a shot to win. You never know what is going to happen."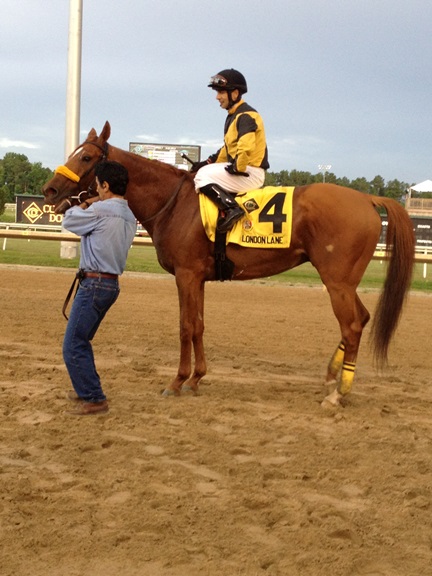 (Greer Sorenson) 
For the favorite Atigun, trainer Kenny McPeek had this to say about his trip, "It was a horrendous trip. He got stuck inside. He got stuck inside again. He got stuck inside again. He tried to get out. And then had to go back in again and couldn't go anywhere. One of the worst trips I've ever seen a horse have."
Colonial Downs isn't known as being a chalky track, and tonight it proved itself again! I hope you enjoyed Horse Racing Nation
exclusive coverage
this evening!