From a humble Chicago-area upbringing to Stanley Cup champion, U.S. Hockey Hall of Fame inductee
Eddie Olczyk
understands what it means to remember his roots and to never forget where he came from.  With a deep passion and strong work ethic, Olczyk is now galloping full-speed into the sport of kings. Earlier this week, I was honored to have spent some time interviewing this well-known NBC hockey and now NBC horse racing broadcaster.  I'm proud to introduce Olczyk to all of you, Horse Racing Nation.
(The Dark Horse squares off against Eddie O.! Drawing by Debbi Martin!)
Growing up in the Chicago suburbs of Palos Heights and Niles, Olczyk started his lifelong hockey journey like any other typical school-aged kid, with the "learn to skate" pamphlet stuck in a pile of papers coming home from school. Unlike for most of us mere mortals, for Olczyk this turned into something much, much more. A lifelong Chicago Blackhawks and hockey fan, Olczyk was a fan of
Stan Mikita
,
Tom Lysiak
, and the Philadelphia Flyers'
Bobby Clarke
. So much was Clarke his favorite player that Olczyk would wear the #16 on his back for many years to come.
Drafted 3
rd
overall
by the Chicago Blackhawks in 1984, Olczyk has the very unique distinction of being the very first U.S. born player to be drafted by his hometown team in the first round of the draft! During his professional career Olczyk has amassed 342 goals, 452 assists, totaling 794 points (which ironically is
#16 all-time
for U.S. born players) . His hockey experience and knowledge made the next step in his career a logical one; joining the broadcast team first in Pittsburgh then eventually for NBC.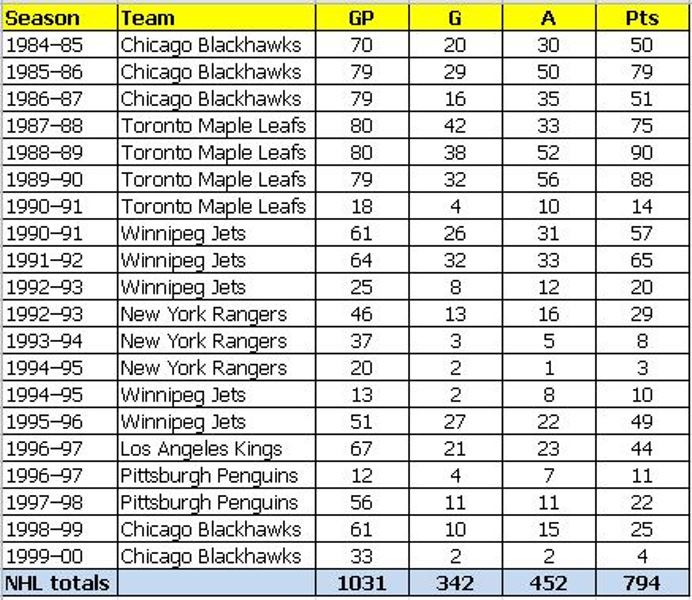 (Olczyk had a stellar NHL career!)
With his name engraved on the most recognized trophy in all of sports, the NHL's Stanley Cup, the main goal sought after by many upon many a hockey player, and a 2012 induction into the
United States Hockey Hall of Fame
, Olczyk knows what it takes to win. And knowing what it takes to win is certainly important in horse racing.
Olczyk was first introduced to horse racing around the age of 13 when he visited the race track with a friend and his friend's father. I think we can all remember the feeling of when we became "hooked" on racing, and it was on this day that Olczyk was "hooked." (But not in the hockey sense, of course)  Olczyk followed horse racing throughout his hockey career and even received his first exposure to broadcasting for horse racing in 1994 when he had the opportunity to perform some TV work at Meadowlands Race Track outside of New York City.  This broadcasting experience would be the foundation for Olczyk's now growing presence on horse racing television. Not only has he been a key participant on WGN's coverage of Chicago's major racing events and has been featured in commercials for Xpressbet (see below), Olczyk now has an expanded role in NBC's horse racing telecasts!
Olczyk and I discussed some of the similarities between hockey and horse racing. Olczyk loved playing in the
old Chicago Stadium
or against the Calgary Flames wherever the game was being played, and like players which have their favorite stadiums, he agreed there is a link as horses have their favorite tracks (or horse for course as us racing fans would say).
Like hockey players, horses are athletes too. I asked Olczyk if there were any similarities between a horse's form cycle a hockey player's level of play. Olczyk remarked, "There is no doubt, all athletes go through those cycles and those that stay at that level consistently for a long time are what separate the great ones." I then asked which would be more exhilarating between playing in game 7 of an NHL playoff game, or the stretch run of the Kentucky Derby as the owner of one of the horses. "The game 7 would be more exhilarating. Once a player, always a player. However there would be more pressure in the Kentucky Derby because I have no control over the outcome." 
Finally we have seen some professional athletes foray into the world of horse racing; such as folks like Wes Welker. Will we see more of that? "I hope so," replied Olczyk. I asked him if any of the current NHL players are into the sport. He wasn't sure about many of the current players (other than the Sedin brothers possibly owning shared of harness runners in Sweden) but he did know that former players such as Keith Jones, Gary Leeman, and Curtis Joseph owns or had owned horses. In fact, Olczyk himself has participated in ownership; most recently with a horse stabled at Arlington called Lavender Patch who is under the care of Chicago-based trainer Tammy Domenosky.  He loves visiting the barns in the morning to see the hard workers caring for these majestic athletes.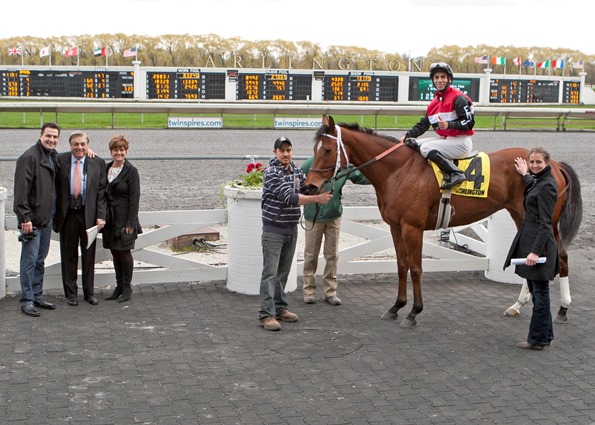 (Lavender Patch - victorius for Eddie O. Racing on 5/2/14 and paid $43.00! Photo by Four Footed Fotos)
Turning to handicapping, I was curious how a professional athlete breaks down a race. For Olczyk it's mainly about condition and class, however he has also taken a recent interest in track biases (which he believes exists across all classes of horse), and as Joe Kristufek always says, pace makes the race. To make the handicapping a little easier he has a desire that the racing forms would publish when colts become geldings, and that track maintenance was more easily available at some tracks. I tend to agree with his sentiment! For Olczyk, missing the announcement for the first time gelding, and it not being reflected in the form, may have cost him a rather substantial pick six score!  His favorite wagers are the pick four and pick six while putting money on the horse's nose when he is confident.  Santa Anita or any southern California track for that matter, along with Belmont and Arlington are the tracks which Olczyk likes to play the most. He tries to play the races as much as possible depending on his busy schedule.
For those of you who missed it, and speaking of Santa Anita, live on NBC last Saturday Olczyk gave out two long shots in a row from the paddock! In race 7, the #2 horse Sheza Smoke Show paid $23.20 to win and in the next race, the Gold Cup, Majestic Harbor paid $30.80 to win! Do winners beget winning?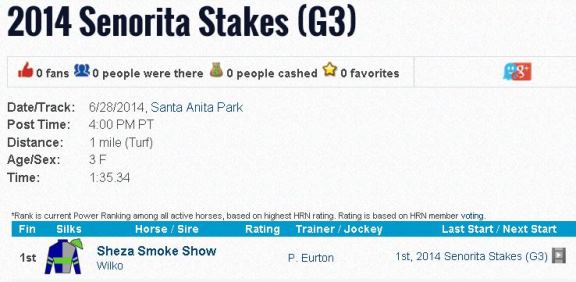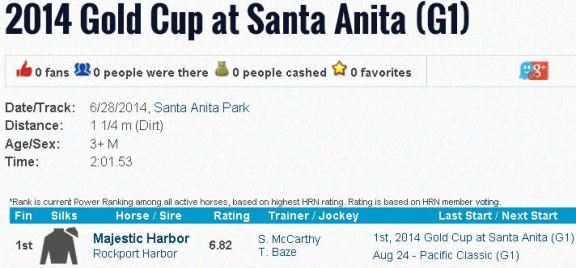 For Sheza Smoke Show, a good workout and being reunited with a jockey was all it took for Olczyk to make that call.  In the Gold Cup it was the expected early speed that pointed him towards Majestic Harbor. Truly amazing.
Now, of course no interview of mine would be complete without some Dark Horse-style questions, and Olczyk was not immune from them. He was a good sport as I peppered him with some quick Q&A:
If you could name a horse, what would it be: Edzo Said So
Favorite Chicago-based horse: Illinois-bred Harham's Sizzler
Favorite jockeys: Mike Smith and Mike Luzzi
Favorite trainers: Tammy Domenosky and JR Smith Sr.
Favorite 80's song: I always ask about the 80's but as requested...
Favorite 70's song: The first time ever I saw your face, Roberta Flack
Favorite restaurant: T-Bones Chophouse, Las Vegas
Favorite Chicago racing moment:
Hitting a rather substantial daily double in 1988 with horses named Someday Maybe and Crystal Garnett (that horse's lone lifetime victory) at
Hawthorne
Favorite music group: Styx
Interests outside of racing or hockey: "I'm just a sports fan"
Any special game day or race day superstitions routines: Whatever is working
Toughest goaltender ever faced: Martin Brodeur
Best Pizza in Chicago: Giordano's
Can you do that one University of Michigan behind the goal thing goal?
"Yes, but I wouldn't have tried that during an NHL game as I would have likely been whacked in the wrists."
Would you make any changes to the current Triple Crown format? "Only thing I would like to see is one more week added in between the Kentucky Derby and the Preakness."
Is there any track you have ever wanted to visit yet not had the chance to do so? "I visited the new Gulfstream Park last year, so I've been to every track I've wanted to visit."
Would you ever get into breeding and perhaps go for a Kentucky Derby victory? "Never say never…"
Being so involved in activities all around Chicago, Olczyk wants to see racing flourish in the area.  He believes that Chicago has a lot to offer the fans in the world of racing. "We have a historic venue at Hawthorne which is close to the city and another historic venue in the suburbs with
Arlington
." He also feels that the Illinois state legislature should jump in and help the horsemen make racing in Illinois grow.
While he waits for action to be taken downstate, Olczyk is very involved with getting Chicago-based racing fans in on the action. He is very proud to be part of the ownership promotion at Hawthorne, in conjunction with the Chicago Blackhawks, where a lucky fan gets the opportunity to own a horse with him!
A remarkable ambassador for horse racing, and a passionate racing fan, Olczyk strives to be a voice for the sport, to sell the sport, and to teach people and get them interested. With that passion, his overall goal is to become more active in ownership and continue to be a promoter and spokesperson of the game. Similar to his being so grateful for the people behind the scenes who helped makes his professional hockey career a success, or as Olczyk says, "the lifelines of a player", such as physicians and medical staff, trainers, equipment managers, and front-office staff, his passion for horse racing also stems from the appreciation of what it takes behind the scenes to make racing happen.  He gives extra special credit to the grooms, hot walkers, and trainers who work endlessly to care for these equine athletes.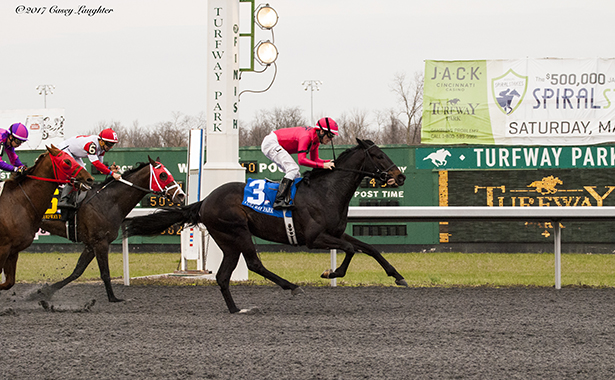 (Olczyk mentioned to me that he loves to hang with the horses and trainers on the back side. Photo by Four Footed Fotos)
Eddie Olczyk is a true friend of the sport, and for that I am grateful.