Here we go folks! We are only mere days away from the big event:
Arlington Million
Day! This Saturday we can expect to see some of the best turf horses from around the globe as they descend onto the Chicagoland area for what will be an absolutely
stellar
day of racing (with
picture perfect weather
forecasted). The entire card is stocked full of great races and many opportunities to catch a price and hit some big tickets. Let's preview the big races.
First though, I'd like to start with race 3: a conditioned $7,500 claimer for non-winners of two lifetime…
JUST KIDDING
!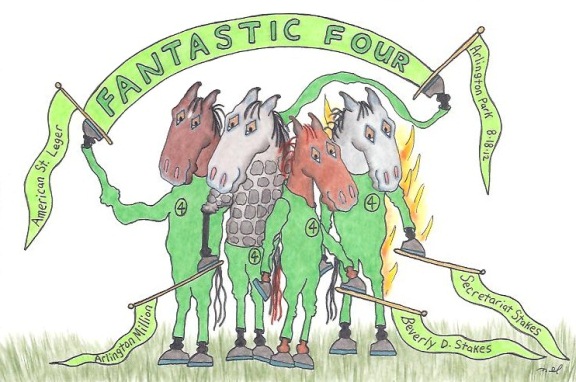 (Million Day! - Drawing by Marcy Leonard!) 
The first big race of the day is the newest of the stakes races at Arlington, and that is the $400,000 American St. Leger being run at the distance of 1 mile and 11/16. Honestly for me it's a bit hard to handicap races like this as for many of the entrants the longest distance they've ever had to travel. I'm anticipating not seeing any 22/44 early fractions. Two of the contenders, Zuider Zee and Bridge of Gold, actually have experience running at distances of two miles or more! Most of the American contingent, however, has experience going at least 1 ½ miles so maybe it's not that much of a difference if they're already going that far… Anyway, Marco Botti's Jakkalberry earns morning line favorite honors at 9/5. Though he has yet to win in 2012 in three starts, he is a nine time winner including a third place finish in the Dubai Sheema Classic back in March. The horse I'm very intrigued with is Lake Drop. Team Valor sends this 5 time winner, with experience running at long distances on the grass, to the St. Leger. This horse has performed extremely well on Italian turf courses over his career, only missing the board three times! At 8-1 I'll certainly throw him in the mix. But as you know, my heart will be with the local runners. Team Block entered two runners in Suntracer (who won last weekend and on just a week's rest I think will scratch) and Grade 2 Stars and Stripes winner Ioya Bigtime. And of course I'll be cheering hard for my favorite of all Arlington-based horses, Helicopter! 
The next race features the future of turf racing as 8 three year olds head post-ward to battle in the Grade 1, $500,000 Secretariat Stakes. Right off the bat it sure looks like 9/5 morning line favorite Silver Max is the one to beat. He has ripped off 6 wins in a row and 7 of his last 8 and just seems unbeatable. In fact the only race he has not finished first or second was on a sloppy track in the Holy Bull. This horse always wins on the lead and usually does so with some very (and I mean very) fast early fractions. To me though, it just seems he hasn't really been tested on the lead yet and this race just may prove a bit more difficult. If anyone will pressure Silver Max on the lead then surely is would be Daddy Long Legs (it will be Daddy Long Legs and don't call me Shirley) and maybe (just maybe) All Stormy who showed some speed in his last race. You certainly cannot discount anything that Aidan O'Brien sends over and yet there are a couple of other classy contenders that could give Silver Max a run for his money. French import Bayrir is really the only other horse in the field that has come close to running a full 1 ¼ miles and has already won 3 times in his 4 lifetime starts. Summer Front has been no slouch either as he has won 5 of his 7 lifetime starts, though those have been at a mile or less. Well in my mind if it's not Silver Max, then Bayrir would be my choice.
Now it's time to feature the ladies in the 1 3/16 mile Beverly D.! To me this looks like an extremely strong field as the morning line favorite, Marketing Mix, is a lukewarm 3/1. In this race I expect the early speed to come from the inside post and Kapitale (who has yet to race in 2012) and Frank Calabrese's Romacaca (who can also rate). If there's any pressure up front, the race will set up well for a closer or a mid-pack stalker so let's start there. Marketing Mix sure is a classy filly who has won 6 of her last 9 races, one of which was last year's Pucker Up Stakes at Arlington. This Canadian-bred has won 7 lifetime starts and sure does seem to like the firmer turf courses. She has handled graded stakes company well and certainly fits here. With Leparoux aboard she has won 4 of her last 5 races. Another horse that could jump out of the clouds and squeeze out a victory on the wire is Irish-born Up. Up is only three years old and facing some tough competition, but she is improving in form with each and every start. Will this be the race where she earns her second lifetime victory? A horse that always seems to run better than her odds is Irish-bred I'm A Dreamer. She should be charging home late as well, but it seems she prefers a distance of about one mile. On the flip side, she has seen some real tough competition over in England… This race will certainly require additional handicapping to find the winner. What a great field!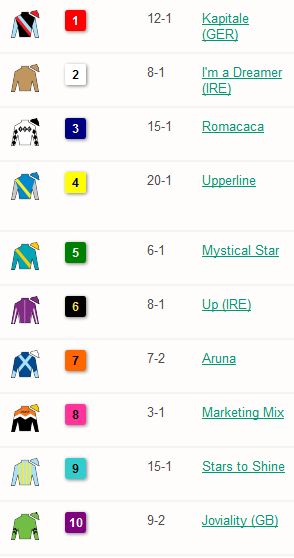 And last, but not least, it's the big one. This is the 30th running of the Arlington Million!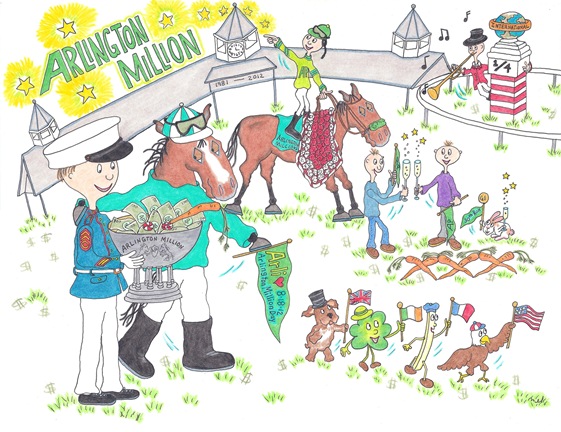 (Drawing again by Marcy Leonard!) 
I'm going to start off with the very lukewarm morning line favorite, 4/1 Boisterous. In his only other start at Arlington, a loss by a neck to Rahystrada in the Grade 3 Arlington Handicap back on July 14th, he fell behind early and had to fan 6-wide to get a shot at the front-running Rahystrada just missing as the post-time favorite. There appears to be a bit more pace to chase in the Million as Little Mike and Colombian appear to be the ones who will battle for the lead. If that's the case, the race could set up well for Boisterous. He has 7 wins out of 15 starts on the grass and just seems to give it his all in each and every race. He certainly will contend here. The horse I'll be giving a very close look is Crackerjack King. This horse has never lost in Italy, being a perfect 7-for-7 (and 7-for-9 lifetime). He will set just off the pace and if the expected pace scenario holds, he could have a great shot at the winners circle. Still, if Little Mike and his front-running style are left unchallenged, he could also run away with the whole thing himself. One more horse I want to take a look at is Asfare. This four-time winner always seems to bring his best to every race and against tough competition in England and Europe. He will not be far from the early lead and should be in striking distance in the end. However still, and all of you already know, that my heart will be with Rahystrada and Willcox Inn as I would really love to see the two of them perform well!
Whew! This was almost as long as my 2011 Breeders' Cup Blog! I hope you enjoyed my little inside look at the big races coming up this Saturday! For those of you attending in person, I hope to see you there!
For those not attending in person, I will be providing exclusive
Chicago Dark Horse
coverage of the entire day's worth of racing with live updates, tweets (
@chidarkhorse
),
Facebook updates
, and photos throughout the card. So be sure to check it out!
I'm curious to know, however... who do you like in these races?  Let me know!  Let's discuss!