As a new resident of the greater
Richmond, VA
area, I didn't know a lot about
Colonial Downs
. That is until I talked to some key insiders at the track and found out how
cool
this summer boutique turf meet is going to be…
Sure, the reputation of Colonial Downs precedes itself. You know, a TON of turf racing, right?  And who doesn't like turf racing? Colonial Downs has a rich turf history in their brief existence and I've learned that some of the turf greats of all time have run there! The list includes
Virginia Derby
winners English Channel (Breeders' Cup Turf champion), Kitten's Joy (Secretariat Stakes champion), Paddy O'Prado (also a Secretariat Stakes champion), and of course one of my all-time favorites… GIO PONTI (Arlington Million Champion among others…)!!! One of my local Chicago favorites, Rahystrada, also won the
Colonial Turf Cup
in 2011!
Nestled in New Kent County, Virginia, right off of I-64, between Richmond and Williamsburg, (yes the same I-64 that runs by Churchill and Keeneland), Colonial Downs opened up its doors in 1997 to a whole new world of racing in Virginia. The widest turf course in North America (a
whopping
180 feet) features two turf courses (on the Secretariat Turf Course) built into one! When split in half it becomes a 7 ½ furlong inner oval and a 1 1/8 mile outer course. That along with the specialized meet schedule offers a unique experience in racing where most to all races can be run on the grass. In fact back in 2000, there was a day with so much rain that some of the races were moved from the dirt to the grass!! When do you
EVER
hear of THAT happening??
After speaking with racing secretary Tyler Picklesimer, I started to get a better feel for what this meet was all about. The main event of the season is on July 13 where the Grade 2 $500,000 Virginia Derby will be contested over 1 ¼ miles on the expansive turf course! This serves as a good prep race for the Secretariat Stakes later in the year at Arlington Park. On that same day the Grade 3 $150,000
Virginia Oaks
will also be run at a distance of nine furlongs. Additionally that same card features a trio of $75,000 stakes races as well: the Kitten's Joy for 3 year olds and upward running at the Belmont Stakes distance of twelve furlongs, and a pair of juvenile sprint turf races (the Tippett and the Chenery stakes).
The week before that features the best of Virginia-bred horses running in five (count-em FIVE) $50,000 stakes races, of course all on the TURF! The races include the Punch Line, the Oakley, the Bert Allen, the Brookmeade, and the Jamestown. However the real stakes season gets underway on June 22 where the Grade 2 $300,000 Colonial Turf Cup for 3 year olds and up is run over 9 ½ furlongs! That same day features the Grade 3 $100,000 All Along, the Old Nelson Handicap, and finally the Da Hoss stakes.
Whoa, for a five week boutique turf meet, that's quite a stakes schedule! Coming in from the outside, I didn't know the schedule was that good! In fact Colonial Downs if offering increased overnight purses of 25% over last year!
Curious about this famous turf course, I wanted to learn a little more.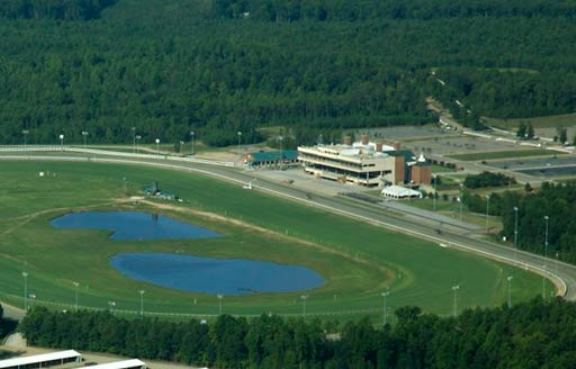 After speaking with JD Thomas, the track superintendent there, I discovered that this year they took a very unique approach to maintaining the grass. They burned it down. That is not a misprint; they actually burned it down to the ground!  Well why on earth would they do that?
WARNING
:
Questions you wanted to know about maintaining a turf course but were too afraid to ask…
Apparently this is the only race track in mid-Atlantic with Bermuda grass! OK so this kind of grass goes dormant at 54 degrees and the green part of the grass, or leaf, will not re-green when it's dormant (dead). When spring comes, they have to get the dead leaf off of turf course because the grass will not re-green with the dead layer as it will slow and choke the growth. With the nutrients present in leaf, burning it puts those nutrients back into soil and blackens the ground which will cause the sunlight to get soaked up; also tricking the ground into thinking it's warmer than it is. WHOA. 
Essentially what normally took 10 days to accomplish now took two hours (versus cutting and blowing). Thomas also says that burning would work well on any grass! I wonder if Arlington would ever try that. Would you even try that on your own yard?
Well, Thomas is CERTAINLY proud of his turf course!! So much so that he will afford me an opportunity to get a closer look at it from the starting gate!!  Thank you for enjoying today's horticulture lesson.
So what kinds of special things is Colonial offering for their fans for this year's meet? I learned a little about that from Marketing Manager, Darrell Wood!  So it seems like every weekend they will have something going on whether it is a poker tournament, ladies' night, 4th of July, and even camels and ostrich races on Fathers' Day! To get even closer to the action, they offer an infield viewing deck which is on top of tote board! Anyone can walk out there for a free, spectacular view close to the action! And if that wasn't good enough, there is a "tram" hooked up to pick-up truck which gives fans a six minute tour on right on the dirt track and close to starting gate!
One of the things I like best is the $0.50 pick 3 and 4 wagers! Colonial will also offer an all-stakes pick 5 on Virginia Derby day, and an all-stakes pick 4 on Turf Cup day!
So who can we expect to see at Colonial Downs this year? Pickelsimer let me know that Wesley Ward will send in about 15 horses, Jamie Ness will ship in 6-8, Jonathan Sheppard will ship in 6-8 while regulars
Hamilton Smith
, Michael Trombetta, and
Ferris Allen
will fill out the stables.
Sheldon Russell
who led last year's meet by almost 20 wins, is expected to be back as well as a majority of the Maryland-based jockey colony!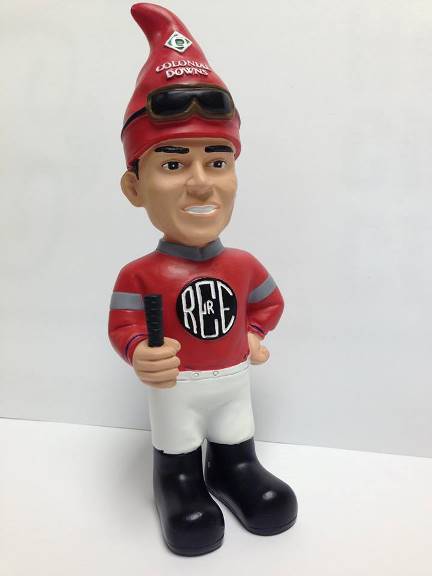 (Sheldon Russell bobblehead to be given out later in the meet!)
Well there you have it! All you could possibly want to know about this summer's Colonial Downs meet! You can bet that I'll be covering all of the action for Horse Racing Nation and on Twitter @HRNDarkHorse.  
See you at the races!