Greetings one and all! It's been a while since
my last blog
(and think all the way back to the
Hawthorne Gold Cup
too) and I really need to play
catch up
. So here we go… what's been happening at
Hawthorne
, in Chicago, or with me over the last six weeks or so? I think I'll go in chronological order here.
It all started with Hawthorne's opening weekend and the
Gold Cup
.
Pool Play
made the 16-1 splash in this Grade 1 affair coming from behind to score the victory. I really thought Alternation was the class of the race, and especially after Nates Mineshaft had scratched that he would have it easy. I threw a couple of bucks on Pool Play since his only dirt win was a Grade 1 victory…
Then the next weekend the "
rent
" was paid as
Two Months Rent
($43.20 to win) with Jesus Castanon aboard took home the Grade 3
Hawthorne Derby
on a soggy turf course going a 1 1/8 miles in a waterlogged 1:52.2. Castanon noted after the race, "He gave me exactly what we expected. He was very comfortable and traveling fine. I just got him outside, gave him room to run and he picked it up; he went on and did his business. As soon as he broke from the gate I knew he could handle the yielding turf. I could just feel it. Everything went according to plan. We had a good trip, he handled the turf, and we got up for the win."
Check out the replay of the Hawthorne Derby HERE.
During that same weekend I made my first ever trip to Keeneland! It was such an amazing trip and I'll summarize it bullet-style below:
Fueled up with a cornucopia of snacks for the trip: apples, bananas, M&M's, and Oreos!
Stopped in Indianapolis on Friday night to pick up HRN's own Scott Dick.
Spent a few hours at Hoosier Park and actually won $50…on quarterhorses! First time I ever played those!!
Woke up the next morning to start the drive to Lexington and had to search all around town for the DRF. Unfortunately we couldn't locate any…
Learned that Scott (boring ballads) and I (upbeat rock) have very different taste in music.
Parked in the backstretch lot at Keeneland and made several trips back and forth with Scott in trying to determine if we needed our laptops, if we were going to hang out in the press box, if we were going to try to find Wise Dan… definitely got a lot of exercise before Race 1.
Saw some great racing and hit all of one winner on the day.
Still, got to hang out with the best! HRN 2011 fan of the year Heather Seiden, racing fan extraordinaire Sharon Meason, the MAN himself Brian 'Ziploc' Zipse and his family, Beacon Hill Racing owner Maria Borell and associate Jay Woodruff, Wayne and Alice Reynolds, and racing expert of the world and star reporter Jen Jade!
After the races, drive the wrong way down a one-way street in Midway in attempting to find the restaurant.
Checked into the hotel, tried to get some sleep, and a couple of hours into the night the fire alarms were blaring. I called the front desk to verify if there was a fire rather than exit the building.
The next morning we ate breakfast in the Keeneland track kitchen (great food by the way).
We visited Wise Dan, took pictures of him eating (at Scott's insistence), visited the barn cat, saw some horses in Claiborne's barn, then got lost trying to find Beacon Hill Farm.
Eventually we visited Beacon Hill Farm and had a great time visiting Maria, Jay, and Jamie.
Had lunch at Wallace Station where is rained "nature" all over our food.
·

        
Then unfortunately had to drive home…but enjoyed Keeneland a lot and I hope I get back there!
Now back to Chicago…
Saturday October 20
th
featured a pair of 6 furlong dirt sprint stakes races for Illinois-bred horses. Wouldn't you know that Midwest Thoroughbreds swept the stakes double!?! Of course they did with both victories coming with the guidance of local favorite jockey
Florent Geroux
. In the first of the two races, the
Powerless
, Geroux said of his winning mount
Missjeanlouise
, "I rode her in the spring and finished second with her in the Governor's Lady. She was very game in this race and really dug in. We were in the outside post but I wasn't worried about getting hung wide on the turn. If somebody wanted to go, I was just going to let them go, take back and go inside. I knew we would get good position." Then to cap off his riding triple, Geroux guided
Signsealndeliver
to a 1 ¾ length victory in the
Lightning Jet Handicap
! Geroux noted of this victorious ride, "I really liked my post. I like starting on the outside and being able to see the whole field. I always liked this horse but I also know that he doesn't like racing inside. I was really disappointed this spring when we came in second to River Bear in the Molaro Handicap. River Bear might be the best Illinois sprinter here but this was our day. I know he's been laid off since May but I've worked him a couple of times lately and I knew he was in good form. I was pretty confident going into the race."
The next weekend after that featured more of Illinois' finest as
The Pizza Man
, who is virtually indestructible on turf, won the
Bucks Boy Handicap
and
Peyote Patty
finishes her career in style by winning the
Illini Princess Handicap
! I wasn't aware that Peyote Patty was ending her career in that race, but Chris Block always knows what's best for his horses and I can't wait to see what her offspring can accomplish starting 2-3 years from now. I can only wish her the best! As for the Illinois-based lawnmower called The Pizza Man, could we see him on Arlington Million day next year??
(The Pizza Man delivers!  Photo courtesy Four Footed Fotos)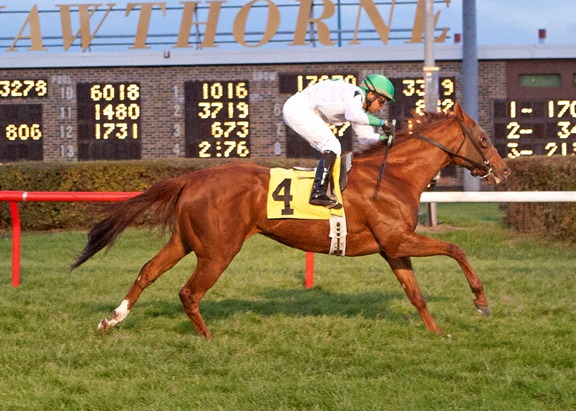 (Peyote Patty wins her farewell race - photo by Four Footed Fotos)
Rounding out my impressions of the fall meet:
I do know that Hawthorne has also been handling a sensitive situation with the outbreak of EHV-1 and I will cover that issue in my next blog coming up soon!
In other HRN News…
Stay Thirsty and Mike Repole...