In a race with a healthy mix of both American and European influence, Adelaide and Tourist are set to battle for the three-year-old turf championship this Saturday in Chicago. Seven other runners complete this field of nine as the ten furlong battle awaits them in the 2014 running of the Secretariat Stakes!
Spawning from the one-time Arlington Invitational, The Secretariat Stakes has been run at the
Chicago oval
since 1974 and has been a ten furlong battle since 1986. The great
Kitten's Joy
holds the stakes record with a time of 1:59 3/5 set back in 2004, and is still the only horse to finish the ten furlongs in under two minutes in this race. Both Pat Day and Kent Desormeaux have won this race three times each as well.
Below, Admiral Kitten comes away victorious in last year's Secretariat Stakes. 
Now onto the 2014 $500,000 Grade 1 Secretariat Stakes field!
THE FIELD
In his last race, Global View attempted ten furlongs for the first time in his career in the Belmont Derby on July 5th. After falling back early, as is his normal running style, he fanned 6-wide at the top of the stretch and couldn't get through. I ask myself if it was the distance that was the issue, or fighting the traffic. This three-time winner has won at distances of 6 ½ furlongs, 1 mile, and 1 1/16 miles, but nothing further. On the contrary, the only other races in which he didn't fare well were not run on the grass so I think we can toss out those races. He has been working out well on Arlington's turf course recently so he should be in good form for the race. He should also be able to save ground on the rail and perhaps fan wide for a clean look at the finish line.
THE STAT: Trainer Tom Proctor is winning at a 29% clip at Arlington this summer.
#2 –
Highball
– Catalano/L Dettori – 15/1
(Highball - photo courtesy Four Footed Fotos)
Owners Gary and Mary West team up with Chicago training legend Wayne Catalano to send Highball to the gates against these competitors. This very lightly-raced son of Lemon Drop Kid finished third, only 1 ¼ lengths back, in the Grade 3 American Derby about a month ago at Arlington. Highball might have had some excuses in this race as he broke awkwardly from the gate and swung 5-wide at the top of the lane. Adding blinkers for the first time, I would expect this horse to be a little closer to the pace which contradicts his normal running style. With having found trouble in his first three races, I think Highball needs a clean trip to have a good shot in this race.
THE STAT: Trainer Wayne Catalano is winning at a 24% rate in turf races this year.
At initial glance this Irish-bred horse, with only the maiden-breaking win (and that was on the synthetic surface at Dundalk) to his credit, seems a bit overmatched. He hasn't exactly faced the toughest competition and doesn't have experience on a firm course. However, digging deeper I see some reasons for hope. First time blinkers and Lasix cannot be ignored as the combination might cause the horse to light up and surprise this field. Aidan O'Brien is no stranger to turf racing and tough competition and I would expect Belisarius to be ready to run. And we all know how European horses fare on American soil…or grass…
THE STAT: Belisarius has been favored to win in four of his six races.
General Jack will most certainly need to bring his best to defeat this field on Saturday. Sure he has won three times on the turf, but they have all been at one mile or shorter. Plus, the two times this horse has faced graded stakes competition, he has lost by a combined 16 ½ lengths. It will be interesting to see what the extra two furlongs does for him on Saturday. In his defense, he has won two in a row and has been working very sharp on Churchill's training track. Maker notes to Arlington media relations, "We know he likes turf, and he's developing."
THE STAT: Trainer Mike Maker is winning at a 27% rate with horses who won their last start.
#5 –
Sheldon
– Toner/Castellano – 15/1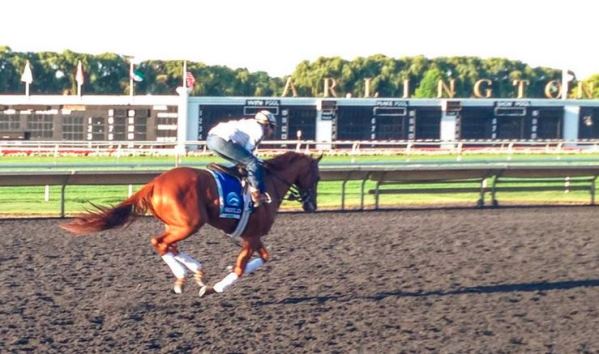 (Sheldon - courtesy of Michael Adolphson)
This New York-based colt jumped right from his maiden-breaker back in June to Grade 1 company in July (in the Belmont Derby). Sheldon's last three races have all been at the classic 1 ¼ mile distance so he comes in with a lot of experience at the distance. At 35-1 he outran his odds by finishing 5
th
in the aforementioned Belmont Derby last month. Does he have what it takes to make some noise in the Secretariat Stakes? I've always thought horses needed class to close and in a field with limited front speed, closing in from far back (which he normally does) might prove to be difficult. Still, three-year-old horses tend to improve during their sophomore campaigns, so you never know.
THE STAT: Jockey JJ Castellano is winning at a 26% rate in 2014.
Here is trainer Aidan O'Brien's other runner in Saturday's stake. Adelaide certainly fits the part here. Also visiting Arlington from the Belmont Derby (where he lost by a neck to Mr. Speaker), this horse has faced some tougher competition including group stakes races in France, Ireland, and England (Group 2 stakes at Ascot). If there's a chink in the armor here, it's probably Adelaide's lack of experience on a firm going on the grass. Is that enough to discount him?
THE STAT: Adelaide leads the field with $416,168 in lifetime earnings.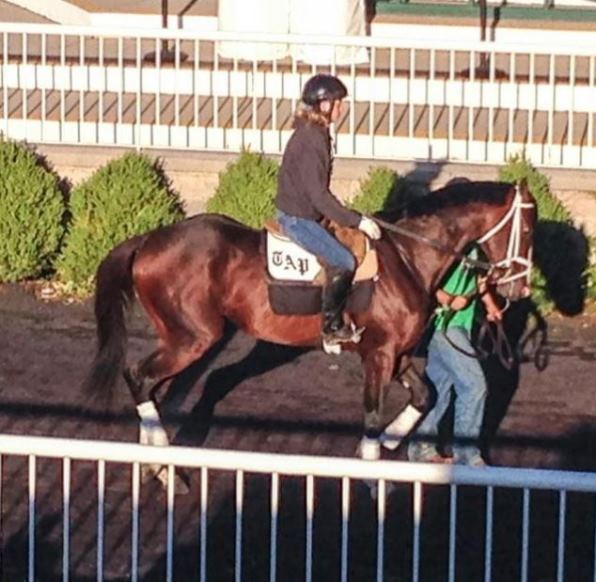 (Divine Oath - courtesy of Michael Adolphson)
This lightly-raced colt has been quite consistent so far in his brief career. After a couple of 7 ½ furlong turf wins at Gulfstream early in the year, the stretch out in distance is just what the doctor ordered for Divine Oath. I was very impressed with his win in the American Derby on July 12
th
as he closed into a soft-ish pace (:48 2/5 and 1:13 2/5) to win by ½ length. The extra 1/16 of a mile will only help this horse. Local jockey Florent Geroux retains the mount and I think that's a very good sign.
THE STAT: Trainer Todd Pletcher is winning at a 28% rate when his horses won their last race.
Well, what to do with this horse. First, this horse has only seen graded stakes competition once and that was in the Palm Beach at Gulfstream back in March (finished 5th). Sure the horse is 6-for-7 on the board in is lifetime starts, but he just hasn't faced the kind of competition that would prepare him for a race like this. And yes it's called horse racing and not trainer racing, but I have a tough time throwing out any of Graham Motion's turf horses no matter the race.
THE STAT: Trainer Graham Motion has a $3.39 ROI in graded stakes races.
(Tourist - courtesy of Michael Adolphson)
The second choice in this field, Tourist is coming off of a streak of three victories in a row. He hasn't run in a turf race longer than 1 1/16 miles, however his pedigree (Tiznow-Unbridled Melody by Unbridled's Song) suggests that the extra distance won't be a problem. Again, I know that three-year-olds tend to greatly improve during the second half of the calendar year, but Tourist just hasn't faced the saltier competition. "We thought the horse had a lot of talent, and we felt like there was something that was going to improve him and thought, 'A surface change might help'," trainer Bill Mott said to Arlington media relations. "We made the switch, and he responded well." With that being said, coming into the race third off the layoff and with improving Beyer speed figures (and possible lone-speed depending on what those adding blinkers do), Tourist definitely has a good shot here.
THE STAT: Trainer Bill Mott and jockey Joel Rosario win at a 24% rate when entered together.
Since many of these runners are coming out of similar races, let's review some of those contests.
Below is the 2014 Belmont Derby featuring Global View (7th), Sheldon (5th), and Adelaide (2nd).
Below is the Sir Cat stakes at Saratoga where Tourist is the winner.
Below is the 2014 American Turf featuring Global View (1st) and General Jack (5th)
And finally, below is the 2014 Penn Mile featuring Global View (2nd) and Divine Oath (4th).
PACE SCENARIO
On paper it sure looks like Tourist will be gunning for the early lead. "I expect him to be forwardly placed," trainer Bill Mott said to Arlington media relations. "He's got speed but can rate." With the addition of blinkers, I also expect Belisarius (likely the O'Brien rabbit) to be on the lead as well. Though Highball adds blinkers, I think he will be sitting midpack with Adelaide, General Jack, and Can'thelpbelieving. Divine Oath will be a little further back and closing in from the clouds will be Global View and Sheldon. The main question to be is whether or not Tourist can put the field to sleep while sitting on the lead. If so, he could steal the race.
MY PICK
Adelaide sure seems like the logical choice, yet I worry about the firm ground. Tourist has the speed figures, but hasn't run at the ten furlong distance yet and might lock horns in an early pace duel.
My top pick in this race is Divine Oath. I just think the distance suits him best and he has proven he likes Arlington's amazing turf course. Along with Divine Oath, I also like Global View, Adelaide, and Sheldon (who I think has an excellent chance for an upset) to round out the top four.
Who do you like in this year's Secretariat Stakes?