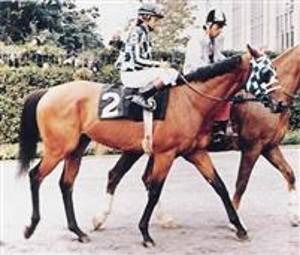 I don't usually write first person stories, but sometimes there are exceptions. This is one of them.
Without question, my all-time favorite horse is Riva Ridge. He was my introduction to horse racing, and because of him, I ended up following the sport as much as I could until the death of Ruffian. But, that's a story for another time.
Riva was born in 1969 in Kentucky before moving to The Meadow in Virginia to be raised and trained.
The first time I saw that that big, beautiful, bay horse run was on television in the Kentucky Derby and I instantly fell in love with him watching him win that race.
For the next two weeks, I followed any story I could find about him and his connections, Penny Chenery (then Tweedy), his trainer Lucien Laurin, jockey Ron Turcotte, his groom, Eddie Sweat and his exercise riders, Charlie Davis and Jim Gaffney.
By the time of the Preakness Stakes, I was all caught up in Triple Crown fever, I was just praying Riva could break the winless drought. But, it was not to be and I was so disappointed when he lost the Preakness, but then was so thrilled when he bounced back and won the Belmont Stakes three weeks later. For me, that was a magical spring as I fell in love with a horse and a new sport.
However, Riva's loss in the Preakness, for me, was so disappointing. Here was the horse that had "saved the farm" – The Meadow – for Penny Chenery (Penny Tweedy at the time), and he had come so close to ending the Triple Crown drought, which would have been so great.
Of course, as everyone knows, the following year, the same race team from "The Meadow" came back with another big, beautiful chestnut in Secretariat, and they won the Triple Crown, so that seemed to make things right with the world.
Still, while Secretariat was an awesome horse, it was Riva and his big heart that I still loved the most.
Now, usually, when I talk about Riva Ridge to my friends, somewhere in the conversations I always say something like – "If not for a muddy track, Riva might have been the one to break the Triple Crown drought first. Then, just think about it, The Meadow, Chenery, Laurin, Turcotte, and the rest of them would have scored two Triple Crowns in a row. Think of the history that would have made!
In an interesting twist, a side story to my story occurred this past October at Old Friends, a Thoroughbred retirement farm in Georgetown, Ky. The day after the Secretariat Festival, which is held just down the road from the farm in Paris, Ky., Charlie Davis, one of the former exercise riders for Riva Ridge and Secretariat, stopped by the farm to see Tinners Way, who is one of the equine retirees on the farm and who is related to both Riva Ridge and Secretariat.
During his visit, I got to talk to him about a number of things, and when I told him my favorite horse was Riva Ridge, I started to tell him my story – "If not for a muddy track…"
Well, that was as far as I had to go in my story. When I said those six words, he instantly held up two fingers – meaning two Triple Crowns. He, and most probably all of the folks that worked with Riva, thought the same thing I did all these many years. That was amazing to know.
So, anyway, while all of Riva's races are favorites of mine, the one I enjoyed watching the most was the 1973 Marlboro Cup Handicap, when he ran against his stablemate, Secretariat. It was so much fun to see Riva lead most of the way round the track in the race, but as everyone knows, he finished second to Secretariat.
The best part of that race for me though was when they got to run side-by-side and stride-for-stride for a few lengths – together, just like brothers,, as if they knew each other and were sharing secrets about all they had accomplished over the last two years.
A short time later, both Riva and Secretariat were retired.
Upon his retirement, Riva Ridge, the son of First Landing-Iberia, by Heliopolis (GB), had raced a total of 30 times, winning 17 times, while finishing second three times, third one time and collecting $1,111,497.
In 1971 as a two-year old, Riva won the Garden State Stakes, Champagne Stakes, Futurity Stakes, Pimlico-Laurel Futurity and Flash Stakes. He finished the year being named U.S. Champion Two-Year-Old.
In 1972, as a three-year old, Riva won the Kentucky Derby, Belmont Stakes, Hollywood Derby, Blue Grass Stakes and Hibiscus Stakes. He also finished second in the Stymie Handicap and third in the Jockey Club Gold Cup. He ended the year being crowned U.S. Champion Older Horse.
Riva finished his racing career as a four-year old, winning the Brooklyn Handicap, Stuyvesant Handicap and Massachusetts Handicap (G2), then finishing second in the Marlboro Cup Handicap. In addition, he set new track record at Aqueduct, running nine furlongs in 1:47.
His racing career was capped in 1998, when he was elected to the Thoroughbred Racing Hall of Fame.
It was after the Marlboro Cup though, that I lost track of Riva. At that time, there was no internet, no 24-hour sports news, and I never saw any articles in my small hometown in Pennsylvania. I knew Secretariat went to Claiborne Farm, but I did not know what ever happened to Riva after that race.
And, that's how my best memory of Riva Ridge came about a few years later. All thanks to Penny (Tweedy) Chenery.
You see, back in 1972 after I watched Riva Ridge win the Kentucky Derby, I sent a letter to Mrs. Tweedy and asked if I could please get a photo of him. A few weeks later, I received one, which I still have today.
The following year after Secretariat won the Kentucky Derby, I sent her another letter to her and asked for a photo of him as well. In addition, as an afterthought, I also asked if there was anyway to get to see him someday.
A few weeks later after he won the Triple Crown, I received a photo and a letter, signed by Mrs. Tweedy, thanking me for my letter and telling me that if I ever was in Paris, Ky. after Secretariat retired, go to Claiborne farm, show them the letter and they'll let me see him.
Well, after my mom passed away in September 1971, my dad and I had started taking summer road trips starting in the summer of 1972. The first three years on those trips our first stop was always Lexington, which was an easy one-day drive.
The first year there we took a van tour of the area, while the second year we just drove around the back roads. The third year, 1975, we drove around some more, then looked at each other and tried to think of something new to do.
For some reason, before we had left home, I had packed Mrs. Tweedy's letter. So, I said, to my dad, "Hey, let's go try and see Secretariat." He said, "Sure, let's go."
Of course, what we didn't know was that, by this time, Claiborne had stopped letting people in to see Secretariat because too many people had been going there. But, we figured, what the heck. Worst case, we'll see some beautiful country side out in that part of Central Kentucky. So, off we went.
Now, think about this for a second. Here we were: two nobodies – tourists – and we were going to try and "pop in" and see Secretariat at one of the biggest, most prestigious horse farms in Central Kentucky. Yeah, right!
So, totally oblivious to that fact, off we went to Paris, Ky. We found Claiborne, pulled up to the gate house, which was manned at the time, and the farm's security guard came out to greet us on the passenger side of the car where my dad was sitting.
He bent down, looked in the window and said, "Hello. Can I help you?"
I said, "Yes, I wonder if it would be possible to see Secretariat?"
He said, very nicely, "Sorry, we don't allow visitors any more."
I said, "No problem. We understand."
While I was saying that, I had pulled out the letter, handed it to him and very politely asked, "Just in case, by any chance, would this make a difference?"
Well, he took the letter and stood up to read it, so, at this point, all we saw was his waist through the window.
After reading the letter, he bent down and looked in the car with a stunned look on his face. He looked at my dad, then looked at me, looked back at the letter, looked at me again, then slowly pointed down the road and said, "Uh… yep, this letter will do it. Just drive right down this road to the small stone office building on the right and someone will be out shortly to take you to see Secretariat."
So, down the road we went, parked at the building and about 20 minutes later, someone came out and took us to the barn to see Secretariat.
But, the story doesn't end there!
After standing there at the stall door and looking at Secretariat eat his lunch, the guy asked me and my dad if we'd like to see the rest of the horses in this barn.
Dad and I said, "Sure." So we turned and headed to the stall across from Secretariat. The guy opened the top half of the stall door and said, "Well, in this one is Riva Ridge..."
Well, I never heard another word the guy said and I didn't budge from that stall door for the rest of the time we were there. My dad got to see the rest of the horses in that barn – and, as you probably know (and I know now) – there were some amazing stallions at Claiborne at that time.
But, for me… well, I just stayed and watched Riva eat his lunch. I never even got to see his whole face, as it was in his feed bucket the whole time. But I didn't care. All I cared about was that I had finally found out where Riva Ridge was and I was getting to see my favorite horse, eat his lunch. Wow!
So, that is my all-time favorite Riva Ridge story and how I got to see my him, by accident, all thanks to Penny Chenery.
A few closing thoughts to this story.
Out of all this, I did have one small regret. At that time, photo copy machines were not that readily available, so I never did make a copy of that letter and the gate guy had to keep the original. It would have been a wonderful keepsake today for sure. But, that's a small price to pay for the enjoyment I had that day getting to see Riva.
Riva Ridge died at the age of 16 in April 1985 and was buried at Claiborne. When I moved to Lexington in 2006, Claiborne was the first farm I visited to take a tour. On the tour, we went to the same barn my dad and I had gone to back in 1975 and got to see the two stalls where Secretariat and Riva had stood. Then, the last stop of the tour, they took us to the cemetery, where I got to see Riva's and Secretariat's tombstones.
For me, it was coming full circle. I had first seen the two of them 31 years before alive in their stalls, and now I was getting to see them in their final resting place. It was the bookends to two periods of time for me and it was a nice ending to my love affair with the horse that had "saved the farm" for Penny Chenery. My all-time favorite horse, Riva Ridge.
One final postscript: As I've mentioned here at HRN before, I'm a volunteer at Old Friends. Interestingly, it was Riva Ridge that got me to first visit the farm. I went to see one of his sons, Riva Way, who was on the farm. Riva Ridge is the sire of Riva Way's dam, Yia Yia, while Secretariat is the sire of Tinners Way (also on the farm), Riva Way's sire. The horse-racing world is a small one, and a connected one, indeed.