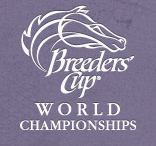 The following is an editorial commentary regarding the rumored awarding of the 2012 Breeders' Cup to Santa Anita (first reported in Thoroughbred Times, and thereafter in several other outlets). The views reflected here are solely mine (but based on this piece composed yesterday by Horse Racing Nation managing editor Brian Zipse, I can safely assume that it will speak for him as well). In the interest of full disclosure, please allow me to preface these remarks by stating that I am an employee of Breeders' Cup LTD.
Saint Liam's Classic triumph in 2005 punctuated the last Breeders' Cup run at Belmont Park. And with this week's apparent news that the event will return to Southern California in 2012, that will make, at least, eight years between Breeders' Cups held at Big Sandy. In that span, Santa Anita and Churchill Downs will have hosted the World Championships three times each.
NYRA is reserving comment on the decision until it becomes official. But there is no inquiry on the board, in this case. Santa Anita's number is staying up.
The Breeders' Cup has done an outstanding job promoting their event over the past few years. Yes, the great mare Zenyatta has given their promotional team something great to work with over the past three years. But you can't argue with the numbers. Television ratings have risen dramatically. Handle has gone up during that time as well.
Still, I fail to see how turning your back on media market number one is a wise promotional tactic.
Granted, it is not as though the event is being staged in Peoria. Los Angeles is the nation's second largest media market. But there are still opportunities that holding the event in New York presents that holding it in Los Angeles does not.
New York provides a location that is relatively close to ESPN's "campus." Since ESPN is the rightsholder for the Breeders' Cup, they would certainly be willing to aid in the promotion. Several of the principals could go through the so-called "Bristol Car Wash," making appearances on several ESPN programs over the course of a day.
But even looking past the unique promotional opportunities that New York affords a major event (which are plentiful), the sport has one of its largest bases in the New York metropolitan area. Despite conditions that were less than ideal in both 2005 and especially in 2001, large crowds have turned out for the event in the past. Despite the shutdown of America's largest bet-taker, New York City OTB, fans have continued to support the product, not only at the three NYRA tracks, but across the country.
New York cannot match the pristine conditions and breathtaking beauty of Santa Anita in (most likely sunny) Arcadia, California. Nor cannot it measure up to the incredible heritage and prestige that Kentucky offers. But (please forgive the New York elitism that follows) this is New York. The greatest city on the planet. If you can make it here, you can make it anywhere.
Only, this move on the part of the Breeders' Cup clearly indicates a clear measure of doubt that they can, in fact, make it here.