The plan was set for a solid pair of stakes races to end the three week run at the Sonoma County Fair.
The two best 2-year-olds in Northern California were signed on to be in action as they both hoped to continue their impressive runs.
Jerry Hollendorfer's Broken Sword drew wide spread acclaim last month, as she lived up for her advanced billing for her debut race in the Juan Gonzalez Memorial by blitzing her six rivals by 11 lengths. 
She was made the 4/5 morning line favorite for Saturdays $75,000 Wine Country Debutante Stakes. That second appearance never happened though as she suffered a slight injury on the van ride to Santa Rosa and had to be scratched. 
The beneficiary of that turned out to be Jeff Bonde's Unusual Way, who had run down the track in a pair of stakes races at Betfair Hollywood Park. Under jockey Omar Figueroa, the daughter of Unusual Heat by Way Up took an easy lead early and poured it on down the lane for  an 11-length win in a good time of 1.11.5 for six furlongs.
The field was not a strong one as the entry of Broken Sword scared away many of the foes that took her on in her last race. In fact only one of the seven that ran against her in the Juan Gonzalez, entered on Saturday.
But nonetheless it was a nice win for Bonde to get one of his youngsters back on track and word is the injury to Broken Sword is a minor one.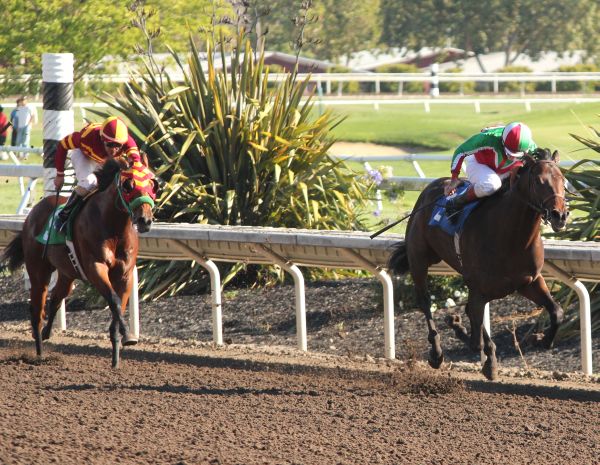 So fans that had hoped to see the Sword run were disappointed but at least Sunday would bring undefeated Anytime Magic to the track. All he had done so far was run two races, win two stakes and only trailed a horse for half mile in his opener.
His appearance drew only four competitors in the $75,000 Cavonnier Juvenile Stakes and only one of his nine opponents from his last race went to post here.
But when the gates opened to the six furlong race, it was obvious Anytime Magic
was not himself.
He was outsprinted for the lead by Native Treasure and when he started to gain some ground on that leader around the far turn, he started running more up and down, than forward. After an erratic stretch run, the odds on favorite faded to last in the field of four and it was another baby from the Hollendorfer barn that got the job done.
Zeewat (above) a Harlan's Holiday colt by Delizia, responded to the urging of  Russell Baze to score by 2 ½ lengths. He won his maiden race just two weeks prior by seven lengths, although it was just a field of four that day.
"You could see early that David  (Lopez on Anytime Magic) was asking his horse early and that other horse was getting away from him," Baze said. "I knew my horse was capable of more than he gave me last time, he won real easy in that one but this time  I dug more into him  and he gave me more than I thought he had. He's a nice colt."
Lopez was puzzled by the effort that Anytime Magic gave him.
"I rode earlier in the day and the track was fine but warming up for this one, there was more water on the track, almost like mud. He wasn't like him today he wasn't comfortable. When I asked him he just never picked it up." 
So instead of a clear picture on these horses I guess you can say the jury is still out.
Unusual Way and Zeewat looked good but the fields they beat were not strong. Anytime Magic may have thrown in a clunker but only time will tell for that one. And we will have to wait and see when and how Broken Sword comes back.