Sometimes a great story can have a bittersweet ending. Such is the case with a horse named Hotaling Heart.
The story came to light on February 22nd when Golden Gate Fields track announcer Michael Wrona, waiting for the field to load into the gate, introduced number 7 Hotaling Heart this way:
"Hotaling Heart is owned in partnership by Bob Bone and former Marine Corporal Joshua Hotaling, who lost both his legs in Afghanistan. No matter how many grade 1's this filly might win, she will never attain the champion status of the man for whom she is named."
With a build up like that could she lose? The 5-2 second choice ran down the pace setters, and won the 5 furlong sprint by a head in her debut for a claiming tag of $8,000. But the bigger story was indeed the man she was named after, Joshua Hotaling.
Hotaling, 27, was born in Sacramento but grew up in Roseville. In 2011, he was serving his second stint in the Marines, when he stepped on an IED (improvised explosive device) and lost both his legs. Now, with the aid of two prosthetic legs, Hotaling has moved on with his life that includes scuba diving with injured vets and yes, horse racing.
"I was stationed in Washington DC at the marine barracks and one of the guys I was stationed with (Dustin) is the nephew of (former trainer and jockey agent) Wayne McDonnell. We started going to Laurel and other tracks on the East coast, "Hotaling said. "Then once I got blown up, Dustin visited me in the hospital and said his uncle Wayne has a guy that wants to take you to the track, he's big into the military and he was referring to Bob Bone."
Bone, a longtime owner in thoroughbred racing, has hosted a Military Appreciation day at Hollywood Park for 9 years. Because of his affiliation with the day that hosts wounded vets, Bone took an instant liking to Josh when he heard his story and got to meet him.
"Josh is the most courageous young man I've ever met in my life," Bone said." So many other things have happened to him. It's unbelievable what he went through and I've never heard him complain about a thing. He became my inspiration."
One of those "other things" was 2010 when he was training with mules near Yosemite. While giving water to one of them, the mule got spooked and when Josh tried to hold on to the mule he fell below and the mule stepped on his head, resulting in seven metal plates and 40 screws being inserted into his head.
"I've see him come out to our military appreciation one day and he was still bleeding from a surgery,"  Bone said. " He said he didn't want to disappoint us by not being there. He had the kind of surgery most people wouldn't get out of bed for and he's at the races."
As the friendship between the two grew, Bone offered to put Josh as part owner of a horse named Under Protest. The horse ran sixth at Santa Anita but Bone wanted more for Hotaling, so he named a newly bred horse after him and made him part owner.
Hotaling Heart would run with not only Josh's name and spirit but also his silks. Josh designed them to carry the USMC along for the ride.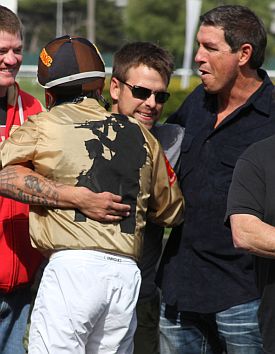 "It's like the biggest honor ever that Bob named the horse after me," said Hotaling. "To see my name in the program, wearing my silks, it's just great."
Josh missed his horses first win because he was in Puerto Rico learning how to become a scuba diving instructor. Although he and his buddies watched the race on the computer, he couldn't wait to watch her run live. That day came last week.  Josh, his family and friends were trackside when Hotaling Heart lined up for a $12,500 claimer.
Just like the first race, Hotaling Heart rallied down the stretch to win by 1 ¾ lengths. As he crossed the finish line, jockey Isaias Enriquez pointed his whip at Josh, who stood near the finish line.The talented filly had done it again and this time with her biggest fan cheering just feet away.
Now for the bitter sweet.
The farthest thing from anybody's mind that day was that the horse would get claimed. But shortly before the race, we found out that indeed a claim slip had been dropped for Hotaling Heart. After the race, the groups' excitement was dampened with disappointment. They knew that claiming is part of the sport, but didn't expect the horse to switch barns.
"It kinda sucks that she got claimed but you can't get any better than to go out on a 100 percent winning streak," Josh said. "It's cool the name is still out there at least and we can still see how she continues to improve."
The future of Hotaling Heart looks promising, but so does that of her former owner. Josh has a lot going for him.
On April 5th, Josh will be on the site of the ground breaking of a new house being built for him by Homes for our Troops, a non-profit organization that builds free houses for service people that return home with life altering injuries and need adaptable living (see video below). But Josh doesn't plan on sitting home.
"I want to work with wounded vets," he said. "I want to finish my scuba certification and be an instructor. I don't want to just be taken on these trips I want to help out. I want to dive and promote SUDS (Soldiers Undertaking Disabled Scuba). Diving is my passion and I want to help others."
After meeting Josh, I'm sure he can achieve anything he sets his mind to. The determination he has comes across in his excitement. I don't think we have heard the last of Hotaling Heart, as she is a filly with a nice future. I also hope we haven't seen the last of Josh and Bob Bone together at the race track. The two of them are what partnerships are all about.