Oh what a summer season it has been.
I spent my first full season on the fair circuit traveling just about every weekend to keep up on all the happenings. From as close as Pleasanton to as far away as Fresno, I put quite a few miles on my car but I must say I had a blast. I met a lot of new people and made some friends that I will be looking forward to seeing again next year.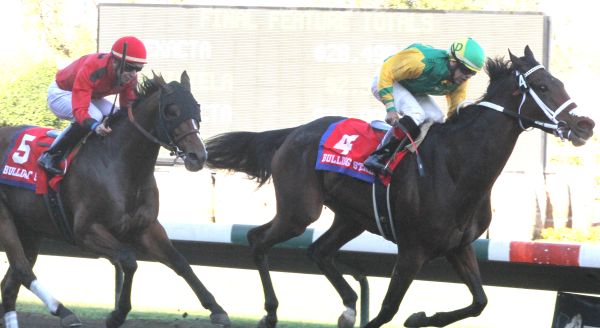 We definitely had our highs and lows. The highs include some dominating performances from Keith Nation's Control Seeker (above) and two-year-old Broken Sword form the Jerry Hollendorfer barn.
The lows can be summed up with the death of Jorge Herrera at Pleasanton. It was a time we all hope we never see again.
Russell Baze dominated the jockey standings, winning every fair meet title and trainers Andy Mathis, Steve Sherman and Rene Amescua had some good runs that could set them up for better things to come as well.
But on to bigger and better things and that is the 34-day fall meet at Golden Gate Fields opening up on Thursday. Along with 7 stakes races, we have some new faces in town, a few familiar ones returning and a new program incentive program in place.
Jerkens Optimistic
Racing secretary David Jerkens is happy with the first two day racing cards set up and is looking for more to come. The first two days fielded 129 horses for an average of just over 8 per race. Just as important the barns are filling up.
"You always want your barn area to be at capacity and we are close," Jerkens said. "We have some new outfits already here and we are still actively recruiting. I'm very optimistic that we will have a good meet."
Barn capacity at GGF is 1360 horses and currently there are 1200 horses on the grounds according to Jerkens. Washington based trainers Junior Coffey, Larry Ross and Blaine Wright, among others, have set up barns at GGF.
GGF will also be trying a ship in bonus, similar to the one run at Del Mar every year. A bonus of $600 ($300 to the owner and $300 to the trainer) will be paid to any horse that ships in from out of state and starts in its initial race. Officials are hoping that encourages out of state trainers to ship horses in to win the bonus, and keep them here through out.
Jockey Colony Changes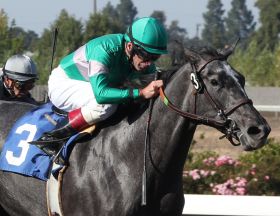 As the fall meet begins, one thing is sure about the jockey colony. Russell Baze (right) is still here and still the favorite to win the riding title. After that, well, lets say there will be a handful of challengers. Frank Alvarado, Alejandro Gomez  Julien Couton and Eric Camacho have their business lined up, but so do a couple of returning faces.
William Antongeorgi III, who spent the summer riding at Emerald Downs in Washington returns, looking to continue the success he had last year. Also donning silks in the bay will be Dennis Carr.
Carr has had two different stints in Northern California and has had the best years of his career. Carr first appeared from 1995 till 2002 when he averaged over 170 wins per year (with his career best of 228 wins in 1998). He then left for his native New York and after riding at Aqueduct and Belmont, returned  here in 2004 and for three years, once again, enjoying success.
This time he comes here via riding at Finger Lakes and hopes to get the magic back.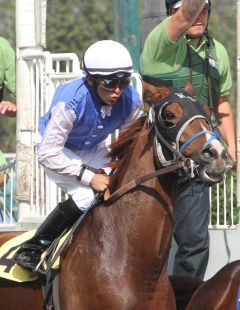 "I say I'm not a fresh face, I'm a re-freshed face," Carr said about his return. " GGF has been good to me in the past. actually feel more at home here than I do in NY  here   was born. I can' be worried about being number 1, when you do that, you can't focus and you put too much stress on your self to do well. I just want to have steady business and make a living. I've chased Rusell before, so that isn't anything new."
In the apprentice ranks, gone is Irving Orozco, last years hot bug boy, as he has moved his tack to southern California. Trading places with him is Arnold Perez, who came north to get his first two career wins at Fresno, and has decided to stay in the bay. With Ronald Richard just a few wins away from losing his bug, Perez (left) will look to cash in on the success the bug has enjoyed at GGF over the past few years.
In Total Control
Keith Nations' Control Seeker has quickly become one horse to fear come stakes time. After winning the Joseph T Grace Stakes at Santa Rosa and then an allowance race during the GGF summer meet (both on the turf), he stepped up big on the dirt at Fresno to win the $75,000 Bulldogs Stakes to close out the summer.
Seen as the only speed in the race, jockey Francisco Duran knew his job, and did it well.
"We got lucky with the pace they allowed me to set," Duran said. "I had hoped they wouldn't pressure me much and when they did toward the end of the race, we dug in and finished well. He really relaxed well for me today. The last two races he was really into the bit, but the way he relaxed today shows how much he has matured."
Stakes Highlights
There will be seven stakes races over the next two months with the highlights being a pair of $100,000 races. The first will be the new Pike Place Dancer for 2-year-olds on the turf, scheduled to run on October 27th, one week before the Breeders' Cup. The other is the Grade 3 All American for 3 year olds and up on the Tapeta surface at 1 1/16th of a mile.