It's never a good thing when a jockey goes 279 days between wins,  but in the case of Golden Gate Fields apprentice jockey Juanito Sanchez, that is a time span that the 24-year-old from southern California now uses to drive him to success.
It wasn't that he couldn't win during that time frame, he couldn't even ride in almost 10 months. But when he returned, it led to an emotional win on a horse he knew would be ready for his return.
The horse, a 6-year-old named Sahha, provided Sanchez with his last win back in 2013. Just six days later, Sanchez was aboard a horse named Lightonthebrandy, when the horse tried to jump over the inside rail of the turf course (pictured below), and went crashing to the ground injuring Sanchez.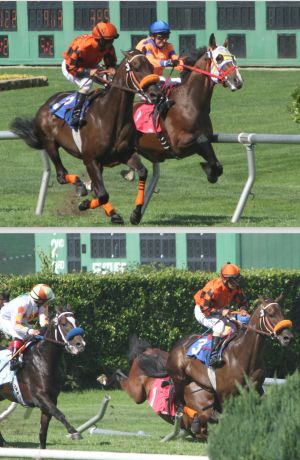 Sanchez had just returned to racing two months prior, after suffering a broken clavicle in another accident, forcing him to miss seven months. When he went down this time, he immediately feared he had again injured the bone.
"I felt it and and everything felt fine. I was like I will be able to ride the other three I had that day," recalled Sanchez. "Then I started to get up and looked down and saw my leg and I couldn't believe it. I saw the bone and the meat and everything, There was not really any blood but it was cut so deep I just couldn't believe it."
It's believed the post that holds the inner rail is what permeated Sanchez' leg. According to GGF doctor David Seftel, the rail "sliced through his thigh muscle for an 8 ½ inch laceration that went about 2 ½ inches deep, down to the bone."
So once again, Sanchez was forced to stay away from the sport he loved. The injury required almost 10 months of rehab to get him back to the track again. It was during that time, he actually thought of giving up race riding completely.
"I was at about 60 percent sure I would stop riding," he said. "But all the calls from the trainers and other jockeys, it gave me support and I decided I would work harder to come back to riding. Horses are my life."
So work hard he did. He hit the gym, turned up the rehab and finally made his return on June 1st. It was no accident that the last horse he won on, would be the first one he got on for his return.
"I've been working her (Sahha) since I came back. I could have had a mount before that but I wanted to wait for her. I just knew she was going to win again for me."
And that she did. Sanchez timed his move from behind just right and riding the rail got her up for a hard fought win by a neck on the same turf course that almost ended his career.
" I believe everything happens for a reason," the jockey said. "Maybe there are better things ahead."
Troy Gets first win as Trainer
Matthew Troy was a handicapper and all around racing fan. But he wanted more. He wanted to be more involved in the game. So he did what every fan does. He made cold calls and sent emails to trainers asking if he could hang around them and learn the game. Okay, maybe not everybody does that, but Troy did, and one trainer responded.
Ellen Jackson told Matthew he could volunteer his time to learn the game in her barn and he did just that.
"In 2009, I gave myself a 5-year plan to get my trainers license," Troy said. "I not only got it but got married and became a father during it also."
If that wasn't enough excitement for the 42-year-old, then this past weekend provided all he needed.
Troy's barn consists of 1 horse, a seven-year-old gelding named Slycy. He used to take care of the horse in Jackson's barn and when he decided to go off on his own, Jackson suggested he claim the horse since it was being dropped to a low level by the owner. So Troy claimed the horse for 4,000 and gave him a few months at the farm while he completed getting his trainers license. After giving the horse four works back to the track, Troy entered Slycy in a $12,500 claimer on Saturday and the horse responded with a head victory at odds of 15-1.
When Troy saw his number posted after a photo finish, he couldn't help but be over joyed in the winners circle.
"it was a big relief to get a win in my first start," he said. "It shows that having all the support from Ellen and others helped me learn and showed I'm doing the right thing. If the horse would have come in last i had a plan. Now that he won, I 'd like to try and get a few more and I'm looking forward to running Slycy again on the fairs."
Troy's biggest concern before the race was to make sure he got the saddle tightened up enough since he had never saddled a horse by himself. After the win, that worry was forgotten as he accepted congratulations from many who knew of his plight. The topper came when track employee Art Lobato rushed over to Troy and offered him a handshake and an invitation to be accepted into the owner/trainer lounge which Art oversees. It was actually the fact that he was now a trainer that garnered the invite but he now can take a seat as a winning trainer.
Talamo and the "Other" Baze win
Two big stakes races took place over the weekend. Both were $100,000 races and both were won by visiting connections. The winning trainers were Hector Palma and Mike Puype. The winning riders were the top two in the standings at Santa Anita, Joe Talamo and Tyler Baze.
Baze won the Campanile aboard Magic Spot as the odds on favorite, in wire to wire fashion. Talamo ran second aboard Chati's on Top. When the Silky Sullivan Stakes came about a few hours later, it was Talamo's turn to get the win, guiding Awesome Return to a win in the final jump, edging out Tyler who ride Alert Bay for local trainer Blaine Wright.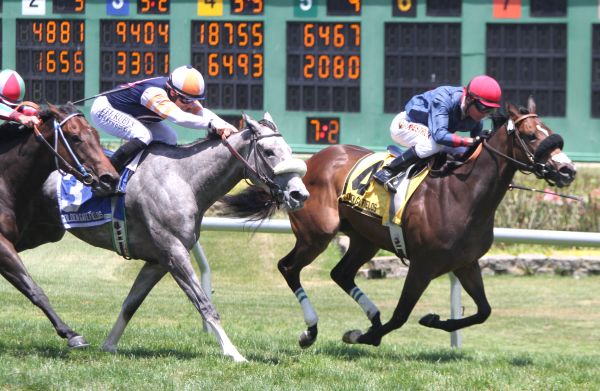 "I was following Tyler the whole race and thank god for my horses quick turn of foot because the hole opened quickly and he just accelerated very nicely," Talamo said . "I was glad we were able to get over for the first turn coming out of the 8-hole and save some ground. He's such a cool horse to ride."
While Baze was here enjoying a win, at Santa Anita superstar apprentice Drayden Van Dyke was enjoying Baze's absence as he won three races to take over second-place in the standings.