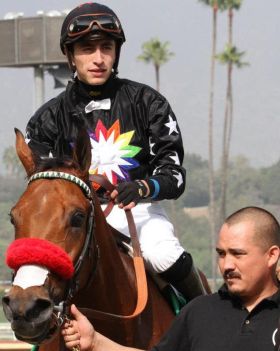 Nearly six months after moving his tack to southern California, jockey Juan Hernandez has decided to return to Golden Gate Fields and will jump back in the saddle next Thursday, riding a pair of horses for trainer Jerry Hollendorfer as he tries to recapture the magic by the Bay.
Hernandez, who rode at GGF since arriving here from Mexico in 2009, was a top 4 rider each year, averaging 136 wins a year in both 2010 and 2011. Midway through last year, Hernandez and his agent Ramon Silva, decided to give southern California a shot.
After winning 10 of 128 races at Del Mar, Hernandez had a great Fairflex meet, scoring on 18 of his 73 mounts for a strong third place finish in the jockey standings. But the success didn't carry through to Hollywood Park and Santa Anita where he won just 15 races combined. Currently, he has won on 3 of 51 starts in 2013.
"I have always liked it at Golden Gate Fields, " Hernandez said. "I want to go back because I have always done well there. I'm not disappointed at all. I'm really happy to be coming back."
During his time down there, Hernandez developed quite a working relationship with trainer Barry Abrams and John Sadler. Hernandez won 9 of 80 races for Abrams and found the winners circle on 8 of 42 for Sadler.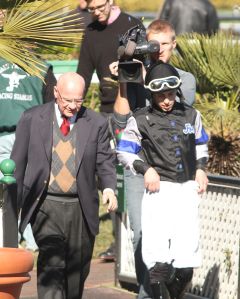 At the time he left, Hernandez followed the departure of Kevin Krigger and was right behind Aaron Gryder in the standings. Gryder has also since moved to So Cal and now Juan comes back to find Dennis Carr in the second spot in the standings behind Russell Baze. Frank Alvarado is in third place and Kyle Frey (right) currently holds down the fourth spot.
When he left back in June, many thought it was a good time for the 20-year-old  to give the major circuit a shot. He was and still is a very gifted rider, but with the results not what he desired, the move back now seems logical.
While the jockeys room at GGF is more crowded than it has ever been in my two years of covering the track, my feeling is Hernandez will step right back into many of the barns he left and will be quite tough to keep down as he battles to get his business back.
El Camino Real Derby Gaining Steam
We are just two weeks away from the $200,000 Grade 3 El Camino Real Derby and the race is starting to draw attention. The probable entrant from the top two finishers in the California Derby, Zeewat and Wildcat Moon are both probable for the race and once again the race and a one hour show will be telecast on Comcast Sports Bay Area.
GGF publicist Sam Spear already has filmed a sit down interview with jockey Kyle Frey, who pilots Wildcat Moon. The segment will air on the show, as will numerous other spots on the contenders, leading up to the race itself.