On June 11th, jockey Jose Valdivia Jr. guided Ruler On Ice to an upset win in the Belmont Stakes. It was the highest point in the jockeys 17-year career.
A win like that can sometimes vault a jockey to the top of the horse racing world. But in the case of Valdivia, life returned to the norm of a rider looking to find a home.
The jockey returned to his home base at Monmouth Park but was unable to attain the success he had hoped for. In September he moved his business to southern California to ride the Fairflex and Santa Anita meets. But again, his business was not as expected. Now,  the 37-year-old from Lima, Peru has returned to Golden Gate Fields, where he was as an apprentice jockey back in the early 1990's.
"My Career has been a whirlwind the last couple of years," Valdivia said. "But when you have the opportunity to ride for a big outfit or a big agent, you have to take it. Ray Harris is a top agent and having him offsets the short fields."
Harris is the longtime agent of the sports winningest jockey Russell Baze. Valdivia expects to make the bay area his home in due time.
"I love northern California and I did when I was here the first time. After we get settled in my family will start looking for housing up here."
Validiva has won 1,185 wins including the 2001 Breeders Cup Mile aboard Val Royal. But since his Belmont Stakes win, has won just 14 races in the past five months and has 43 wins this year.
Over the past few years, his numbers have decreased in both wins and mounts.
"I felt the impact when we lost Bobby Frankel (who died of cancer in 2009). I could always count on Bobby to have horses for me. I also rode a lot for Ron Ellis down south, but he too took a hit when he lost a few of his owners and I lost some business there.
"But I've always had confidence in myself as a rider and I still do. I want to show people I can compete anywhere. It's all about winning races, Winning opens doors for you. Winning is the bottom line."
Valdivia has three mounts on Friday, his first day at the track.
Bold Chieftain to Make Final Start?
Friday's $100,000 Grade 3 All American Stakes drew just six horses, but it's such a contentious group, I think BCS would have an easier time ranking college football teams than picking a winner in this one.
Headlining the group is the eight-year-old, fan favorite Bold Chieftain. The Chief is a multi stakes winner with a bankroll of 1.6 million. But battling him will be rivals Our Nautique and Uh Oh Bango.
Chief broke a string of four straight second place finishes when he won the Bull Dog Stakes at Fresno in October, beating Uh Oh Bango by 1 ¼ lengths. Prior to that, he had lost to Our Nautique in an allowance race and the Joseph T. Grace Stakes at Pleasanton and he lost a head bob to Uh Oh Bango (below) in the Berkeley Stakes in May.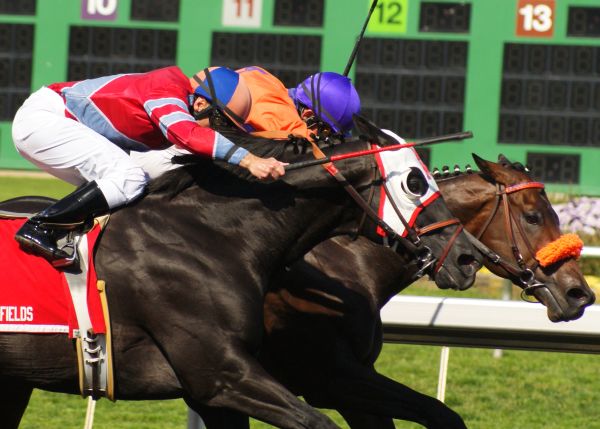 The wild card in the race could be the improving Dunmore East trained by Lloyd Mason, who has won two straight, including a win over Our Nautique two weeks ago.
In a radio interview on Sunday, Chiefs trainer William J. Morey Jr indicated that this may very well be his final race. In the interview, he stated that part of him has been purchased by Victory Rose Thoroughbreds and that he may be retired after this race to start breeding.
So if you are a fan of Bold Chieftain,  make your way out to the races on Friday and pay tribute to the Chief.