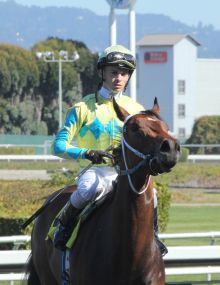 Jockeys Eric Camacho and Alex Gonzalez each found the winners circle at Golden Gate Fields last week and while both have been accustomed to winning in their career, it was a big moment for each but for different reasons.
Camacho (left), best known for a pair of Grade 2 wins in 2008 on Bsharpsonata, has had an up and down career since starting in 2004. In his marquee year as an apprentice in 2005, he won 164 races ending a two year run that saw him win 275 races. But over the next four years, he managed only 266 wins as he traveled from track to track in search of a place to call home. Although he did break through again in 2010 with 101 wins, he showed up at GGF two weeks ago with just 84 wins since.
"This is a great opportunity for me," Camacho said. "I had been riding in Maryland the last 8 years and I was ready for a change. Things got a little stagnant there and my friend Kyle Kaenel told me I needed to get here as soon as possible and I couldn't turn it down."
Camacho may have come to GGF at just the right time.
Over the past two years, three top jockeys, Kevin Krigger, Juan Hernandez and Aaron Gryder all have left to compete in southern California. All three were in the top five in the standings when they left (Krigger and Gruder were number 2 behind Russell Baze).  Baze and Frank Alvarado remain the two mainstays that have been at the top of the standings for many years but there is room for a newcomer to break in.
Camacho will be battling a couple riders that have had good summer seasons in Julien Couton and Alejandro Gomez for mounts in the top barns.
It's not to say this is a make or break chance for Camacho, but the rider would like to find a place to settle in after riding regularly at Laurel, Pimlico and Colonial Park all in 2012.
After just three mounts in the bay area, Camacho found the winners circle and is 1-for-8 so far. He will definitely get the chance having already secured mounts from some of the top barns on the grounds.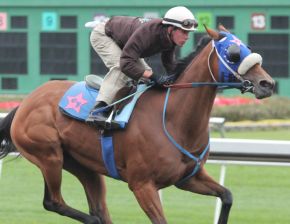 Gonzalez (right) on the other hand has not tasted the success that Camacho has. Since winning 78 races in his apprentice year in 2010 at Golden Gate, the 20-year-old has traveled around the country riding at 15 different tracks in the past three years.
"I enjoyed moving around, going to new places, " Gonzalez said. "I decided to come back here because this is where I had my best success and I have some friends here. So I decided to try it again. I like the area and want to try and stay here."
Looking back, Gonzalez admit's the moving around was "not really" the best things for a young rider to do and his stats proved that. He has won just 13 races in the past two years on 260 mounts.
"Last year I was a little bitter and dealing with some personal issues so this year I wanted to take a slow," he said. "I wasn't in the right mind to get back into it but now I'm ready to see how I can do."
Gonzalez booted home Alpine Valley for trainer O.J. Jauregui last week. It was his first win since April 18th, a time  frame that spanned 51 races and three tracks (Tampa Bay Downs, Colonial Downs and Calder).
"OJ has been good to me since I have been back and now I just want to take it one meet at a time and see what happens. We will do Stockton then Fresno and see where it stands when the fall meet begins here."
Hollendorfer Sorry to see Del Mar End
Jerry Hollendorfer
didn't have a great meet at Del Mar but things evened out the last weekend of action.
It started when Cathy's Crunches under jockey Joe Talamo took the $85,000 Adoration Stakes. Surprising to most, the horse that has previously won three of her five career wins at Golden Gate Fields, was sent off at 10-1. The very next day Hollendorfer doubled his pleasure by not only winning the $250,000 Yellow Ribbon Handicap, but he also had the second place finisher.
Halo Dolly
, a Nor Cal killer who had eight of her 12 wins in the bay area, came from fifth down the stretch to win the Yellow Ribbon by just over a length, again with Talamo in the saddle. Winning the photo for second was City to City, who also finished second last month in the John C. Mabee Stakes.
Closing Weekend
GGF closes its summer meet this weekend, then racing shifts to the San Joaquin County Fair in Stockton September 20th through the 30th then ends the summer with the Big Fresno Fair October 4th-14th.