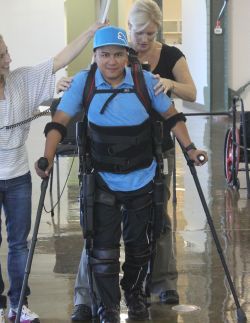 In the prime of his short career, winning races was not a problem for jockey Michael Martinez.
The once promising rider rode for almost three years before his career was cut short due to a spill at Golden Gate Fields on Sept. 12, 2010. The accident occurred when his mount that day, Fair n' Warmer, clipped heals going into the far turn and went down.
The horse landed on Martinez and he suffered severe head injuries as well as a severed spine, that despite over 11 hours of surgery that night, left him paralyzed from the waist down.
His life until then, was on the fast track to success. The talented kid from Panama had won 19 races in his first four months of riding, then followed that up with 84 wins in his second year and 168  in his third before the accident. In his first full meet at GGF, he placed second behind hall of famer Russell Baze. According to many trackside, he was just starting to find his stride as a jockey.
On the personal side, h
is girlfriend Charlotte Garcia was due to give birth to the couples first child any day and the two had marriage plans.
But like so many that suffer life changing accidents, Martinez found his life changed in an instant. 
He went from a happy, soon to be family man that was trying to compete and win, to just trying to survive.
Survival was made easier by his family. Nine days after Martinez' accident, Garcia gave birth to their daughter. Six months later, the two wed in a private ceremony.
Although confined to a wheelchair, Martinez was determined to move on with his life. He and his doctor, Golden Gate Fields physician David Seftel, have spent the past two years looking for options to make his comeback complete. A few attempts at being accepted into stem cell programs in Switzerland and more recently in Panama, have been unsuccessful. While the one in Panama is still a remote possibility, Martinez was getting more frustrated with the setbacks.
That is when race track worker Dennis Anderson and his daughter Sarah entered Martinez' life.
Dennis, a long time worker on the backside at GGF, had dealt with a similar situation. His daughter Sarah, was paralyzed from the waist down in 2003 when her car was struck by a drunk driver. For a while, Sarah thought she would never walk again.
But in 2011, Sarah discovered Ekso Bionics, a six year old company that started out as Berkeley ExoWorks and later turned into Berkeley Bionics before finally becoming Ekso Bionics. 
In 2010, the company produced eLegs (which their website says is an intelligent, bionic exoskeleton that actually allows wheelchair users to stand and walk.)
Sarah had great success learning to walk again with the mechanical legs, and has since become a top spokesperson for the company.
It was Sarah and Dennis that urged Michael to check it out.
"I met Michael through my dad and Dr. Seftel .A couple months ago I called Dr. Seftel to invite him to Ekso Bionics to watch me walk. He then told me that Michael was starting to lose hope about walking again and that I should have him come into Ekso Bionics so that he could raise his spirits and not give up on his recovery" Sarah said. " As a fellow wheelchair user I know how important hope is, so as soon as I heard his hopes were slowly fading away I knew it was vital for them to be restored.
"After I got off the phone with Dr. Seftel I emailed Michael and invited him to come down to watch me walk the following morning. While he was there, he got to meet our CEO and clinical staff and they scheduled him to come in and walk the very next week. He seemed so excited and hopeful when he got to see other people in wheelchairs walking, so I'm truly thrilled that he got to experience walking again." 
The premise of the legs is as follows. The user straps onto his/her back a device that weighs about 50 pounds. Each leg wears what looks like mechanical leg braces. The leg movements, made to mimic those of a normal step, is controlled by a remote control that at first is triggered by training assistants. For more advanced users, the remote can be controlled by themselves.
Using a walker, then crutches, the user can walk up to one mile per hour. Martinez has now had eight sessions with the Ekso walking legs and is getting more and more used to it each week he goes.
'I was nervous at first but each time I go I get more balance," Martinez said. "It feels good to walk again but I want to do it on my own."
Currently, the Ekso walking legs are available only to hospitals and clinics, as they use them to continually get feed back from the patients that use them. Each set is custom fit to the user no matter how tall or short they are. However in 2014, a personal version will be available for sale. Currently, testing is still going on to see what the machine does for each person in terms of breathing and respiratory issues, with the hopes that it will prove to be a medical help to its users so insurance companies may aid in the purchasing of them.
But for now, Martinez is once again walking. It doesn't matter to him if it's only once a week, he is out of his chair and taking steps in a way he never thought he would.
The change in Martinez has been obvious to those who know him. After a prolonged absence from the track following his accident, he can now be seen visiting his former fellow jockeys and track doctor Seftel on a regular basis. Smiles and laughter greet him in the jocks room. He truly looks happy to be there with his friends.
Michael was nice enough to let me watch one of his sessions. We had only met in person one time but knew of each other.Watching a young man, who had been at the top of his game just a few years earlier, have to learn all over again how to walk was amazing. There seemed to be no embarrassment on his part, only a deep concentration on the task at hand.
I know Michael is waiting for that day that he can guide himself through those doors to the jockeys room with his wheelchair sitting outside.
Hope continues that he may be included in the stem cell program but if nothing else, the man who used to be in control of a promising life, can once again regain as many normal movements as possible and once again, be in control.
You can see more about the company including Sarah Andersons story here www.eksobionics.com