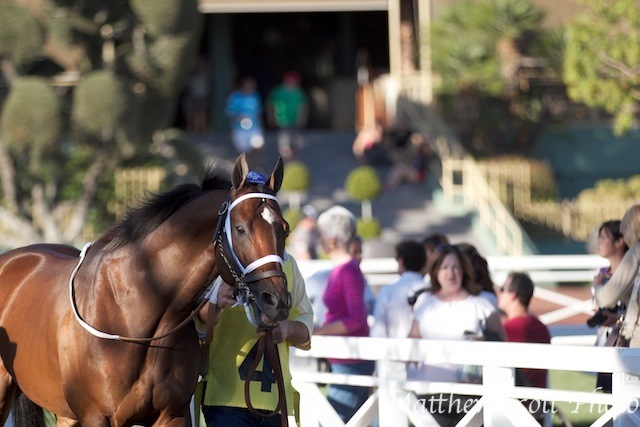 The First half of the Golden Gate Fields winter/spring meet didn't prove to be very exciting for fans of stakes races. The lack of  entries from southern California, left such races as the California Derby, California Oaks and the Albany Stakes to be a battle of locals. 
Things picked up in the El Camino Real Derby when Julien Leparoux came to town and urged on Daddy Nose Best to a slight victory over east coast rider Alan Garcia and Lucky Chappy. The race not only gave GGF some star appeal, but propelled 'Daddy to a starting spot in next weeks Kentucky Derby.
As the second half of the stakes schedule kicks into gear this week, fans won't have to wait to see some top notch names.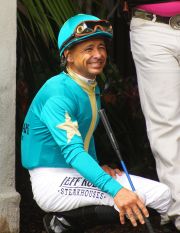 Entries were drawn today for the Grade 3 $150,000 San Francisco Mile and the race is being headlined by multiple stakes winner Jeranimo from the Michael Pender barn. Hall of Fame jockey Mike Smith will be aboard the 8/5 morning line favorite.
Also making the trek up north will be Calimonco from the John Sadler barn, and Worth Repeating will carry the colors of Richard Mandella. Jockey Mario Gutierrez, who has ridden at GGF off and on over the past four years will be in town to ride Calimonco. Gutierrez will be making his first start in the Kentucky Derby aboard I'll Have Another.
The field of 11 features stakes winners Gallant Son (runner up in the 2011 SF Mile), Hudson Landing, Mr. Candy Bar, Positive Response along with Calimonco and Worth Repeating. Stakes placed Dunmore East and Live Sundays adds to the intrigue.
Positive Response, from the William E. Morey barn, will be continuing his comeback from a very successful 2011. Last year, he won the Gold Rush Stakes and California Derby at GGF and then triumphed in the Johnny Battaglia Memorial at Turfway Park before an eighth place finish in the Vinery Racing Spiral Stakes. 
He was given a rest after that race and is now on his fourth race on the comeback trail which has featured runner up performances in his last two. Jockey Julien Couton, who rode him last year, will be reunited with the horse after Aaron Gryder rode him in his last three races. The son of Pomeroy will be making his first ever try over the turf.
Post position and ML odds from the rail out are Jeranimo (M.Smith) 8/5, Worth Repeating (F. Duran) 15-1, Photo Shopped (F. Alvarado) 15-1, Positive Response (J. Couton) 10-1, Sanger Silver (A. Cedillo) 20-1, Calimonco (M. Gutierrez) 7/2, Hudson Landing (J. Hernandez) 10-1, Dunmore East (K. John) 20-1, Live Sundays (A. Gryder) 9/2, Mr. Candy Bar (I. Beato) 30-1, Gallant Son (L. Mawing) 10-1.
The old and the Young 
Last week, we had victories by jockeys Russell Baze and Irving Orozco. So? What's the significance you might ask?
Baze, 53, currently stands with 11,564 wins in his career. Orozco, 18, well it was his first thoroughbred win. After beginning his career riding quarter horses at Los Alamitos (where he won eight races), Orozco (left) switched to thoroughbreds and so far has a win, 4 seconds and three thirds in 24 mounts at GGF.
Followers of Baze already know he has the most wins in the history of racing. But they may not know that the man he passed, Brizilian veteran Jorge Ricardo, 50, is once again healthy and putting up wins trying to keep up with the ageless wonder.
After missing a lot of time with severe injuries last year, Ricardo currently stands at 11, 552, just 12 wins behind Baze, according to the Pagina de Turf website that is tracking the two. According the site host, Ricardo has confessed that his dream is to end his career with the most wins of all time and says he will "think of retiring only after Baze does and with the world record in my hands"
Burrows Returns Home
Aspiring jockey Brittany Burrows has decided to take a break in her pursuit of a career as a jockey. Here she explains how here battles to recover from a recent fall has effected her. 
"
Well I decided to come home. I think physically i'm fine and it's mostly a mental thing now. Right now i'm riding my own horses and working out still. I'm also looking for a job and looking to take some equine classes at Consumnes River College"