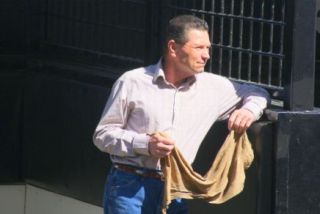 For the past two decades, local trainers Jerry Hollendorfer and Jeff Bonde (left) have been among the best at Golden Gate Fields, each having made a name for themselves in different ways. Hollendorfer, for his domination of the local racing scene, and Bonde, for his penchant for picking out top 2-year-olds.While each have been well established on the national level, this May could bring each of them to a brand new level of success.


Last week, Hollendorfer was named a finalist for the National Thoroughbred Hall of Fame for the first time. He, along with trainers Gary Jones and Robert Wheeler, jockeys Calvin Borel, Garrett Gomez, John Velazquez and Alex Solis and horses Open Mind, Safely Kept and Sky Beauty will all be eligible for one of the four spots that will be inducted this year. The four highest vote getters of the group will become hall of famers.


Bonde on the other hand, is getting close to having a horse in the Kentucky Derby for the first time in his career.


The 'Dorf has the numbers to merit inclusion. On the local angle,  between 1986 and 2008 he won 37 straight training titles at Bay Meadows and 32 straight at GGF. Nationally, he has been in the top 10 in wins 24 straight years and in the top 10 in earnings 12 times. Heading into 2011, he ranked fourth all time in wins (5,863) and eighth in all time earnings $119,141,280 among North American trainers.


"No one can ever expect to be honored like this, so it was a real nice feeling when I got nominated as a finalist," Hollendorfer said. "Being nominated is special in itself, but getting in would be extra special. I'm very humbled to be nominated."


The king of the bay area has had his share of top caliber horses such as Blind Luck, King Glorious, Lite Light, Pike Place Dancer, Chocolate Candy and Hystericalady just to name a few. It is no mistake he has been as successful as he has. He is usually the first one at the track and the last one to leave.


"My folks taught me early in life, that you have to work hard and do the best you can at every endeavor," Hollendorfer said. "I've tried to follow that and it's worked pretty well."
On May13th, we will find out if Jerry makes it to the hall of fame. Seeing the long hours he puts in at the track, and the success it has led to, I have to think the 'Dorf will be getting a congratulatory call.


Bonde, a Pleasanton native, thought a few months ago that he was on the fast track to the Derby this year with his stand out Sway Away. But after a disappointing sixth place finish in the Rebel Stakes at Oaklawn Park, positiveness turned to doubt.


However eight days later, another Bonde horse, Twice the Appeal, pulled off a 25-1 shocker in the Sunland Derby, once again leading the Bonde camp to smell roses. The $400,000 earned in the win, gives the son of Successful Appeal enough in graded earnings to make the Kentucky Derby Field.


The result surprised many, but not Bonde.


"I thought i had a chance. To say I thought I was going to win, nobody can say that. It was a large field, Steve Asmussen had a  real nice horse (Astrology) coming off a long layoff and he ran well, he ran second, but I was very happy with my horses' race,' Bonde said. "His races on dirt have been have been much better than on synthetic there's no question about it. But I think the biggest thing for this horse is, he's catching up now in age and maturing and that's the big factor."


Bonde has been in breeders cup races (finishing fourth in the 1999 Breeders Cup Juvenile Fillies with Spain), the Kentucky Oaks and Preakness. He recently won his first ever Grade 1 race when Smiling Tiger won the 2010 Ancient Title Stakes at Oak Tree.


So a horse in the Derby would be the ultimate. Or dare I say horses in the Derby.


Sway Away is also still in the derby picture but according to Bonde, he will need to "come with a big race" in the Arkansas Derby on April 16th to stick on the derby trail.
"I've been to the Derby week and it's a mad house," Bonde said. "But this sport this sport is like any other, it's survival of the fittest. Things have to go your way."


If all goes well, the first two weekends in May could put Golden Gate back on the national map.