The smell of cotton candy, the sight of families of 6 with corn dogs and dripping ice cream cones in their hands. Those funny looking horses with the long ears. Yes fans it's fair time.
It's the two months each year we can forget all about past performances, top horses and the tapeta racing surface. Instead we can see what mule can run the straightest, which apprentice can carry speed the longest and who doesn't mind a little dirt in their face.
Of course I'm talking about the summer fair circuit ,where over the next 7 weeks we will get to do all the above, and them some. The first stop is Pleasanton where there is a need for speed. That fact was on display on day two of the meet when 5 of the 8 races were won by apprentice jockeys and all 5 had the lead at the top of the stretch.
Lets see, we have had four days of the 13 day meet so far and we have already seen some milestone wins.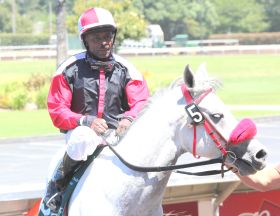 Apprentice Irving Orozco won a pair of races on Friday, the first of which was his fifth career win, officially beginning his 1 year apprenticeship. On Saturday jockey Barrington Harvey (right) captured the Grade 3 Sheikh Zayed Bin Sultan al Nahyan Arabian Cup Stakes, a $20,000 event that brought all the color and pageantry of Arabian racing to Pleasanton. 
If that weren't enough, Harvey captured a race later that day at 26-1. The two wins equaled what Harvey had through 5 months of the 2012 Golden Gate Fields meeting. Finally, on Sunday jockey Freddy Rodriguez won the first race of his career when he scored on a 33-1 longshot I'll be Seeing You. It was just the third mount of his career. 
Buckle your seat belts folks this is going to be a wild summer season. 
Duran, McCanna Take Summer Opening Stakes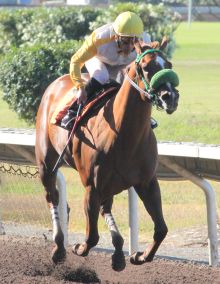 Francisco Duran and trainer Tim McCanna thought they had a good chance in the $50,000 California Wine Stakes on Saturday, but the win was a little easier than either of them imagined.
Munnings Sister (left) broke on top and easily completed a wire-to-wire win under Duran, beating Distinctive Yolie by 4 ½ lengths, while odds on favorite River Kiss from the Doug O'Neill barn ran third.
"We were a little worried about outbreaking the one horse (River Kiss), boss told me to go and we went and it worked to our advantage, they didn't catch us." Duran said. "As soon as I got out and had the jump on him I crossed over and got my position there. I was able to get a good breather going into the quarter pole and just flagged her home. She really likes his track"
Munnings Sister won at Pleasanton last year and has now won three of six lifetime starts.
Alvarado comes out Firing
Frank Alvarado missed the first three days of the Pleasanton fair, sitting out due to a three day suspension handed down by the stewards at the end of the GGF meet. But on Sunday, he made up for lost time and won four races, including the $50,000 Livermore Valley Wine Stakes.
Riding for Jerry Hollendorfer, Alvarado took Reconstruction to the front at the top of the stretch and held off a closing Longview Drive for a close win in the feature.