We've seen this before.
A Jerry Hollendorfer trained horse zooms down the stretch under Russell Baze and gets up at the wire to win a stakes a race?
A Jerry Hollendorfer trained horse zooms down the stretch under Julien Couton to catch Russell Baze at the wire to win a stakes race.
I know the second scenario is the least favored choice but that's exactly what happened Saturday when Indian Gracey ran down the pace setting English Royal to beat the favorite by a head in the $75,000 California State Fair Sprint Handicap at Cal Expo.
Baze appeared to be as good as home when he built a 2 ½ length lead in mid stretch but a flying Gracey and Couton came running at the end and returned a healthy $23.60 mutual for Hollendorfer backers.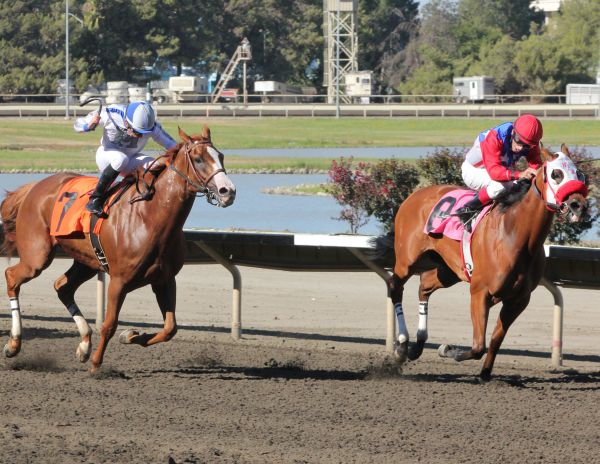 "The race set up perfectly," Couton said. "I just laid behind Russell down the backside and down the lane she came back to me. I thought it would be really tight and the leader got a little tired and we just kept running."
Well this was the first win for Indian Gracey since August of 2011 when she was ridden to victory by then apprentice Kyle Frey. In Gracey's last start, she finished 4th behind the winner English Royal (sound familiar ? If not go back and read again) That day Baze rode Indian Gracey.
The third place finisher Saturday was Paris in April who came from Boise with jockey Robert Webb. Webb is just 4 wins shy of 1,000 for his career.
New Apprentice gets taste of Sacramento
Arnold Perez, who started his career at Hollywood Park in June, came north this weekend to try his luck at Cal Expo. Having three career races under his belt before this weekend, the 21-year old nearly made the trip a winning one but his attempt to get win number one on Lightning Mcque fell just short when the pace setter he was passed late, by none other than hall of famer, Russell Baze, who won the race by a tight length.
Perez now returns to southern California when he will ride the meet at Del Mar.
"It will be a difficult experience to be riding against the top dogs" Perez said. "But i have family there and some things lined up. I'm as competitive as anyone and I feel this is the right time for me. I'm comfortable and ready."
Walk the Track with Frank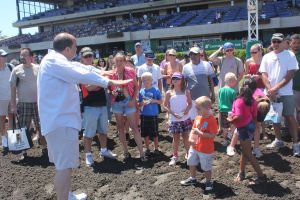 Every day after the first race, TVG commentator and bay area summer announcer and publicist Frank Mirahmadi, took a group of up to 40 people onto the track at Cal Expo. As they all got to fill a vile of dirt from the track as a souvenir, Frank gave them a quick tutorial about racing at the Cal Expo strip and what it takes to make the track ready for the horses for the two week meet.
The track walk was a big success with Frank ending his talk Saturday with "What other track in America lets the fans come onto the track?" and one happy father yelled out "Nobody!"
On Deck
Next week, racing hits the Sonoma County Fair in Santa Rosa for a three week meet (July 25th-August 12th). Seven stakes races are on tap for the meet with the headliner being the two-year old races ($75,000) each scheduled for August 11th and 12th.