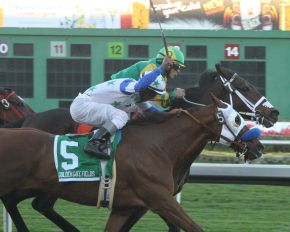 Too often in the sport of horse racing, patience is an overlooked virtue. Jockeys have to be patient on their rides and trainers have to do the same with their horses.
This past week, a pair of veteran trainers showed what patience is all about.
Blaine Wright knew what he had in Hudson Landing, when the five-year-old had a stellar early part of 2012, winning the Grade 3 San Francisco Mile and running second in the Grade 3 Berkeley Handicap.
But since then, his campaign has been spotty. There was a win in the $50,000 Mt. Rainier Handicap at Emerald Downs, but that was surrounded by a seventh place finish in the Grade 1 Shoemaker Mile at Hollywood Park and a ninth place finish in the Grade 3 Longacres Mile in Washington.
Wright never lost faith in his star. He brought him back in an allowance tune up two weeks ago, where he ran third to Positive Response and Duke of Doom, always keying him toward the Grade 3 All American Stakes at GGF.
Also entered in the All American was favored Gladding, from the John Sadler barn, and the same two horses that just beat him a few weeks earlier. In fact Positive Response had beaten Hudson 2 of the last 3 times but Wright never backed down.
Hudson Landing backed Wrights confidence with a nose bob victory over Control Seeker in the Grade 3 All American.
"I thought there were four horses in this race that could win and we were one of them," Wright said . "He's been training well and the fact that we are at Golden Gate helped, his record here is impeccable."
Wright now has a Graded Stakes winner that has done it on the turf and the Tapeta and all options are once again open.
Just a week earlier, we saw the return to form of Gig Harbor.
When seen here in 2011, Gig won the Alcatraz Stakes in his first attempt on the grass and it ended a first year campaign that saw the son of City Zip win 3 of his first 4 starts. His only loss was a third place finish in the Harry Henson Stakes at Hollywood Park. In that race he came away with a chip in his ankle and following the Alcatraz win, trainer Steve Specht decided to give his budding star a rest.
"They took the chip out and it came out good," Specht said. "He's got bad feet anyway so we just wanted to give him some time off with the fairs coming up and the get the ankle right."
So to the farm he went for a rest, and after eight months on the bench, he returned in the Albany Stakes in January and ran 5th. Following that, he went down to Santa Anita and ran 8th in the Joe Hernandez Handicap. Start three was a fifth place finish in an allowance race at GGF and it seemed the former star was not the same.
But in start four, a six furlong allowance race against favorite and stakes winner Shudacudawudya, Gig Harbor went wire to wire in a swift 1:09.2 for a 3 ½ win over that rival.
"It's real nice to have him back," Specht said. "There wasn't many places to run him because he wasn't eligible for most races so we had to run him in some stakes races. But this time he came out, he was real sharp and has good speed anyway and he ran a good time for this track."
Gig Harbor will likely go next in the $50,000 Oakland Stakes on closing weekend to see if he can continue his comeback.