Last June, a fresh faced apprentice showed up at the
Pleasanton
Fairgrounds in search of a place to call home. Almost exactly one year later I think its safe to say that coming to the bay area was the right choice for the youngster from Sinloa, Mexico.
Four days after I wrote that blog, Gonzalez, now 18, won his first California race when he won on the Ryan Kenney trained Unmatched Force. On Saturday, Gonzalez and Kenney were once again in the Winners Circle together, but the stakes were quite a bit higher.
Gonzalez guided
Tribal Gal
to an upset win in the first ever $100,000 Oak Tree Distaff Stakes. Tribal Gal was from the barn of R. Kory Owens, but sub trained by Kenney.
"It was basically just blow and go and see how far you can make it and she made it," Kenney said afterward in a winners circle interview. " We appreciate the opportunity that Kory Owens gives us up here in Northern California (me and my dad Dan) and we are just very excited."
The win marked the first ever stakes win for Gonzalez. He came close in the closing month of Golden Gate Fields, finishing second in the $75,000 Alcatraz Stakes and also in the $50,000 Golden Poppy. But this time, there would be no second place finish. Tribal Gal, 13-1, led from gate to wire and pulled away down the lane for a 3 1/4 length win, leaving a trio favorites Unusual Way, Top Kisser, and Marks Mine in her dust.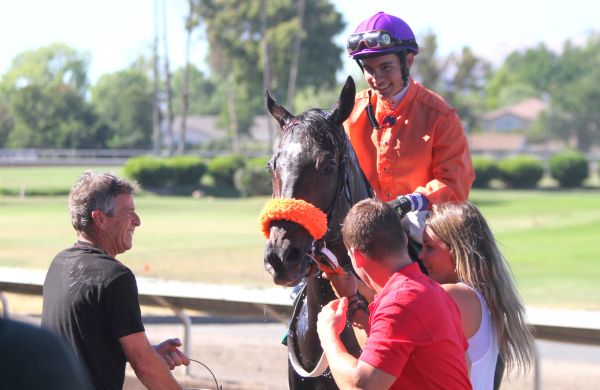 "I thought there was going to be more speed than there was," a jubilant Gonzalez said after the win. " I was battling with the 6 horse head to head and at the 3/8th pole and she just took off running. I didn't even ask her she just took me there. She did everything, i just sat there and let her do her thing and she got the job done. This is by far the best day I ever had."
During the past year, Gonzalez has made a habit of chalking up wins. He came to the bay area with 10 wins at Turf Paradise and at the conclusion of racing on June 29th, 2014, he visited the winners circle 132 times.
He finished in 5th place at the recently concluded Golden Gate Fields meet (despite losing his bug in March) and with four days left in the Oak Tree Meet is currently tied for first place with Russell Baze for the leading rider title.
Jauregui Rolling
Trainer
O.J. Jauregui
is on a hot streak these days, with 3 wins in 6 starts at the Oak Tree Meet. His biggest win of the week though came in the $50,000 Betamerica.com Stakes when Amaranth (below) dominated the competition.
Amaranth, owned by Highland Yard LLC, was highly regarded by Jauregui in 2013 when she ran in a trio of Maiden Special Weight races. With the results not what he expected, Jauregui  gave the daughter of Mr. Greeley by Shedoesrock, five months off.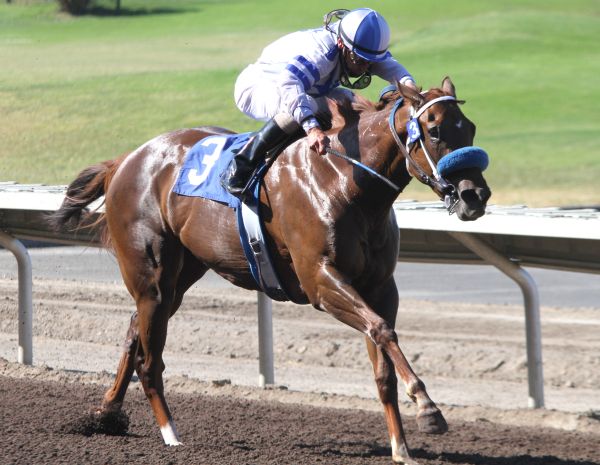 Since she returned in April she is 3-for-3 with the 7-length win in the Betamerica leaving onlookers talking about it still a week later.
"She worked over this track and she worked lights out, she worked like a freak, she gave me chills," said jockey Dennis Carr. " I figured City by the Bay would be tough but I tell you what, a few jumps out of the gate, the race was over. She impressed me more than I thought she would."
Jauregui is looking at the $200,000 Great Lady M Stakes at Los Alamitos on July 12th as a possible next start for her but that will depend on how she does between now and then.