The summer fair season is  heading into the home stretch and so far we have seen some contrasting styles dictate the way the races have been run.
In the books are the meets at Stockton, Pleasanton and Sacramento. While speed dominated the first two meets,  the Sacramento track was more open to the closers. One constant of the three however,  has been the riding of Frank Alvarado.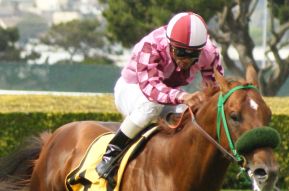 Alvarado has had a very hot run this summer as the schedule now turns to the fair at Santa Rosa.
Alvarado was 4-of-9 in the money (1 win-2 seconds-1 third) at Stockton, won 13 races in two weeks at Pleasanton (13-9-9 in 55 mounts) and won 5 of 14 mounts at the just concluded Sacramento meet. That adds up to 19 wins in 78 mounts for a tidy 24 win percentage.
His run at Pleasanton also saw him win two stakes races, the Sam J Whiting aboard Excessive Passion and the Alameda Handicap while on Slew the Man (both Jeff Bonde trainees). He hopes that continues as the Santa Rosa meet begins this Wednesday.
In fact, most look forward to the meet at Santa Rosa, as it is the only meet other than the one at Golden Gate Fields to run races over the turf. Also, there are seven stakes races on tap for the meet that runs July 27th through August14th.
Brown Bess dead at 29
Brown Bess, a very loved bay area horse, passed away last week at the age of 29. She broke her maiden at Santa Rosa in 1985 and in 1989, during a fourth month period, won the Grade 1 Ramona Handicap at Del Mar, the Grade 3 California Jockey Club Handicap at Bay Meadows and the Yellow Ribbon Invitational Stakes at Santa Anita. 
In her career, she won six races at Golden Gate and won 16 times overall in 36 starts and earned 1.3 million.
Frey Hoping to ride here the end of the summer
Apprentice jockey Kyle Frey, who left GGF in March to resume his career at Parx Race Track in Philadelphia, hopes to return to ride the end of the Santa Rosa meet and possible for a few weeks of the following summer meet at Golden Gate Fields.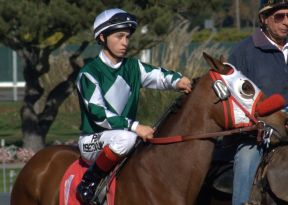 Frey left on March 4th with 10 wins to his credit and through the end of racing on Sunday, has now chalked up 58 career victories while currently sixth in the current meet standings at Parx.
He has also gotten a chance to ride at several track in the area, chalking up victories at Atlantic City, Monmouth Park, Delaware and Penn National.
"Life's been pretty good," Frey said. "It wasn't as hard to leave here as I thought, because I was accepted pretty good there. Of course I miss a lot of people here but I have a good business going."
Parx shuts down August 7th through the 27th and that's when he hopes to ride here.
'I'll have a lifetime to rest after, but my apprenticeship ends January 17th, so might as well ride every day that I can."
We have a Vic Stauffer Sighting
Vic Stauffer, the voice of Hollywood Park has been appointed a steward for four short meets, three in northern California and one down south.
Stauffer, who recently ended his run as a jockey agent, formerly handing business for Joel Rosario, Martin Garcia and Tyler Baze (one after the other) will be a steward for the upcoming meet at Santa Rosa, followed by Ferndale, Fresno and then down to Pomona.
Mule Shocker
The 8-year-old mule Bar JF Hot Ticket had her 11 race win streak snapped on Sunday by her own sister Bar JF Red Ticket. Hot ticket has won 19 of 23 career races and had not lost since October of 2009, when once again Red Ticket was the victor.