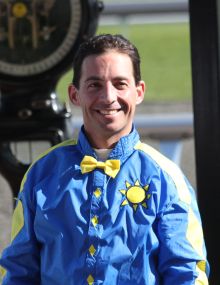 For the second time in less than a month, Golden Gate Fields trainers have found out they are losing another top notch jockey.
Following the departure of Juan Hernandez two weeks ago, news broke this week that Aaron Gryder, the number two jockey behind champion Russell Baze, is headed for southern California. 
Gryder has just one mount Sunday, then it is off to Hollywood Park where he will team up once again with agent Vince DeGregory. The two worked together when Gryder was the leading rider at the Hollywood Park fall meet as an apprentice in 1987.
" It's been something I've been thinking about for a long time," Gryder said. "I've had a great time here in northern California. I've been blessed with all the clients that have treated  me so well and my agent has been amazing but I just turned 42,  I feel great, I want to ride. 
"All spring long I watched the big horses run through, not only the triple crown, but the major races around it. There is no guarantee you'll get one of those horses, but I need to be around good horses and I love the challenge of chasing a good horse. I'm too young not to challenge myself."
Gryder's switch is another piece in the vastly changing California jockey colony. In southern California, the departure of Joel Rosario to New York shakes things up for the top riders as they scramble to pick up his business. Gryder and Hernandez will now be in the mix for a fair share of top talent. 
Meanwhile at GGF, agents are scuffling around to pick up business left behind by Gryder and Hernandez. The shake up at GGF looks to favor Alejandro Gomez (who has Gryders former agent Dennis Patterson), Frank Alvarado, Abel Cedillo, Julien Couton and Francisco Duran among the top tier of riders.
Last December, then second place rider Kevin Krigger moved his tack down south and has built up success.
"I was thinking I'd stay here through the fairs and maybe go down there after Del Mar, but  with Rosaio leaving it doesn't hurt things. Kevin has had good success down there, Juan got his first win the other night and that will help him. I've tasted the best of it before and I want more of it."
Handicapping Seminar Adds a Twist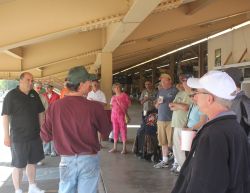 The ever growing popularity of the daily handicapping seminar, hosted by fair publicist Dennis Miller and track announcer and TVG analyst Frank Mirahmadi,  has been evident by the growing crowd size.
Lately, the hour long seminar has played to standing room only crowds, forcing them to move to a different area at the track, with more seating. This weekend, they held their first "Morning Workout" seminar, and a good sized crowd gathered to watch workouts and find out what happens in the mornings at the track.
The guest speakers,  trainers Brian Pitnick and John Anderson, track superintendent Jim Burns and former jockey and current bloodstock agent Kyle Kaenel told of life on the track as the sun comes up.
They not only told about how trainers handled their horses but gave tips about handicapping angles, track conditions and things to look for when assessing a horse on the track.