Only a few weeks remain before the 2012 Belmont Stakes day here in New York. I'll Have Another has settled nicely into Barn 9 and it won't be long before we know if this year will finally be the year we see another Triple Crown winner. The twenty-first century has already seen a few near misses—Funny Cide, Smarty Jones, Big Brown. But in 1968 there was another notable near miss. Forward Pass, with jockey  Milo Valenzuela, failed to win the Belmont Stakes and capture the elusive Triple Crown because of another horse named Stage Door Johnny and another jockey named Heliodoro Gustines. I've been fortunate to be able to meet "Gus" here at Belmont Park and he graciously agreed to share a little of himself with me by responding to our Proust Questionnaire.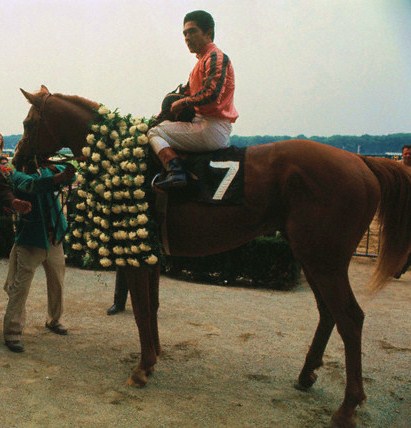 1.  What is your most valued virtue in yourself and in others?
Well . . . I believe . . . honesty, both in words and actions—no lying, no stealing.


2. What would you consider the main aspect of your personality?
I'm a nice guy, but . . . I have a quick temper, but  . . . two seconds later I'll forget that I was mad. I'm forgiving. Some people hold a grudge for a long, long time. Not me—I forgive.


3. What quality do you appreciate most in your friends?
Honesty and caring . . . consideration; friends should help each other however they can.


4. What do you consider your main fault?
My quick temper—I'll tell you off in a second! But that's me . . .


5. If you could not work in your chosen industry, what occupation would you choose?
Oh, gosh . . . I would've . . . I'd prefer to be dead! Well if I could work with animals, maybe with the ASPCA or something like that—in a job helping animals.
6. What is your idea of happiness?
To see my family healthy and happy.


7. What is your idea of misery?


Misery? I'm very touchy . . . very sensitive. To see family in tragedy—I get tears in my eyes when I hear about family tragedies—even if I don't know them personally.
8. If you could not be yourself, who would you choose to be?
Paul Anka. He's a smart man; a good singer—and writer, and a family man—he has a nice wife and daughters. I met him at the Fontainbleu in Miami, I used to go there a lot years ago. I like him very much.


9. Who is/are your hero(s) in life (or fictional)?


I really like Napoleon. He was a great man on a horse—he was tough, but he was small!
10. Which historical or public figure do you most admire?


I really admired John Forsythe. He was an excellent person. I knew him years ago. He and Paul Anka were great people.
11. What is the thing that you most dislike?
I don't like to be late for anything.


12. Which personal talent or quality would you like to possess?
I'd like to sing—like Paul Anka, Frank Sinatra, or Tony Bennett.


13. What was your biggest career disappointment?


My biggest career disappointment . . . when I lost the Marlboro Cup (Invitational) with Forego (in 1975), for Mr. [Frank] Whiteley. But in a way, I was also happy that I lost because I would have been disqualified.
14. What would you like to change about the racing industry?
I would change the way the racetracks treat the patrons . . . make it easier and less expensive to go to the races.

15. What person in the racing industry do you most admire?
Allen Jerkens, Sherril Ward, John Milton Gaver, Sr., and Frank Martin. I also like Todd Pletcher and Billy Mott is a nice guy.

16. Who is your favorite race horse?
To ride, my favorite horse was Stage Door Johnny. Otherwise, Seattle Slew was a tremendous horse, unbelievable.


17. What is the most important lesson you've learned in your career?
When I first came here and was riding, I was riding with just one goggle. Eddie Arcaro called me over and he told me "You should ride with two goggles." I said (to myself) "Well, if he tells me 'two goggles'. . . he's been riding for thirty years . . . he knows more than I do . . . OK." Not too long after that . . . riding on the grass and I am behind . . . something hit me and it was like my eye was taken out. Boy, oh boy. The first goggle was ripped apart, and the second goggle was crushed. It was a horseshoe that came off another horse. If I didn't have two goggles, I would have one eye less. I remember being told [by other, more experienced jockeys] to do this in the gate or do that, what did I know? And every time I had a spill I got better. I learned to take advice.


18. What is your most memorable moment in racing?
Oh, when I won my first race, on the old racetrack in Panama. The horse's name was Olimpico and it was a sprint—4 ½ furlongs.


Don't kick someone when they're down. Help them—in any way you can.

20. How would you like to be remembered in life?
As a nice guy, a good guy.