In the late 19th century, when entertainment sometimes relied on human imagination, French novelist and essayist Marcel Proust and his friends popularized a type of personal inventory questionnaire designed to reveal the responder's true nature and tastes. Proust's enthusiasm for the questionnaire was well known and eventually became known by his name, at times even being (mistakenly) attributed to his authorship. Modern versions, slightly modified, have been popularized by Vanity Fair magazine and on the television interview show Inside the Actor's Studio.
In a world as intense as the Thoroughbred racing industry, sometimes the "who" gets lost among all the "what"—the bloodstock, the sales, the races, the stats, the competition, and all the work! Often the people we see at the track and the sales, or read about in racing publications and watch on TVG, become completely entwined in what they do. So, in the interest in finding out a bit more about the members of the Thoroughbred community, I've revised the questionnaire into a "racing edition."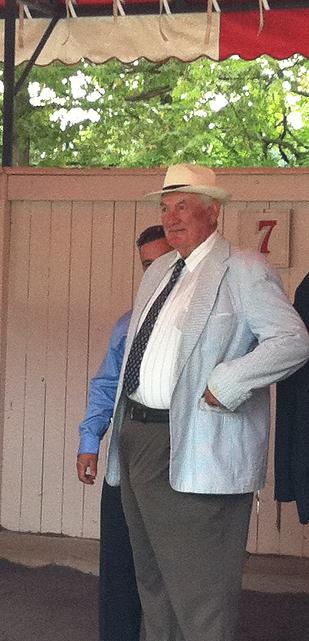 I had the pleasure of meeting racing legend
H. Allen Jerkens
(who celebrates sixty years of training this year) at Saratoga this summer, and one of the first things we launched into discussing was our shared love of polo. After gleaning some good playing tips from the Chief, he indulged me further by agreeing to be the first to respond to the twenty questions in the Proust Questionnaire: Racing edition.
When I returned several days later we had a lively conversation over the questions while seated in his golf cart. We talked of horses and people, of old movies, and polo.  He talked about his family, shared his politics and his ideas. He told me great stories and imparted some life lessons. And after his last response he jumped right back into asking me about my polo. Without question, it was one of the best afternoons I've ever had at Saratoga. 
1. What is your most valued virtue in yourself and in others?
The Golden Rule: to do unto others as you would have them treat you.


2. What would you consider the main aspect of your personality?

I don't really think about things like that much—but I think we're all a combination of what we've learned and what our parents were
.
3. What quality do you appreciate most in your friends?

That they be honest
.
4. What do you consider your main fault?
Sometimes I get depressed for no reason . . . I should be happy—I'm luckier than 99% of the people in the world, I've been able to make my living at what I like most and have been able to do it for so long . . . I'm grateful


5. If you could not work in your chosen industry, what occupation would you choose?
I always think about teaching . . . my mother was a teacher. I like to see people learn. One of my favorite things is to teach someone to ride a racehorse.


6. What is your idea of happiness?
I think it changes every ten or fifteen years—I think it's important go along with the flow. Of course, winning—I've always been competitive, always wanted to win—it's how I make my living.


7. What is your idea of misery?

People that can't make a living, support children, support themselves, or get on drugs or alcohol . . . that's misery.
8. If you could not be yourself, who would you choose to be?
Gregory Peck. He had it all—the looks . . . the acting ability . . . the voice—everything.


9. Who is/are your hero(s) in life (real or fictional)?

When I was young, some of the baseball players. I wanted to be a baseball player, but I was terrible . . . I couldn't hit a ball!  My father, he taught me a lot, and my mother; you don't always realize how good your parents are until they're gone.
10. Which historical or public figure do you most admire?
I don't know about that . . . President Roosevelt and Churchill during the war.  Eisenhower . . . he had to be one of the most unbelievable Americans . . .
 
11. What is the thing that you most dislike?

Greed. I admire people that have amassed great wealth: they're smarter and they're better and should have their riches. But they shouldn't have
so much as compared to somebody who can't even make a living. . . . Don't get me wrong I don't believe in [communism or socialism], but how much? Who needs $60 billion? Isn't $30 billion enough? And then revert the other $30 billion back to those that are without. . . ?


12. Which personal talent or quality would you like to possess?

Acting . . . and I'd have liked to talk to Deborah Kerr and Lauren Bacall!
13. What was your biggest career disappointment?
Sky Beauty
's 1994 Breeders' Cup Distaff (Ladies' Classic) defeat.
14. What would you like to change about the racing industry?
The funny part of it is a lot of people say: "Boy, this game has changed," but the world has changed, so I don't know why it's such a shocking surprise . . . . When you've lived as long as I have you see a lot of change. I just hope everyone can get a job and support their kids. The biggest poison and the biggest problem in the world—and we all know this—is greed.


15. What person in the racing industry do you most admire?
Of course, [Charles]
Whittingham
was a great trainer. But there were a lot of great trainers who never became famous, but they made a living.
16. Who is your favorite race horse?
Zenyatta
. I got to where I was nervous when she was running. I hated it when she got beat.
17. What is the most important lesson you've learned in your career?
I don't know if I've learned anything! Every time you think you know something you get blasted.


18. What is your most memorable moment in racing?
Onion
beating Secretariat, that was the most memorable. But there were so many of them.  
Society Selection
, when she went past the finish line in the Alabama . . . I get choked up even thinking about it  . . . I said "This might be the last . . ." And that was what? Seven years ago now. . . so anyhow . . . you don't know. That comes to mind. When I was 21 and my first child was being born . . .  I didn't have any money, and I had one horse and I put it in this race, and there were 150 horses in the race, and he still drew in, and then he won ! . . .  That was Repeater.
19. What is your motto?
Do the best you can all the time, try not to hurt anybody. I'm not saying I haven't—I'm not brand new!—but I try to be fair.


20. How would you like to be remembered in life?

That I did the best I could and I was a good horseman; that I would try to do the right thing by them and by the people in my life.