Though I'm not a film buff by any means, my favorite part of watching the Oscars each year is seeing the video tribute highlights (and hearing the audience roars) of those who passed away the previous year. Since I'm a writer that is technically challenged with YouTube video clips, you'll have to make do with my narrative tribute of our two and four-legged friends who gave so much of their lives to the sport we hold dear. Sorry for the length, but I believe that each of these individuals deserves credit in their own way.
Owners/Breeders: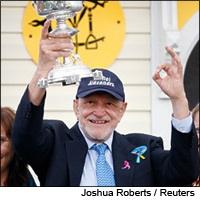 Jess Jackson (81) tried to turn the thoroughbred industry upside down, much like he did with American wine vintners. Mr. Jackson was a lightning rod who was sometimes criticized for gobbling up young talent with endless streams of cash, but ultimately will be remembered for bringing constructive changes in the auction markets and fighting for owner rights. After seeing a disturbing trend of lack of class and respect for others exhibited by new "get rich quick" owners (i.e. Ivarone, Repole), I find myself already missing the graceful demeanor of the man under the fedora. Of course, Jess will primarily be remembered for campaigning three consecutive Horse of the Year recipients and two of the greatest of our generation in Curlin and Rachel Alexandra. Speaking of which, they will be bringing life of their own into this world in the coming spring in the form of a thoroughbred foal.
Edward Evans (68) was fully reaping the benefits of his prized broodmare band operation through Quality Road when he departed the earth. A six time breeder of the year in Virginia through his Spring Hill Farm, Mr. Evans was breeder of record of more than 100 stakes winners, including 2005 Horse of Year Saint Liam - proud papa to this year's likely HOY in Havre de Grace. Susan Salmon Donaldson (77) completes the trifecta of A-list owners/breeders to pass away in 2011, not necessarily for her breeding exploits but for keeping the family Mereworth Farm (170 stakes winners) going strong into its third generation and for her unceasing charity. Through a foundation sire, Discovery - as broodmare sire, Mereworth Farm is responsible for two of the most influential sires of North America, Native Dancer and Bold Ruler. Then through Grade I winner Palace Music we were pleased to meet horse of the 1990's and two-time Horse of the Year, Cigar. But what is most impressive to me is how Ms. Salmon created a Foundation to keep much of the 1,200 acre farm intact for unwanted animals to call home… what a legacy!
Joseph Cornacchia (78) struck it rich making board games and parlayed that success to hit Yahtzee with Derby winners Strike the Gold (23) and Go for Gin. Carl Lizza (73) was a multiple leading owner at NYRA tracks under his stable moniker Flying Zee Stables. Gene Fleming (85) was the big dog in Arizona racing with 12 stakes winners and 2009 Juvenile filly champion Lonesome Creek. Mace Siegel (86) was a founding member of the Thoroughbred Owners of California and more impressively met his wife Jan on a blind date at Aqueduct Park in 1962. Now that's a marriage made in heaven!
We have two deaths in the "win one for the gipper" category, most notably Prince Saud bin Khaled (72), who bred and raced Breeders' Cup Ladies Classic winner (and subsequent $8.5 million Keeneland sales topper) Royal Delta under stable name Palisades Investments. Honorable mention goes to Terrence Lanni (68), a Del Mar executive and former MGM Grand CEO who owned Game on Dude, a very close second to Drosselmeyer in the Classic. You've got to believe that there were some spectators from the heavens looking down on Churchill Downs that day.
Trainers:
Carl Hanford (95) HOF devoted his entire life to thoroughbreds. One of ten children (rare occurrence shared by author), three sons were jockeys including Buddy, who was killed on the Pimlico track at age 21. Carl's life would be worth the toil as he trained one of the true greats of our history in Kelso. An interesting side note here is that Kelso, probably like Carl - a bit too competitive - died at age 26 just one day after parading alongside his nemesis Forego prior to the Jockey Club Gold Cup at Belmont Park, a race that Kelso won an astounding five times! Legend has it that Forego got the better of Kelso in their canter past the grandstand and died of anger the very next day.
Elliott Burch (86) was a name you perhaps never heard of, but someone who certainly altered the course of history. This third generation HOF trainer spoiled two Triple Crown bids by sending out Quadrangle to top a horse named Northern Dancer in 1964 and Arts and Letters to deny Majestic Prince in the 1969 Belmont Stakes. Thomas Nachel (65) was a trainer and owner in Southern California who was also the godson of HOF trainer Charlie Whittingham. Charles "VB" Cushman Jr. (85) was a Camden, S.C. resident who raised yearlings and two year-olds as well as serving as bloodstock agent. Southern Illinois based trainer Owen Rainwater (75) and leading New York conditioner Peter Ferriola (69) also left us in 2011. Bob Holthus (77) was Oaklawn's career leading trainer en route to 2,824 career victories while saddling KY Derby horses and successful sires Lawyer Ron and Proper Reality. Larry Sterling (70) was also a Hot Springs based trainer who handled Vigors during his racing years. Charlynn Taketa (62) was killed at the Portland Meadows race track during a training accident with her partner/husband Jerry Taketa clutching her into eternity. May Charlynn rest in peace.
Industry:
Manuel "Doc" Gilman (91) was a pioneer in every sense of the word. This former Director of U.S. Jockey Club and NYRA chief veterinarian developed the universal horse ID system to prevent "ringers" from entering under false names. He had the dubious honor to be the very first attending vet to reach the great Ruffian after her fatal breakdown in the 1975 Foolish Pleasure match race. Perhaps most importantly, he was the original voice that warned against widespread use of permissive medication in horse racing back in the early 1970's. Robert Green (86), a Kentucky racing commissioner and subsequent stallion manager, furthered the anti-doping cause when he sponsored a 1980 rule that banned most race day medications in Kentucky (which was quickly and strategically overturned!).
Stan Bergstein (87) was king of the harness/trotter/pacer industry (whichever you prefer to call a Standardbred) who worked alongside thoroughbred leaders on common issues such as increased drug testing and fan participation. Keith Card (83) was past president of the California TBA and member of their HOF. His Hi Card Ranch produced Breeders' Cup winner California Flag. William Donald Schaefer (89) served all facets of politics in Maryland while being a friend to our industry. Jimmy Drake (82) was instrumental in New Mexico quarter horse racing. Atwood "Woody" Asbury (80) was a vet who gave his time to the Grayson Jockey Club Research Foundation and even bred a graded stakes winner on the side.
Arnold Kirkpatrick (70) left a powerful legacy in Bluegrass country as a writer and Eclipse Award recipient, horse farm broker and American Horse Council member. Lucy Acton (63) was a journalist with the Mid-Atlantic Thoroughbred which registered two Eclipse Awards under her editorship. Duane Hamamura (57) was an acclaimed photographer and a fixture at Emerald Downs race meets. Daniel Stearns (90) was instrumental in founding the Ohio HBPA and was also a state vet and breeder/owner since the 1950's. Raymond "Pat" Buse, Jr. (85) was also an Ohio breeder/owner and past president of the Ohio TB Association. May the buckeyes now be plentiful for these fine gentlemen.
Last but not least, my good friend Cathy Roby (62), who's name shocked me as I read about her passing back in March. If you've ever been to the Kentucky Horse Park to witness the Hall of Champions (and if you haven't - shame on you!) you would know this gentle lady, who's "office" where she called home for twenty years was about one-third of the size of John Henry's stall. I'll never forget my first trip to see the incomparable Cigar and how Cathy brought him out just for me and traded stories while I posed for photos that I still cherish. We have lost so many Hall of Champions members in recent years that are hard to part with, but Cathy's loss will certainly hurt the most.
Jockeys:
Rising star Michael Baze (24) stole headlines like so many great Baze riders before him, but in a tragic turn was found dead in his vehicle on the Churchill Downs backstretch the week following the Kentucky Derby. Drugs were found in his system but there was no resolution as to whether this was an accidental overdose, suicide or foul play. Bill Harmatz (79) took a Preakness Stakes trophy as well as Woolf Award as top California jockey to his grave. Myles Neff (66) was an Ocala based trainer, jockey instructor and former jockey who had the pleasure of sitting chilly on the backs of Riva Ridge and the immortal Secretariat during racing's golden age of the seventies. Web Snyder (98) was inducted into the Charles Town HOF in 2010, having served as outrider before taking a "less active" role as lead pony rider into his eighties! Ronald Reagan sure had it right when he said "There's nothing better for the inside of a man than the outside of a horse."
Breeders/Farm Managers:
Tom Roach (63) of Parrish Hill Farm co-bred Charismatic and was responsible for the matings of Princess Rooney, Cormorant and Millennium Wind. Claiborne Farm mourns the death of John Sosby (73), who retired in 1993 with 50 years of meritorious service working with horses such as Swale, Ferdinand and Ruffian. Perry Alexander (89) was stud manager with Greentree Farm and Bentley Smith (88) the behind-the-scenes racing manager for the Frances Genter ("Oh Mrs. Genter I love you!") stable for 30 years. Being Mrs. Genter's son-in-law (you can't pick your siblings, but you can sure pick your spouse), Bentley was responsible for buying Unbridled for $70,000 as a weanling and he also had a hand in the dam of 3YO Eclipse finalist Shackleford.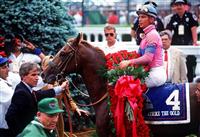 And now, our equine heroes that will forever burn in our minds; Strike the Gold (23) left his throne as the oldest living Kentucky Derby winner when he was euthanized recently after breaking his pastern in a paddock accident on his Turkish stud farm. "Strikie" helped launch the career of New Yawker Nick Zito, who has given us many memorable moments since. And down the stretch they come in KY Derby 2001 with Invisible Ink (13) running second to Monarchos in the second fastest Derby ever! Speaking of fast, the daughter of Indian Charlie - Fleet Indian (10) - zipped her way into the New York record books en route to a 2006 Eclipse Award. Now back to her sire, Indian Charlie (16), who was our most recent casualty of 2011 when he was euthanized December 15th due to cancer. Not only was he the KY Derby favorite in 1998 (finishing third), but he sired the most controversial subject of the year - Uncle Mo. The lesser known of Jess Jackson's (81) powerful Stonestreet Stables, promising juvenile and Grade II winner Kensei (5) broke a bone while in training and had to be put down just months after Mr. Jackson lost his battle with cancer on April 21.
Beautiful Pleasure (16) sure got her share of Grade I trophies while closing out her championship 1999 season with a Breeders' Cup and Eclipse Award. From awards to Awad (21), who showed an affinity for the lawn at Arlington Park, where he was the only horse to capture the Secretariat Stakes and Arlington Million in successive years. Ghazi (22) was a Grade I winner and loved running 10 furlongs on the lawn. Paradise Creek (22) was the 1994 Eclipse champion as turf horse. The durable Brown Bess (29) won or placed in 30 of 36 starts for earnings of $1.3 million - a large monetary sum in 1989. Neither female nor male could top Miesque (27) in the turf mile, where she was the first repeat Breeders' Cup winner. Perhaps that was the proof needed for her then jockey, Freddie Head, to realize that a mare could indeed outrun the colts and horses. Trainer Head subsequently conditioned Goldikova to three consecutive wins in that same race, but the streak came to a jostling end this year in the Churchill Downs stretch. Speaking of girls versus boys, the roan filly Devil May Care (4) lost her battle with cancer just one year after being highly backed against the colts in the 2010 Kentucky Derby.
Under the nostalgia category, I mourn the loss of Olympio (23), the 1991 Arkansas Derby winner that I recall cashing some tickets on alongside my high school buddies. And of sire Jade Hunter (27), whose daughter Azeri will be synonymous with Oaklawn's Apple Blossom Distaff (3 time winner) as long as the dogwoods bloom in Hot Springs each spring.
Sires:
If Sadler's Wells (30) were a college football game, he would be the Rose Bowl - the "grand-daddy of them all." Actually, by today's standards he would be in the BCS championship game facing himself! If you look at the recent results of the English Derby, it's hard to imagine how any other bloodline will ever again claim Epsom. Likewise, 2000 Broodmare of the Year Primal Force (24) cemented Adena Springs' spot in the annual top breeder's category after throwing off sons Awesome Again and Macho Uno. And broodmare Cee's Song (25) brought us the heart-stopping back to back Breeders' Cup Classic champ Tiznow, who put our sport's current #1 breeder - WinStar Farm - on the map. Rahy (26) was a small horse with a big engine that at one time stood for a whopping $100,000 fee after siring such stars as Serena's Song, Dreaming of Anna and Lewis Michael. Seneca Jones (21) was a son of Alydar and a top Texas stallion. Two sons from the Storm Cat line who perhaps did not get to prove their sire power also passed away in 2011 - Bernstein (14) and Stormello (7). California stallion Siberian Summer (22) may still get a chance to improve his legacy posthumously as the broodmare sire of Creative Cause, a leading candidate heading into next year's Derby preps.
Yes, with each loss comes the promise of tomorrow and of future triumphs that will lessen the pain of those departed. Rest in peace, our dear friends, and keep sending blessings to the sport we hold so dear.